Side Show
Music by Henry Krieger, book and lyrics by Bill Russell, additional book material by Bill Condon
St James Theatre, New York
–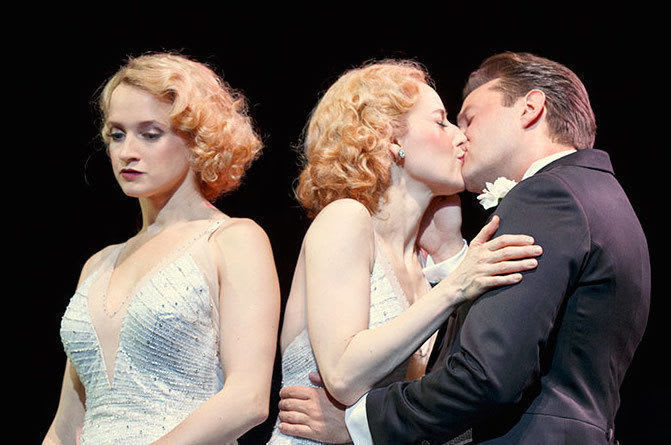 Daisy and Violet Hilton were sisters like few others. The co-protagonists of Side Show were literally linked at the hip from birth.
Based on a true story, the musical attempts to explore the difficulties endured by Siamese Twins back in the 1930s, although many of the issues are timeless and stretch far wider than this rare class of siblings.
As the 1997 musical opens, Emily Padgett as Daisy (stage right) and Erin Davie playing Violet are employed (though not paid) by their unsavoury guardian in a touring freak show along with other afflicted souls including semi-humans, bearded women and the like.
The twins' fate was sealed when they failed to separate before birth but greedy Sir ensures that they are seen as abnormal and fit only to be gawped at by "normal" people.
One of the strengths of Bill Russell's book is to establish just how normal the sisters are. Much as they love each other, the claustrophobia of constant presence is wearing. To compound the problem, their personalities are poles apart. Daisy is a fun-loving extrovert, while Violet is a cautious, deeply private person.
What seems a grim life with no hope of escape changes when Ryan Silverman as hunky impresario Terry and Matthew Hydzik playing pal Buddy visit and discover that not only are they beauties but the Hiltons can sing. They then offer to take the girls into Vaudeville.
In no time, they are the highest earning act on the circuit and the future looks bright as long as they can settle some outstanding issues.
Passion rears its ugly head, which with two boys and two girls, is inevitable in a stage musical.
However, Side Show is willing to take on greater complexity than the average musical and love gets mixed up with sorority and business in awkward fashion.
Marriage bells beckon but bring pain for all concerned including African-American minder Jake, who loves Violet. In this role, David St Louis reveals an awesomely gravelly bass, almost bringing the house down with "You Should be Loved".
By that stage, other problems were looming as Vaudeville lost popularity in favour of the movies and the notorious Tod Browning makes an appearance that simultaneously promises fame, fortune and unhappiness.
Emily Padgett and Erin Davie are a classy double act who sing sweet duets such as "When I'm By Your Side" and "I Will Never Leave You", have excellent comic timing and dance well, albeit while somewhat constrained.
Side Show keeps its audience interested thanks to an unpredictable story that avoids saccharin and portrays the difficulties faced by the girls and their fellows with realism and compassion.
Bll Condon's production started life at La Jolla Playhouse, which has been the cradle to a number of recent hits, including Jersey Boys.
With a stream of the kinds of songs that musical fans lap up composed by Dreamgirls' Henry Krieger, a strong story and winning performances, especially from the leading ladies, this "reimagined" Broadway show could have what it takes to entertain London too.
Reviewer: Philip Fisher