SILENCE! the musical
Book by Hunter Bell, music and lyrics by Jon and Al Kaplan
Above the Stag Theatre
(2010)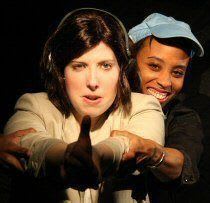 There's no surprise that the parody of a film in which the heroine has semen sprayed in her face is going to go some way beyond the boundary of good taste. Silence! the musical - "the unauthorised parody of Silence of the Lambs" crashes headlong through that threshold and doesn't brake until some distance later. Putting aside Jerry Springer the Opera-type offensiveness, what makes Silence! the musical entertaining is being funny, quick-witted and faithful to its original source. There will be those who go to see it just to cock a snook at disapproving granny, but there is more to it than that: a well devised parody of a film - and it certainly helps if you remember the film well, though obviously not essential.
Hunter Bell's book reflects a talent for finding and exploiting the humour in the key episodes of the film and fundamental elements of the story of FBI rookie, Clarice, and her bizarre association with the murderously dissecting Hannibal Lecter, and Bell's work is a terrific match for the music and lyrics of brothers Jon and Al Kaplan who make a talented team.
The Kaplans originally wrote the piece as a screenplay and the concept album developed an internet cult following as a result of which it was then adapted for the New York International Fringe Festival in 2005. New material has been added to that piece including one particularly memorable song: "I'd fuck me, I'd fuck me well, I'd fuck me till I burn in hell," sings the scantily clad transvestite serial killer, complete with floppy-eared bunny backing. It's fabulously catchy but you wouldn't want to be singing it just anywhere. These lyrics are by no means the most potentially offensive and there is little doubt that the piece leaves itself open to criticisms of gratuitous imprecation more than once.
Musically Silence! may lack finesse but there are some witty musical references to Les Misérables, Wicked and (I am told) the film's original soundtrack, and well done MD Bob Broad for making the most of them. The pastiches include a love ballad with a truly unprintable title set to a Lloyd-Webberish tune, a tango which sends up the tension in the Clarice-Lecter alliance and a suitably macho march for the FBI agents on a raid. On the lyric side there is as much wit as there is profanity and some delightful irony especially in Buffalo Bill's number when he is 'sizing up' the next victim he will skin to make his outfit - "I want a girl that'll fit me to a tee - a woman who'll look good on me". Some Fosse-style choreography is another humorous touch and comes courtesy of director Christopher Gattelli, who maintains a speedy pace and a laugh-a-minute touch, though this sometimes makes the scene changes rather chaotic. This lack of polish and the uneven performances would be the main quibbles of the production with the out of place dream-dance sequence being one for the piece itself.
Tory Ross' assertive Clarice takes off the Jodie Foster screen lisp without being irritating; she and Catherine Millsom, who plays both kidnapped Catherine and her mother, have the clearest strongest voices and most spirited delivery. Miles Western is very funny as Hannibal Lecter whilst still giving this crazed persona something deep and sinister, whist Fabian Hartwell makes Buffalo Bill more vigorously insane. Petite Shakella Dedi sparkles as Ardelia, Clarice's best friend, now with added lesbian nuances, and Tim McArthur stands out as the equally lispy ghost of Clarice's father and boss Crawford.
Undoubtedly there will be people who are discomforted by Silence! the musical but this is precise and clever parody and hugely entertaining. With a seating capacity of only a cosy 56 my guess is that Above the Stag have a sure sell out.
"Silence! the musical" runs until Sunday 28 February - Tuesday to Saturday at 7.30pm and Sundays at 6.30pm. Not suitable for children.
Reviewer: Sandra Giorgetti