Simpatico
Sam Shepard
Old Red Lion
(2009)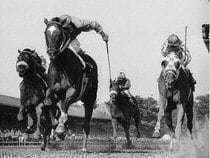 Hannah Eidinow has created a suitably claustrophobic atmosphere for this first London revival of a play originally staged at the Royal Court in 1995.
Simpatico is set amongst petty crooks and gamblers on the periphery of the horse racing business, which in America has its holy of holies at Lexington, where the Kentucky Derby takes place every year.
The long opening scene introduces a pair of childhood friends who travelled their separate ways after a racing scam went awry, leading to blackmail and eleven years haunted by constant fear of exposure.
Gabriel Butler-Lewis' Carter, who made good in Kentucky with his old pal Vinnie's wife, brings matters to a head in an effort to clear the air forever. What he finds back home in trailer-trash California is the unkempt, tramp-like Vinnie, grittily portrayed by actor-comedian Phil Nichol, in the depths of despair. He has the best accent and by his playing, brings sympathy to a whining drunkard who deserves little, if any.
Carter sets in play a quest that involves a web of deceit, sex, blackmail and self-discovery. This is spiced up by Sam Shepard, who is happy to allow variable truths, which increase the intrigue in a tale that will inevitably end ambiguously, as his characters intertwine and their fortunes seesaw.
The pick of the actors is Trudi Jackson playing dizzy Cecilia. She has to convey innocence mixed with ignorance in the face of uncertainty and dishonesty and does so convincingly. By the end, she has the audience eating out of her hand like a well-trained thoroughbred, as she fends off a trio of equally disgusting men in her attempts to fulfil a dream of witnessing the Derby.
Sam Shepard has a reputation for writing steamy dramas that elude instant meanings but this play on the detective story with power shifting constantly and love interest waning whenever it appears, constantly captures the viewer's attention throughout its 2½ hours duration.
As a result, Hannah Eidinow's welcome revival might well be destined for a limited run at a larger venue.
Reviewer: Philip Fisher