Singin' in the Rain
Screenplay by Betty Comden and Adolph Green, songs by Nacio Herb Brown and Arthur Freed
Octagon Theatre Bolton, New Vic Theatre, Newcastle-under-Lyme and Salisbury Playhouse
New Vic Theatre, Newcastle-under-Lyme
–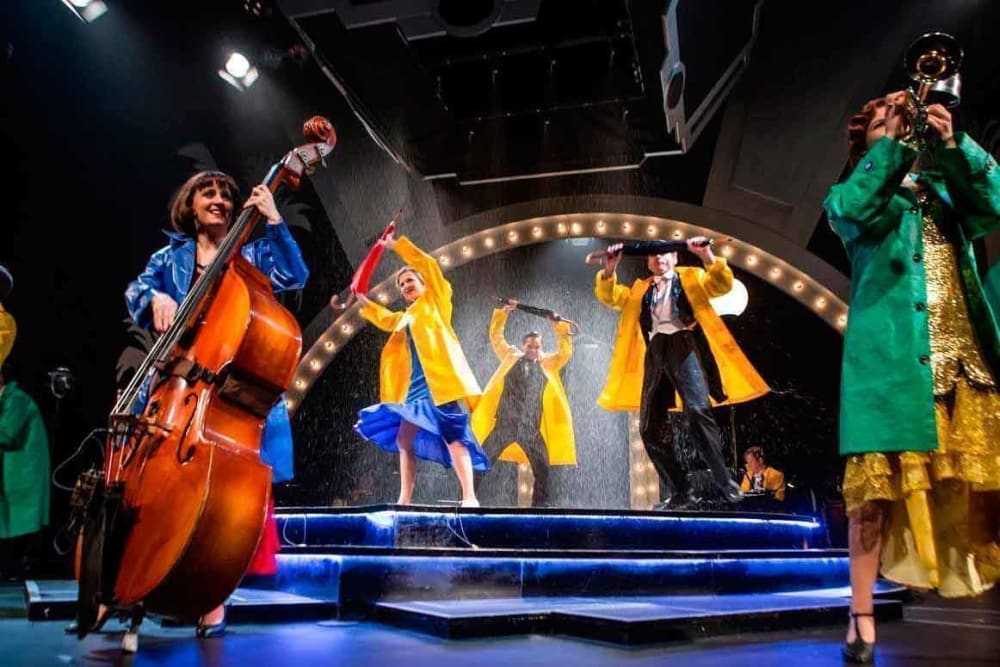 Sight and Sound magazine listed Singin' in the Rain as the 20th greatest film ever made. No other musical came close. Quite an accolade for a work that began life as merely a collection of previously aired show tunes.
All but one of the numbers had been heard in other MGM movies and it would have been so easy for it to descend into an average song-and-dance picture.
But what transformed it from the 1950s equivalent of a jukebox musical into a masterpiece was the one thing that the modern, greatest-hits production doesn't usually have: a clever, meaningful plot.
Screenwriters Betty Comden and Adolph Green set to work on a story about the first talking pictures. They interviewed former stars who had been left behind when the technological breakthrough of pictures with sound occurred. They watched movies from the 1920s. After six rewrites they had their script.
Recreating the era for the stage, particularly a theatre-in-the-round, is about as difficult as some of the complex dance routines perfected by Gene Kelly in the film. But the Octagon Theatre Bolton, Salisbury Playhouse and the New Vic have succeeded brilliantly.
A style of production that the New Vic does well is one which calls for actor-musicians who are good all-rounders. The cast of 12 in Singin' in the Rain are exceptional.
They've been perfecting the show for the past two months and audiences at the New Vic are reaping the benefit. Gone are the long scene changes which my colleague David Chadderton felt reduced the pace when he saw it performed in Bolton. The occasional reprise bridges the gap when furniture is wheeled on—but in truth there's very little room for anything on the New Vic stage.
Some of the cast are almost out of sight towards one of the exits to allow extra room for the dance routines. On the whole, everyone does a creditable job in a confined space.
Matthew Croke gives a strong performance as Don Lockwood, the silent-movie star who is filled with self-doubt about his ability to act in talkies. His voice is charming, his dancing energetic and athletic.
Those sitting in the front two rows of seats are given bright yellow ponchos to keep them dry when rain cascades down during the title number. But Croke is determined that others will get wet, spraying people further back with well-directed kicks through puddles and vigorous umbrella twirls.
Eleanor Brown is alluring as Kathy Seldon, the struggling yet highly talented stage actress who captures Lockwood's heart. Her performance is so credible that you never fail to believe she is in love with Lockwood and you never doubt that she will do the correct thing to save the studio.
Christian Edwards gives an enthusiastic display as Cosmo Brown, cleverly playing trombone with his feet during a bouncy rendition of "Make 'em Laugh".
Sarah Vezmar plays Lina Lamont, Lockwood's silent-movie partner who can't act, sing or dance, with verve, eagerness and a voice that sounds like a knife scraping burnt toast. Her rendition of "What's Wrong With Me?" is suitably off-key and makes a case for pictures to stay silent.
The whole cast plunge into the production with energy and joy. Elizabeth Newman, artistic director of Octagon Theatre Bolton, directs with an assured touch, particularly towards the end which becomes suitably tense. Overall, it's a memorable evening.
On the night I attended, the cast seemed surprised when virtually the whole audience gave them a standing ovation. It's totally deserved.
Reviewer: Steve Orme