Singin' in the Rain
Screenplay by Betty Comden and Adolph Green, Songs by Nacio Herb Brown and Arthur Freed
Chichester Festival Theatre
Palace Theatre
–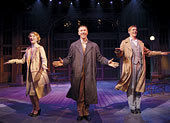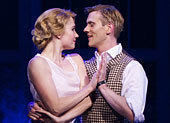 Singin' in the Rain is a feelgood musical romcom that has stood the test of time so that 60 years on, it is one of the most popular movies ever.
Jonathan Church's Chichester transfer of the stage adaptation is incredibly faithful to the film script, guaranteeing that fans will have a great time watching the successors to Gene Kelly, Debbie Reynolds and Donald O'Connor reliving their favourite scenes live on stage.
The staging and design by Simon Higlett are fleshed out with colourful costumes, ensuring that the look is gorgeous throughout, never better than in a finale with sharp suits, colourful umbrellas and torrential rain.
This is then supported and more by this evening's strongest suit, the choreography and dancing, with the tap absolutely top drawer.
It helps to have Adam Cooper, a classically-trained dancer who was once a Royal Ballet Principal, in the lead as Don Lockwood. He is a silent movie idol and looks the part.
The millstone around Don's neck is his loving female co-star, Katherine Kingsley's Lina Lamont, the kind of bleached blonde who really shouldn't challenge her colleagues to opine on her dumbness at every turn.
This is the mid-1920s and the film business is about to be changed forever by talking pictures. The advent of Al Jolson will finish the careers of so many of his former peers.
Lina with her shocking accent and inability to sing (Miss Kingsley working hard to hide her talent) hasn't a hope but she could take the studio down with her. A mean streak doesn't help either.
However, Don's best pal Cosmo Brown, played by Daniel Crossley, has the solution: a voice double.
It just so happens that his friend has met a gal who fits the bill perfectly and, in the guise of former Mary Poppins Scarlett Strallen, Kathy Selden really does. This talented performer is so versatile that she can sing, dance and act both comically and romantically with equal facility.
This all builds to a lovely comic comeuppance that brings down the final curtain with a smile and a sigh from every member of the Palace's large, starry opening night audience.
Singin' in the Rain has lots of comedy, which is all well realised on stage and a plot that can be corny but is ultimately good fun.
Where this production can fall just a little short is in the singing department as Adam Cooper's voice, in particular, cannot match his superlative dancing and more than adequate acting.
Even so, there is a stream of timeless songs with "Make 'em Laugh", "You Were Meant for Me", "Good Morning" and "Moses Supposes", accompanied by a great dance routine all well delivered and eminently hummable in the lead-up to the break and "Would You" having a similar impact later on.
Best of all inevitably is the title song, delivered to bring down the interval curtain and again as an encore. This looks great and provides some unexpected fun especially for those in rows A to D of the stalls who get a little cool relief from the overheated auditorium, courtesy of enthusiastic hoofers who joyously kick their way through puddles with gay abandon.
Singin' in the Rain is bound to be popular with musical fans, especially those that love dance and fifties-era songs. It should therefore enjoy a long and happy life at the Palace.
Reviewer: Philip Fisher