Sing Yer Heart Out for the Lads
Roy Williams
RNT Cottesloe
(2004)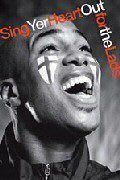 This play was originally one of the successes of the National's Lyttelton Loft season in 2002 and therefore receives a revival in the larger Cottesloe Theatre.
It tells the story of a group of Londoners who meet in a pub to watch a World Cup qualifying football match in 2000 between England and West Germany which turns out to be a double ending. It was always going to be the last match at the "old" Wembley Stadium but partly because of the result, it also became Kevin Keegan's swansong as England manager.
As the match is played out on a big screen, other rivalries come to the fore as Roy Williams explores issues of race relations at the sharp end.
The regulars at the King George III are almost to a man (and woman), racist. The question is really only of degree. While they are willing to put up with young Barry (Ashley Walters) for his skills in the pub's football team, they don't really want his kind around.
When Barry's brother Mark played by Ray Fearon returns from the army, the fires of hatred that had been nicely smouldering are well and truly stoked.
One of the problems in a play of this type is that too many of the people are closer to familiar stereotypes than human beings. There is the loud racist, Lawrie (Jake Nightingale), the Intellectual racist who justifies his views with very dubious psychology, Alan (Paul Moriarty,) and Barry who is a rather young Uncle Tom embracing England in an attempt to gain acceptance. There are also enough loud-mouthed yobs to drink a pub dry.
Many of the sentiments and the ending will be familiar to those who saw Elmina's Kitchen in the same theatre last year.
The play is at its best when Gina, the landlord's tough-as-nails daughter, played with great skill by Tanya Franks, the deep thinking Mark or Lawrie's policeman brother, Lee are in action or competition. In the performance under review, the very brave Simon Merrells (who is supposed to be in Cyrano de Bergerac) stepped into the role of Lee reading from a script, to save the show at extremely short notice. He did everyone proud too.
Sing Yer Heart Out for the Lads will give much pleasure and a few hearty groans to football fans. Its exploration of racism from both sides of the argument veers between deep and very worthwhile analysis on the one hand and something far too close to cliché on the other.
Reviewer: Philip Fisher