Sirens
The Company
Ontroerend Goed
Summerhall
–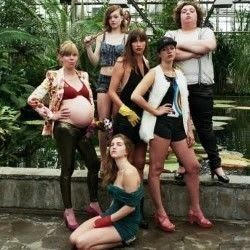 Edinburgh regulars have come to regard productions from Belgian company Ontroerent Goed with cautious enthusiasm.
At their best, the work is unforgettable; at its worst, it can be unintelligible. Sirens is somewhere between the two extremes.
The first forays are remarkable as six women in party frocks scream at top volume to the extent that you wonder whether glasses might be breaking in the venue's bars.
This certainly catches the attention and is orchestrated as carefully as a musical sextet, as is the rest of the hour-long performance.
As the music moderates, images of pornography appear on a screen before the women take matters into their own hands in very masculine fashion, eliciting the evening's only laughter.
The remainder of the performance projects a deeply feminist view of society, presenting male images of women in a negative light and implying that there are far more rapists and potential threats around than one might otherwise have imagined.
There is little balance but that is not the purpose of a strange but hard-hitting work that deserves attention and might well help to change lives, which is the goal of all really good political theatre.
Reviewer: Philip Fisher