Sister Act
Music by Alan Menken, lyrics by Glenn Slater, book by Cheri Steinkellner and Bill Steinkellner
London Palladium
(2009)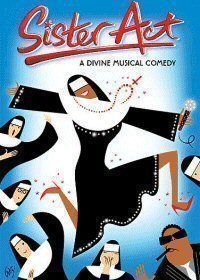 Patina Miller sings "Look at me, I'm fabulous baby" and she really is. The attractive American soap actress who hitherto has been completely unknown in the UK will find the world at her feet following a sensational West End debut. She can sing like a soul Diva and act well enough to live with Sheila Hancock on form. The only question is whether Miss Miller moves on to a spectacular career on stage or screen?
The Palladium is fast becoming the home of the nun, as Sister Act follows not too long after The Sound of Music. These nuns are very different from their Swiss counterparts, though the central premise of a misfit in a convent is similar.
The story, first seen in the Whoopi Goldberg movie in 1992, is simple. Deloris Van Cartier, played by the evening's star, is a gangster's moll who witnesses a murder. She finds sanctuary as Sister Mary Clarence in a virtually Trappist convent run by Sheila Hancock's stern Mother Superior.
At first, the lounge bar songstress struggles to fit in but a magic key is turned when she is asked to assist the tuneless choir. From there the only way is up until an inspirational ending which shows that the loose-living, singing nun has not only a heart but a strong sense of moral right.
The music from multi award-winning Little Shop of Horrors creator Alan Menken mixes Motown, soul and disco with a big dose of period pastiche, taking us back to the 70s in some great songs, especially Miss Miller's introduction "Fabulous Baby", the rousing "Raise Your Voice" and Sister Mary Robert's touching "The Life I Never Led".
The lyrics too do not let the side down, especially the hilarious "How I Got the Calling", advancing the plot and illuminating character in a lively, colourful production.
The good news is that there is more to this feelgood musical than some great songs well delivered. The book by Cheri and Bill Steinkellner contains a great deal of comedy and at least a degree of pathos with a brief injection of Benny Hill chase to ramp up the fun.
In addition to the two leads, several other performers make a mark in Peter Schneider's exuberant but well-drilled cast. Veteran Julia Sutton as Sister Mary (they all are) Lazarus has a wicked sense of humour and boundless energy, while Katie Rowley Jones as innocent novice Mary Robert reveals a sweet voice.
The men do not get the same opportunities but Ako Mitchell as kind cop Sweaty Eddie and Chris Jarman as his evil nemesis, Curtis Shank, each have their moments both when acting and singing.
A glittery first night audience led by the show's inspiration, Whoopi Goldberg and a noble pair that know a thing or two about hit musicals, Sir Tim Rice and Lord Lloyd Webber, were in no doubt that Sister Act is destined to be a big hit.
If that were not certain based on the script and production values, the divine Patina Miller should give the presumably nervous producers who, when they started the project, cannot have predicted a recession that killed off the superb Spring Awakening, the headlines and assurance that they require.
Reviewer: Philip Fisher