Six Characters in Search of an Author
Luigi Pirandello
Théâtre de la Ville–Paris
Barbican Theatre
–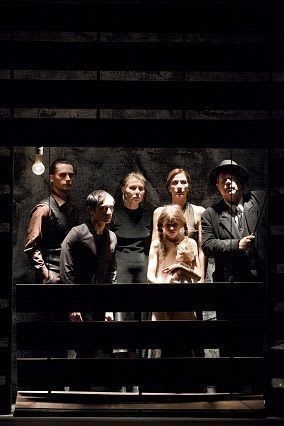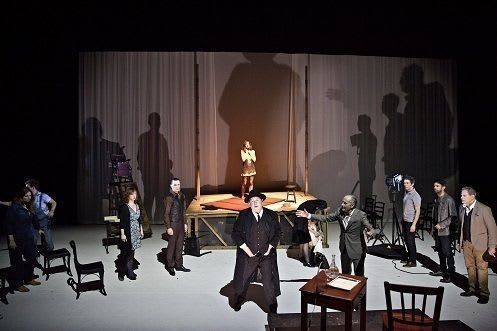 It has become fashionable to direct revivals of Pirandello and particularly this play in a radical, contemporary style, often losing the essence of the original.
Pleasingly, hot, young director Emmanuel Demarcy-Mota, in this production by Théâtre de la Ville–Paris, has maintained and celebrated the spirit of the original, while imprinting his own vision on to it.
The starting point is a modern company in a large warehouse-studio preparing for and rehearsing a production of The Rules of the Game by, of all people, Luigi Pirandello.
Following the usual kind of bickering and joshing, they are just getting into it when an unwanted interruption arrives in the forms of half a dozen weary and fearful individuals cowering in old-fashioned garb.
Their patriarch, played with sensitivity by Hugues Quester, announces that they are exactly what it says in the title, Six Characters in Search of an Author.
The director and actors are initially scandalised by the baffling suggestion that characters can just walk on to a stage and create a meaningful play without the kind of professional input by which they make a living.
Throughout the two-hour playing time, the actors continue to struggle with the idea that the painful reality laid out before them might be even more meaningful than their top-quality simulations. These are often counterpointed and cheapened by instant comparison as actors and characters play out the same scenes, at times simultaneously.
In this way, Pirandello sometimes subtly and occasionally blatantly questions many of the givens that underlay theatrical performance a century ago and still continue to do so in most stage work today.
As such, this is the bravest of theatrical inventions, since the Sicilian playwright's classic work literally questions the validity and authenticity of acting and directing.
The lighting and design, both created by Yves Collet are simple but effective adding a low-key ambience in keeping with the subject matter.
This version highlights the acting skills of a fine Parisian company and particularly Valérie Dashwood who gives a moving and impassioned performance as the wronged daughter, together with Hugues Quester and also Alain Libolt playing the often bemused director.
The Barbican has become home to the finest that European theatres can offer, although occasionally their imports can be almost too avant-garde even for adventurous viewers.
On this occasion, Emmanuel Demarcy-Mota and his cast have judged their subject matter well both providing a faithful representation of the original and giving it a modern slant.
Reviewer: Philip Fisher