Six
Toby Marlow and Lucy Moss
Kenny Wax, Global Musicals and George Stiles
The Lowry, Salford
–

Listing details and ticket info...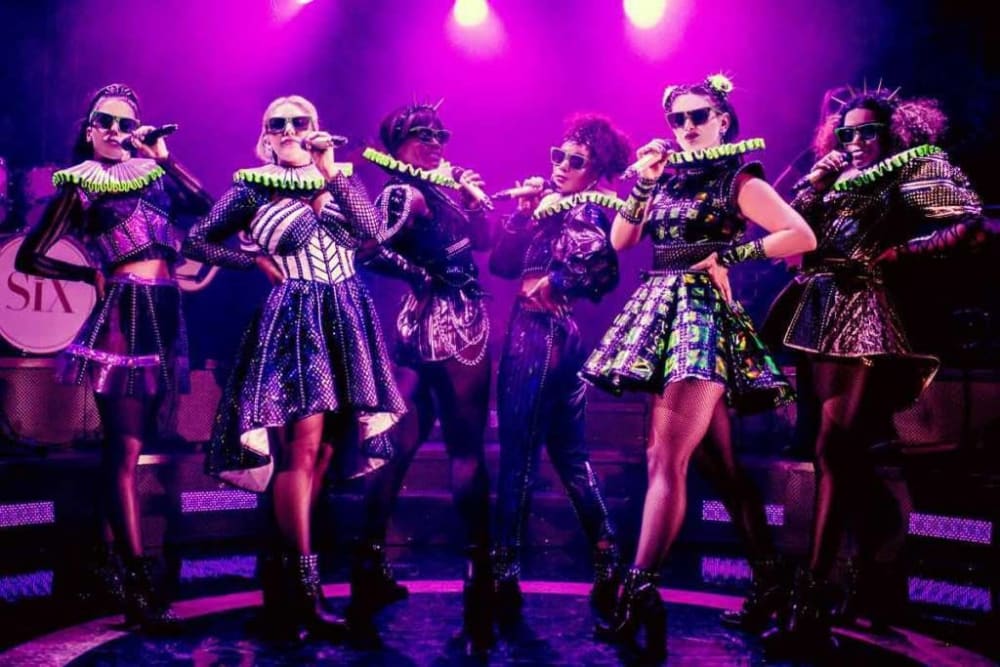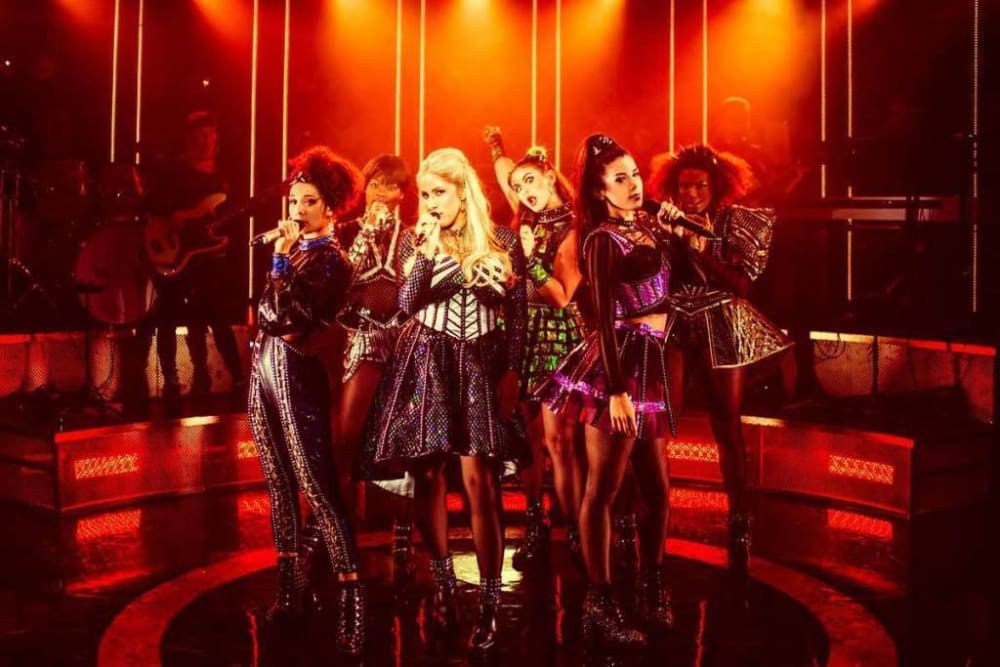 The Lowry launches the opening night of Six, by Toby Marlow and Lucy Moss, in fine style. Girl Gang Manchester, a collective of female artists, activists and party instigators, provide pre- and post-show entertainment encouraging patrons to engage in courtly dancing or make their own crowns. The approach complements the actual show well; after all, the music playing as the audience enters the theatre comprises pop tunes played on tutor instruments.
The concept of Six is that the six wives of Henry VIII become fed up with being famous only because of the man they all married and a line of doggerel that sets out their fates. They decide to compete amongst themselves to determine which of them suffered the most by their marriage and tell their stories in song.
The lyrics by Toby Marlow and Lucy Moss are witty enough to ensure Six works with lines like "You want a Queen Bee—here's half a dozen". There is a sharp, bitchy tone between the queens who sympathise that a competitor's life story is as tragic as her singing. The authors skilfully ensure any biographical or historical detail in the lyrics is filtered through the personality of the characters with Anne Boleyn commenting her sleeves may be green but her lipstick is red. Six is bang up to date with the #MeToo movement reflected in Aimie Atkinson's slinky, sexy Katherine Howard realising she has been exploited by the men in her life rather than the reverse.
It is acknowledged that public awareness is probably limited to only one of the queens and the authors cheekily dodge around this fact by linking each of them to a current pop celebrity. Jarneia Richard-Noel's imperious Catherine of Aragon is very much in the style of Beyoncé while Millie O'Connell's vacuous Anne Boleyn mimics Lily Allen. The cast, performing as a group and as solo singers, are fine, articulate singers which is crucial to the success of a show where biographical detail is conveyed in the songs.
With a sketchy storyline Six is closer to a concert than a musical .Yet directors Lucy Moss and Jamie Armitage ensure Six works as a concert just as well as a concept. The stage is set for a modern rock show with moody lighting, flashy neon lights and a four-piece backing band. The set list is nicely varied moving from rapid rap-style vocals to power ballads and sensitive singer-songwriter styles. The opening number even manages to squeeze in a snatch of Greensleeves. Gabriella Slade's costumes add a futuristic touch to tutor styling with short hemlines, fishnet tights and crowns that would not look out of place in a bondage shop. The approach taken is a great success ensuring the audience responds to the concert atmosphere cheering and whistling from the start.
Historical accuracy may not be a key concern with Six but it is a vibrant, exciting production featuring striking characters and great singing.
Reviewer: David Cunningham