Skylight
David Hare
Wyndham's Theatre
–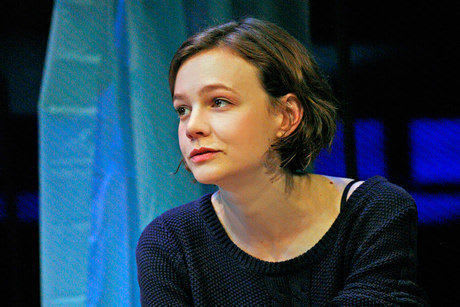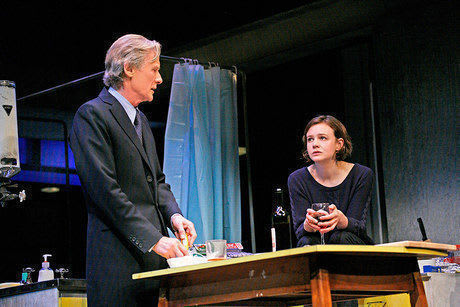 When the future Sir David Hare's Skylight first saw the light of day at the Cottesloe almost 20 years ago, it starred one of the finest actors of its day, another future knight of the realm, Sir Michael Gambon, opposite a talented but relatively unknown young actress Lia Williams as his character's young lover.
The difference with Stephen Daldry's West End revival is that while Bill Nighy might well be regarded as an obvious modern replacement to excel as a louche but stressed middle aged man, Carey Mulligan is already a film star with a big reputation on both sides of the Atlantic following appearances in such movies as An Education, Shame and The Great Gatsby.
That potentially changes the perception, since many visitors might regard the young actress as the main draw.
She plays Kyra Hollis, a caring, lefty (whatever she might claim) schoolteacher who somehow fell into an unlikely affair with a wealthy restaurant magnate, Tom Sergeant, who reputedly has more than a little in common with Sir Terence Conran.
For this revival, Bob Crowley's spectacular recreation of Kyra's high-rise home looks more like a Kensal Rise (North London) crack den than the home of even a penniless, masochistic schoolteacher.
The opening scene takes place in a bleak midwinter, as Kyra unexpectedly welcomes Matthew Beard's overly-gauche Edward, a shy 18-year-old with whom she shared a life as a kind of mother's help / father's squeeze.
He serves no more purpose than to set up a 2 hour long two-hander that his presence frames.
This features another more pointed reappearance in Kyra's life, Edward's father Tom, Mr Nighy.
This pompous businessman's intentions are instantly clear. A year after the passing of his wife Alice, Tom wants to relive the old times and rescue Kyra like some rich (old) knight, sweeping her off to his sun-kissed island second home and a future embellished by his young conquest.
Very quickly, despite—possibly because of—their history, rancour creeps into the conversation.
After the interval, things get even worse and the power struggle between two old flames takes on fresh nuances.
Now, each seems to represent an opposing view representing those that prevailed during the Thatcher era and beyond.
Tom is the self-made capitalist for whom flaunted wealth is the only measure of success. Selfless Kyra, the seaside solicitor's daughter, believes in a caring society where achievement is defined by each individual's ability and willingness to help those in need.
It is therefore hardly surprising that their reunion becomes increasingly tempestuous, nor that the play does not have a fairy-tale ending.
The return of two big names to the London stage after long (very successful) periods of absence should guarantee a sell-out run. While Bill Nighy has a tendency to look rather affected, pirouetting around the stage like a figure skater, he makes the most of his character's witty lines.
Carey Mulligan is a joy to behold and demonstrates rare stage presence. Her concentration does not let up for a moment in a performance so truthful that it can be painful to watch.
Skylight will draw in audiences keen to feast their eyes on screen idols rarely observed in the flesh. One hopes that even the stargazers will take away a better understanding of the nature of love but also the conflicting factors that created today's big society and the way we live now.
Reviewer: Philip Fisher