Skyline
David Bottomley
Black Balloon Theatre
Ugly Duck
–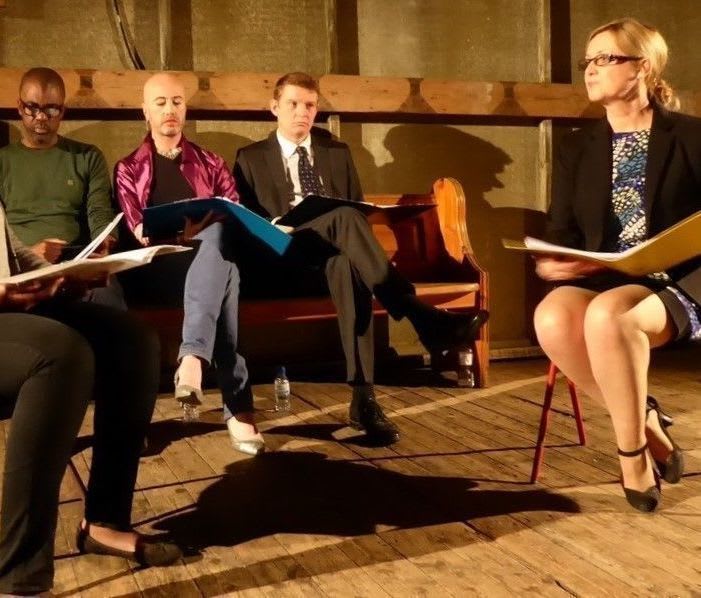 The changing landscape of our cities is a complex, divisive and political issue that impacts all strata of society, with those at one extreme apparently winning everything at the expense of those at the other losing in equal huge measure.
It is also a highly topical issue and the one at the heart of new play Skyline, which had its first airing at a rehearsed reading last weekend.
Just how tortuously the components of the problem are entwined was driven home by a short pre–performance debate in which the Green Party Candidate for Mayor for London, Sian Berry, and Southwark Labour Councillor Leo Pollak outlined the many challenges for those in charge of our cities.
The key players are unholy bedfellows: developers making easy prey of the open spaces and run–down estates owned by Councils whose budgets have been slashed by an austerity-driven agenda, social housing providers looking to a future of being dismembered by right to buy and a 'ruling class' who cannot even agree between themselves on what constitutes affordable rent.
And those are just some of the heads on this hydra–like monster. No wonder Pollak said, "it isn't a crisis, it's a catastrophe."
Skyline writer David Bottomley is unapologetically London–centric in this play, but anyone who lives or works in a city centre knows that gentrification and big business is not held back by geographical considerations if there is a profit to be had.
The story of Skyline addresses the might over right aspect of this issue through two key relationships.
Rex and his daughter Tanya live on an estate in Hackney. She is a single mother who works nights as a health worker whilst he looks after her child.
Sometimes they agree and sometimes they don't but there is a bond of affection between them, and when they look out from the balcony of their flat the bond extends beyond the confines of their home to the decades-old community that has existed on the now deliberately run–down estate.
Property developer Jasper and MP Francesca are lovers but what keeps them together is a venal bond of mutual self–interest. They look out from the balcony of a penthouse over a London competing to be a world class city, him soothing her scruples with the offer of another donation for the party and the keys to the penthouse for herself.
A secondary strand to the narrative is that of gay Soho prostitute Roxanne. This allows Bottomley to explore the loss of something other than the commonly understood residential communities that get swept away by commercial property development.
Roxanne represents today's Soho: riddled with cultural history, unique and vibrant, a place with a mixed profile of visitors and residents that meets the needs of its own micropolis.
Caught between Jasper and those opposing the development of this iconic area, Francesca suggests the sop of keeping Soho's Denmark Street as a museum; he sees it in colder terms "[I] can't afford to get bleary-eyed over old Soho... there is no George Melly… or Jeffrey Barnard. The old Soho is dead".
Skyline strikes a warning bell for London, pointing to an untenable dystopian future if unchecked development continues to put homogenised luxury in the place of the very things that make London a fascinating, desirable city.
On a more human scale, Bottomley also depicts the consequences for those who turn to desperate measures due to their disenfranchisement, forced to uproot and relocate to an unknown place not of their choosing.
Whatever the scale, Skyline is anti–gentrification but it is not an altogether unbalanced piece and developers get their hearing as Jasper defends his position.
When he talks about the need for inward investment and says, "for every structure, there is a shadow… if it's not me, then it'll be another developer... every generation leaves its mark… there is a precedent for a landmark tower." All this has to be conceded along with the fact that there appears to be no institution that can, or wants to, put a stop to it.
Pitting community against commerce is an uneven fight and in this instance a manifold and controversial one.
Bottomley has correctly chosen not to try and address all the aspects of it in order to present a smaller number more clearly, and in this he has been patently successful.
What was less clear was the evolution of some characters' trains of thought, especially of Rex. He seemed to zigzag in his journey from complacency to extreme action, though this may be the director injecting vehemence when something more contemplative might have worked better.
Hopefully, Bottomley will be able to continue to develop Skyline and polish out the scratches. For sure this play will remain topical for many years to come.
Reviewer: Sandra Giorgetti