Släpstick

HOME, Manchester
–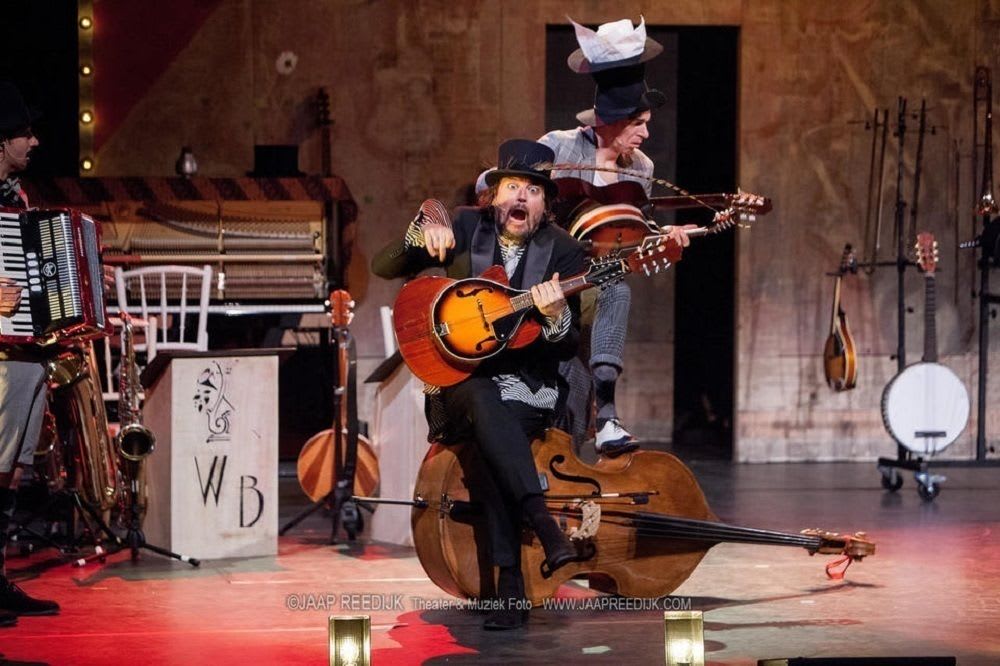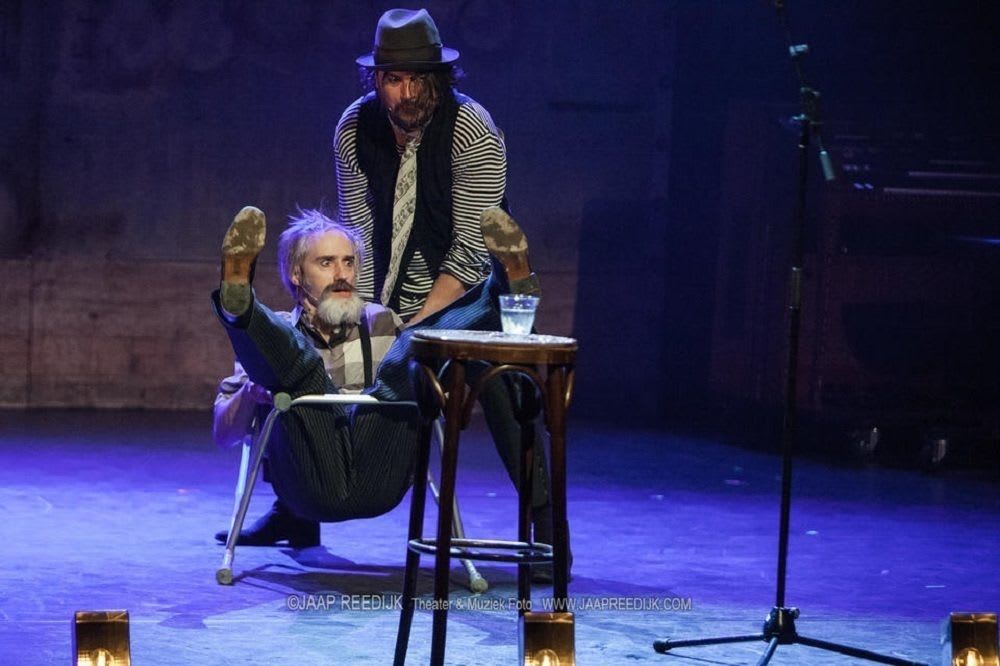 The fun never stops at Släpstick based at HOME until close to Christmas. Before the show starts and during the interval the cast wander onto the stage half-dressed asking the audience to help find the rest of their clothes that somehow have got lost in the theatre or bouncing balls back and forth with patrons. The show even ends with a pillow fight—what more could one ask for?
Despite the title of the show, the five-piece ensemble from The Netherlands do not present themselves as simply physical clowns. If anything their blend of mannered and ironic banter and eccentric but expert musicianship brings to mind the off-centre approach of The Bonzo Dog Doo-Dah Band. Släpstick is loosely structured as a ramshackle fairground show; there is a running gag of patrons being invited to try their luck catching fish in a barrel or throwing balls at a coconut shy.
Släpstick is stuffed full of charming eccentricities that make the show special. Instruments are constructed to serve more than one purpose so a violin bow might form part of a trumpet. The band do not hesitate to pay tribute to their influences; a routine from Laurel & Hardy is performed while the original plays on-screen to the rear of the stage. In the style of Stanley Unwin a circus hustler drums up trade speaking rapid nonsense dialogue.
The show is, however, Funny Ha-Ha rather than Funny Peculiar; the band are not satisfied until the audience is rolling in the aisles. As a genre, slapstick humour can be cruel drawing laughter from people getting hurt or humiliated. In the first act, the band avoid this approach altogether by concentrating on subverting the norm and getting laughs from the unexpected. They create a bizarre but rather charming environment in which boxers prove their masculinity by dancing the polka rather than by fighting. Familiar songs are performed in a completely inappropriate context in the running gag of a permanently smiling barbershop quartet singing popular songs in close harmony but entirely in German.
The second act brings out the crueller aspects of slapstick and the band commit completely to the approach with smashed instruments and broken teeth spat out. There is a spectacular pratfall from the stage into the lap of a patron in the front row and, one by one, the barbershop quartet is eliminated. Yet the cruelty is muted by a sense of pathos. The concept of an aged entertainer taking the stage for one last farewell gig is sent up mercilessly but there is an undertone of regret and even respect throughout. There is also a superb punchline that fits the routine perfectly.
Släpstick is a savoury treat for the festive season—sharply funny, nutty as a fruit cake and utterly engaging.
Reviewer: David Cunningham