Sleeping Beauty
Michael Harrison
Qdos Entertainment
Grand Theatre, Wolverhampton
–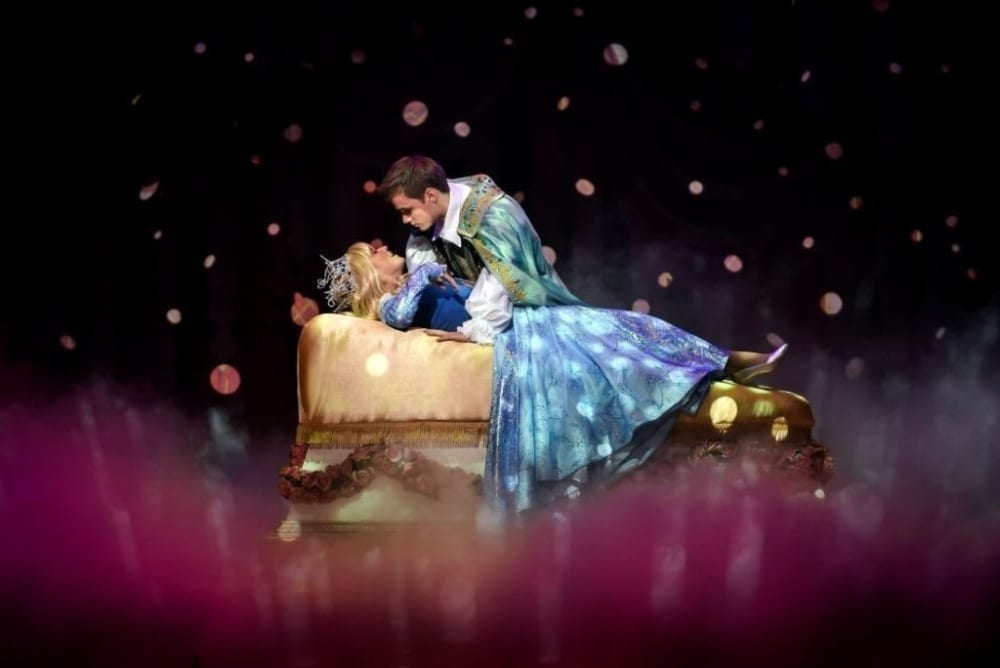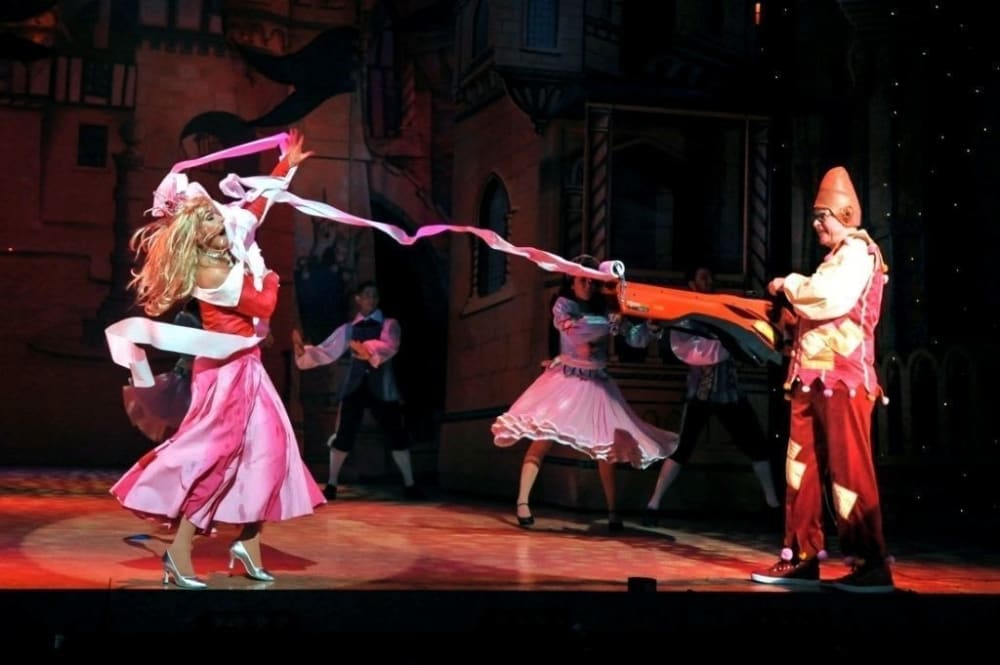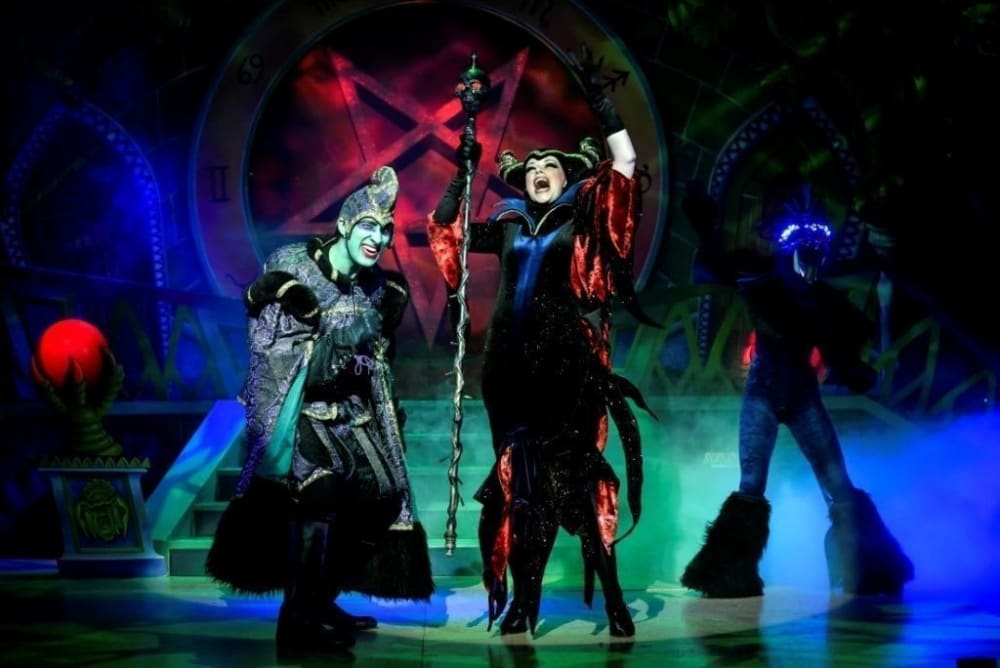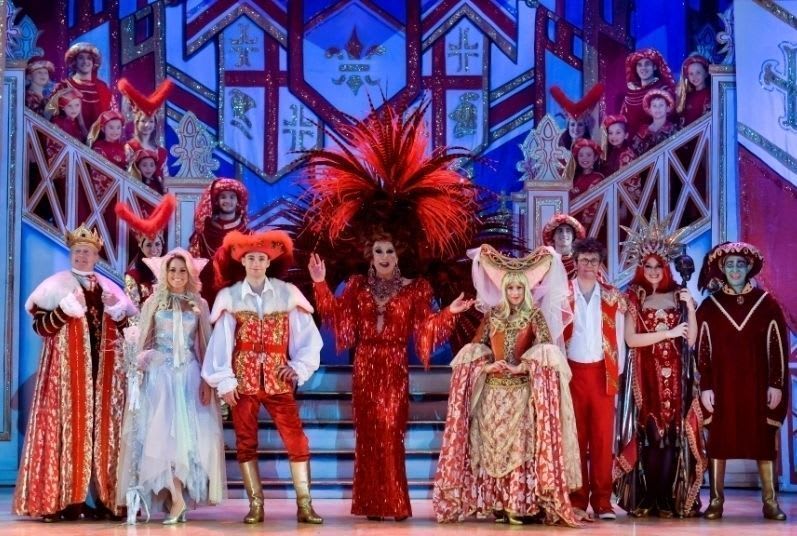 Premièring at the Birmingham Hippodrome in 2009, Michael Harrison's Sleeping Beauty has since played in Plymouth, Nottingham and Cardiff before landing in Wolverhampton, where its 2013 production complete with Joe Pasquale as Muddles will be the last stop for this dream of a pantomime.
Over the past four pantomime seasons, the production has evolved and improved as a result of narrative streamlining, fewer set pieces and a reduction in cast size, although it is still a little disappointing that Carabosse's final transformation results from a simple spell by the Enchantress, whose powers are supposedly not as strong as those of her nemesis.
Retaining its three original cast members—Pasquale, Ceri Dupree and Lucy Evans keep the show as fresh as ever and with Lady Passionella becoming the Queen—the production allows for greater comedy patter between the Royals due to their defunct relationship, as well as an increased homage to pantomime legend Danny La Rue.
La Rue played Queen Passionella in a version of Sleeping Beauty created especially for him in 1969 and with Dupree appearing in one of his dresses from the production and the inclusion of musical number 'At the Palace' reminiscent of La Rue's residency at the theatre of the same name, the much loved Dame's spirit lives on in 21st century pantomime for all to enjoy.
As Passionella, it would be difficult to argue with Dupree's billing as the world's most glamorous Dame as scene after scene, costume after costume gets more and more extravagant complete with never ending trains, mountainous plumes of feathers and sparkle galore.
But Dupree is so much more than purely glitz and glamour and gets the opportunity to show off his wonderful impressions of Tina Turner and Lady Gaga in a plot device which sees Passionella attempt to distract Carabosse's son Slimeball from Prince Daniel's escape by utilising the green-faced Villain's penchant for beautiful women.
In the role of Prince Daniel, Oliver Watton encapsulates everything a twenty-first century Prince should be. Charming and dashing, romantic and heroic, it is a rarity to see an actor bring such integrity to the role which makes the character's relationship with Lucy Evans's spritely Princess Beauty even more believable and upsetting when Carabosse's curse come true as a result of the Prince being duped into giving her the very gift that seals her fate.
With the Princess in her hundred-year slumber, it falls on Queen Passionella and Beauty's best friend Muddles to track down Prince Daniel and ensure a Happy Ending prevails. One of the most experienced pantomime performers in the country, Pasquale truly owns the stage as the court jester, orchestrating chaos and merriment in every scene with his trademark humour and schoolboy naughtiness. Whether falling into the orchestra pit, blowing toilet roll in Princess Beauty's face or forcing Prince Daniel to eat wibbly wobbly jelly, Pasquale throws himself into his material with great gusto and is rewarded with hearty laughter from all sections of the audience.
A production bursting with life thanks to Jonny Bowles's slick direction and energetic choreography, Sleeping Beauty sets the bar extremely high for next year's Cinderella which is set to celebrate 120 years of glorious entertainment at Wolverhampton's Grand Theatre.
Reviewer: Simon Sladen