Sleeping Beauty
Choreography Marius Petipa, music Tchaikovsky
The Royal Ballet
Royal Opera House
–

Listing details and ticket info...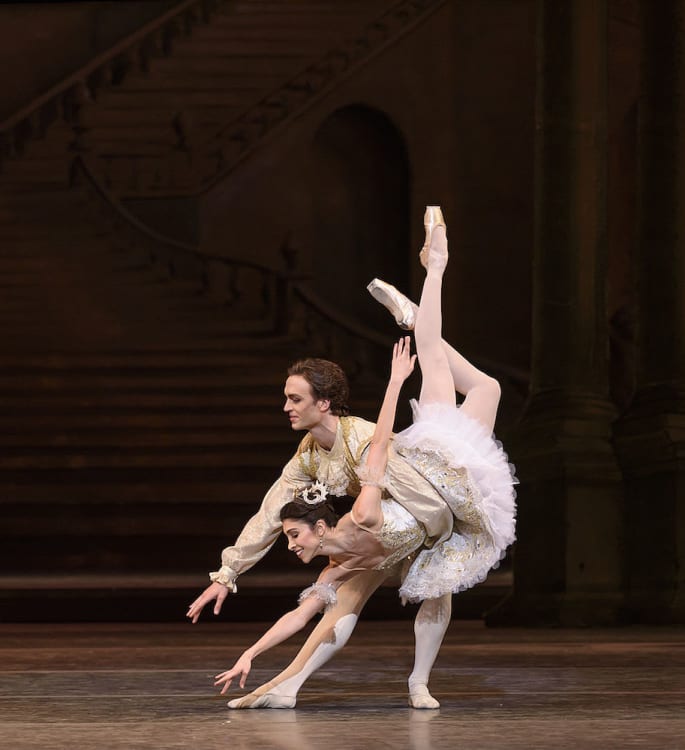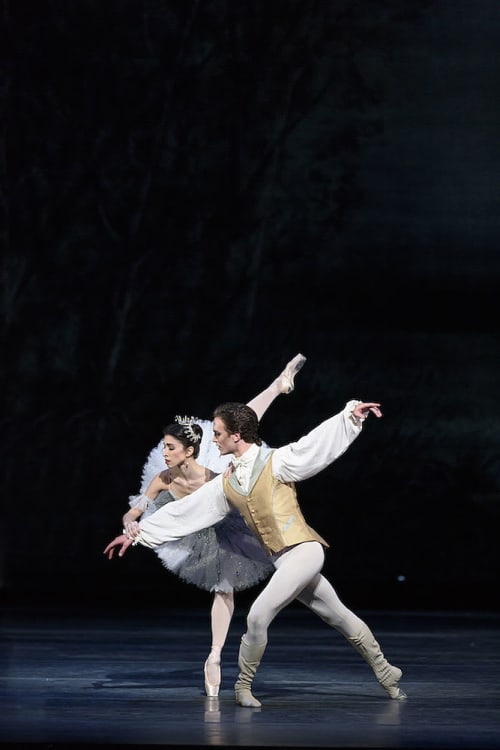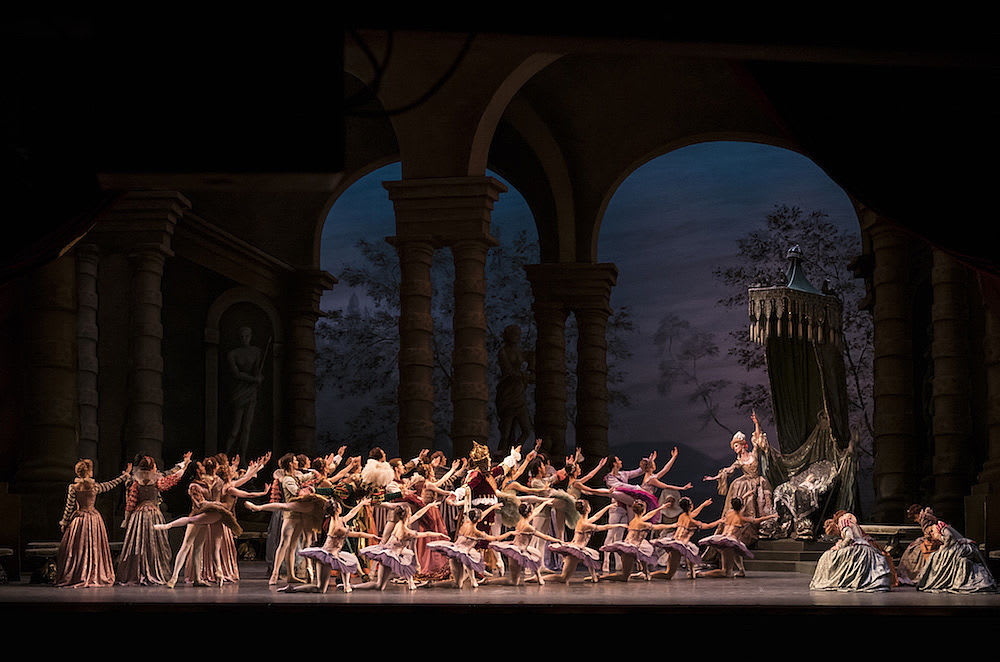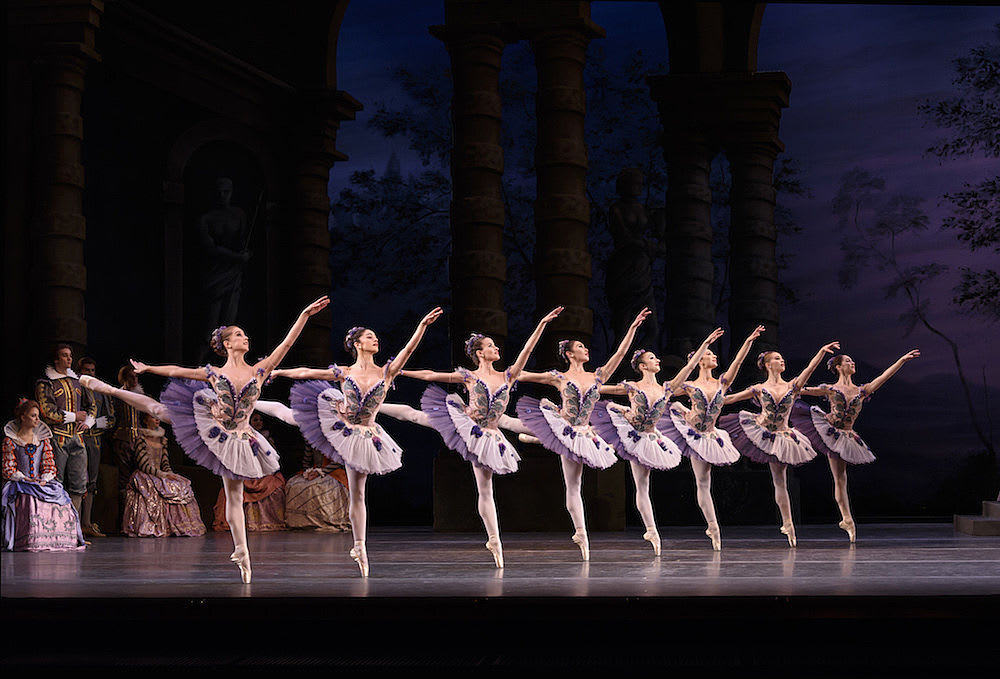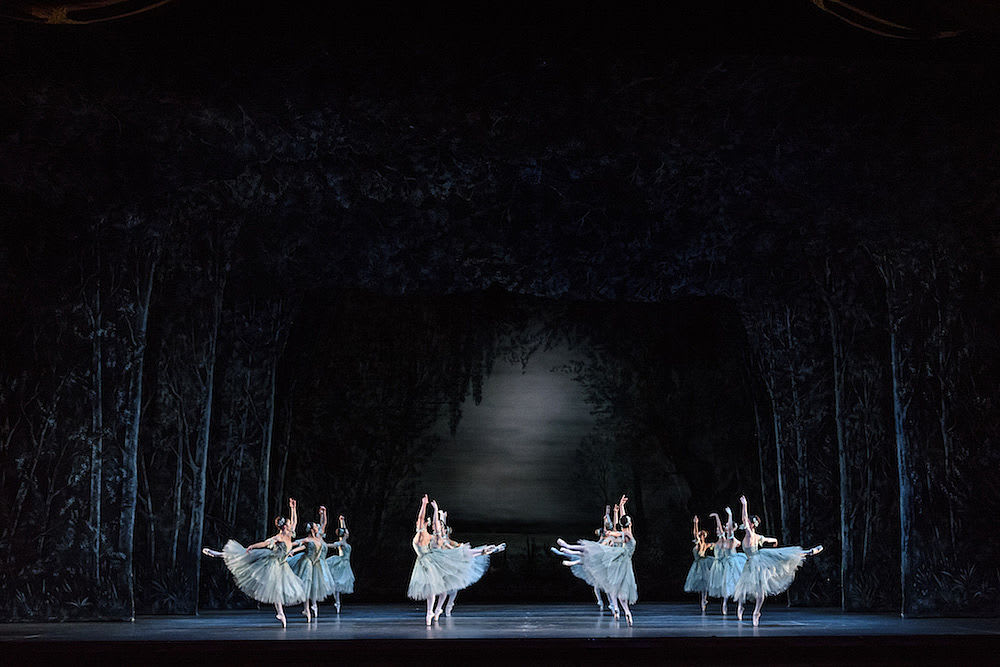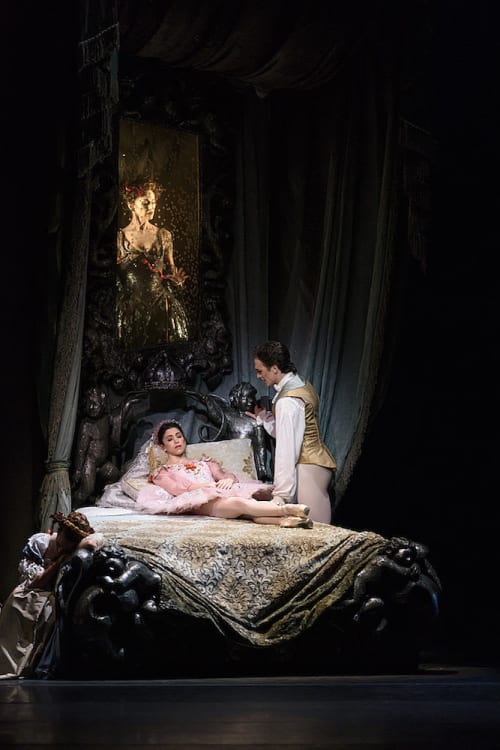 Three hours (including two intervals) of five-star pleasure, the first night of Sleeping Beauty is a glorious opening to the festive season. Impeccable dancing from Yasmine Naghdi as Princess Aurora—sweetness itself, I am in love. She alone is worth the ticket. Someday my prince will come (I know, wrong Walt Disney film, Snow White not Sleeping Beauty) and awaken her with a kiss, but he's the lucky one methinks. She is the one he (Matthew Ball), lovesick Prince Florimond, must have been waiting for—for a hundred years. Their romantic pas de deux are in another realm, but the focus is on the ballerina, it is her ballet after all, his very much the supporting role.
Technique strong, balances strong, acting charming, expressive face, one that bears some similarity to Margot Fonteyn's in the 1946 production that reopened the House after the Second World War. Imagine that—the splendour after all that austerity… Oliver Messel's Watteauesque front cloth (colours Eric Ravilious watercolour delicate) and over-the-top Louis IV period costumes for the prologue and first act, and vaguely eighteenth century in the Prince Florimond second and third acts. And the many divertissements just keep on coming—so many variations for everyone to get a chance to show off—truly a whole company showcase.
The Royal Ballet's signature production, a cast of what seems like hundreds—artists and students and small boy pages to carry the fairies gifts to the newborn child—have been drilled to a very high degree. My neighbour in the stalls is a relative of one the small boys—such excitement and pride. This really is a magical old-fashioned family treat. There's much storytelling mime, so pay attention. And see if you can spot all the fairy tale characters.
Kirsten McNally is not too scary a Carabosse, not dramatic Monica Mason or Anthony Dowell scary (Robert Helpmann in the 1946 production), though there is faint booing from the audience. Neither are her six mice entourage—they won't frighten the little ones. Faint panto booing there may be, but the well-deserved bravos and cheers for every outstanding turn is frequent and loud. We've come out to enjoy ourselves, and enjoy ourselves we do.
James Hay as Florestan and his sisters Mayara Magri and Anna Rose O'Sullivan are lovely in their pas de trois, the five fairies (graceful Beatrix Stix-Brunell, vivacious Magri, hummingbird O'Sullivan, finger-pointing Yuhui Choe and pizzicato Claire Calvert) deliver their solos with exactitude, pertness and panache, and Fumi Kaneko is a Lilac Fairy with the softest, most elegant long arms of the lot.
Casting principals Francesca Hayward and Marcelino Sambé in the Bluebird pas de deux is luxury casting and showcases the health of the company. Ashley Dean replacing Leticia Stock is the cat's whiskers as the White Cat and Paul Kay a saucy Puss-in-Boots. Gary Avis is a wonderfully foppish English Prince—one of the four princes Aurora is supposed to chose from in that demanding Rose adagio sequence on her coming of age sixteenth birthday.
Marius Petipa's Sleeping Beauty is a magical royal entertainment—for us plebeians now and for the tsar of Russia in 1890 (at the Imperial Mariinsky theatre, St Petersburg). It should have opened in 1879, but was delayed. Now think on that date—a hundred years after the French revolution. Was this Aurora (Dawn) waking from a hundred years' sleep to a restoration of the monarchy? Tchaikovsky's music is full of regal grandeur, waltzes and polonaises, and in the wedding grand pas finale quotes the anthemic apothéose Marche Henri IV.
Magnificent music, though what was happening in the orchestra pit I'm not sure—there are some out of synch moments with the dancers on the stage, who do not put a foot wrong, apart from Catalabutte (Thomas Whitehead replacing Bennet Gartside), the Master of Ceremonies who forgot to invite Carabosse to Aurora's christening, and Gallison (Erico Montes) forever dropping his hat. Yes, there is plenty of humour.
Additional choreography from Frederick Ashton, Anthony Dowell and Christopher Wheeldon has accrued like barnacles over the years, but this revival production (fully restored to the Company's repertory by Monica Mason and Christopher Newton in 2006 after Ninette de Valois and Nicholas Sergeyev) is an eyeful and an earful of joy. Love conquers all, but there is danger in the air. Enchanted forests and enchanting dancing.
There are many casts to savour, it is a long run, do not miss. Sleeping Beauty will also be in the cinemas: ROH Live Cinema, Thursday 16 January 2020.
21–24 November, Le Ballet de l'Opéra national du Rhin brings Hélène Blackburn's Les Beaux dormants (The Sleeping Beauties), a family ballet inspired by The Sleeping Beauty, to the Linbury Theatre. Focusing on "the rites of passage from adolescence to adulthood" it is advertised as "an alternative, comedic look at this classic fairy tale for audiences of all ages"'. Might be worth a look.
Reviewer: Vera Liber