Sleeping Beauty
Joanna Read
Salisbury Playhouse
(2006)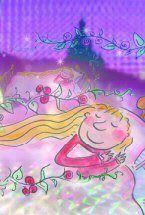 Long before Tchaikovsky put his great music to it for the ballet stage, Sleeping Beauty was an Arthurian romance of 1528 and the Brothers Grimm turned it into Briar Rose.
Many pantomimes have used the tale since then, the latest being the brainchild of Salisbury Playhouse Director Joanna Read, who has rewritten it as this season's Christmas treat with music by Stuart Thomas who has collaborated on four Christmas shows with the Salisbury artistic director.
Direction of this production is by former Watford Palace assistant director Jeremy Bond with splendidly fairy-tale design by Sue Condie who spent some time as associate resident designer at the New Victoria, Stoke-on-Trent.
With traditional principal boys generally banned from Salisbury, the role of Prince Peter goes this year to newcomer Rupert Young, a young man with a friendly personality and a pleasing singing voice who is a good match for the pretty Aurora of Diana Eskell.
Mark Cameron, who began his career in stand-up comedy, misses a golden opportunity to steal this show as "dame" Nurse Nancy. For all his smart timing and charming Scottish brogue, he is no match for the bravura and athleticism of Charlotte Bicknell as the evil Poison Ivy.
It is no surprise to learn that Ms Bicknell, Rose Bruford-trained, is also a cabaret artist and occasional aerialist. Her menacing acrobatics as she climbs the curtain are a tour de force!
Mark Gillis and Daniele Coombe balance well as King and Queen and there is mild fun from Joe Fredericks as Creeping Walley.
Two teams of young performers provide lively dancers and villagers on alternate nights. Altogether this production is a personal triumph for musical director Allpass whose catchy tunes are a great feature of the show.
"Sleeping Beauty" runs until Saturday 6th January.
Reviewer: Kevin Catchpole