Sleuth
Anthony Shaffer
The Watermill Theatre
The Watermill Theatre, Newbury
–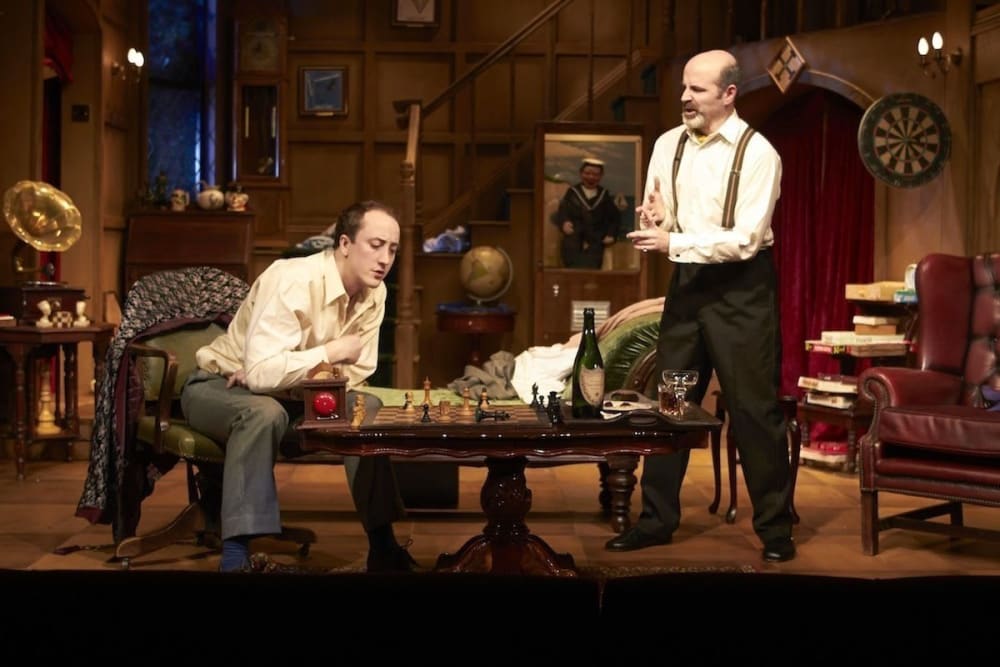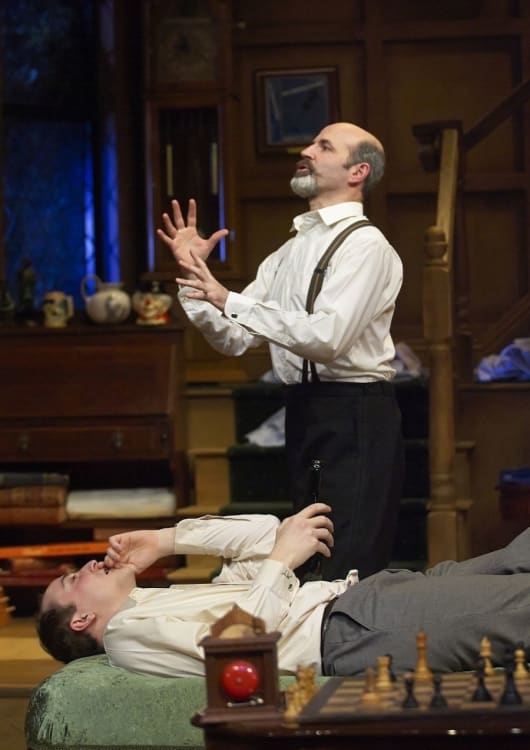 Anthony Shaffer's 1970's sinister thriller Sleuth is refreshingly revived in the Watermill's impressive production skilfully directed by Jessica Swale, who is making her directorial debut at the Watermill.
The play is set in the country house of Richard Wyke, exquisitely realised by designer Simon Kenny with a sweeping staircase, panelled walls that are full of surprises and the intricate trappings of this crime writer's obsession with game-playing, including a disturbing seaside arcade laughing sailor in a glass case. Indeed you get the impression that the audience is about to participate in a real-life version of the game Cluedo.
Shaffer's play treads a fine line between comedy and thriller. He teases the audience like a fine chess master playing mind games as the plot twists and turns in a maelstrom of deception and intrigue.
Wyke lures Milo Tindle to his home, where we discover that he is going to marry Wyke's soon-to-be divorced wife Marguerite. Milo is persuaded to steal her jewellery as part of an insurance scam and so the plot thickens with some humiliating and disastrous results.
Richard Attlee is simply outstanding as the self-important pompous Wyke who changes accent with alacrity as he acts out the characters he creates in his menacing games with Milo.
He is becoming a stalwart at the Watermill having previously appeared in Love on the Tracks and Moonlight and Magnolias but is, of course, better known as Kenton in Radio 4's The Archers.
As his adversary, Matthew Spencer is splendid as the shy subdued and humiliated Milo who eventually turns the tables on Wyke to seek his revenge.
There is a powerful chemistry between these two highly talented actors that fizzes and sparks as they toy with each other as they play out their bizarre games.
They keep the audience guessing as to what is truth and what is bluff or indeed double bluff.
This is compounded by the arrival of the bumbling Inspector Doppler (Stewart Cheem) who seems to know too much about the events that have happened as he tries to unravel the dire incidents with some farcical results.
Isobel Waller-Bridge's atmospheric music and sound design together with Nick Richings's atmospheric lighting perfectly created the mysterious ambience.
This is a fast paced, high-energy production that is thoroughly enjoyable and is undoubtedly a must-see show.
Reviewer: Robin Strapp