Slightly Fat Features: Variety at the Dukes

The Dukes, Lancaster, and touring
(2011)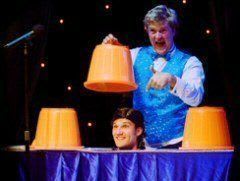 Few shows have the ability to leave their audience feeling genuinely happy after the curtain goes down. Avenue Q, the West End smash hit, manages it. Mamma Mia! pulls it off. Now Slightly Fat Features' night of variety must be added to that list.
With the promise of "a world of magical mayhem and cartloads of laughs", Slightly Fat Features had a lot to live up to on a gloomy night in the historic city of Lancaster. Comprised of a seven-strong cast (although last night's numbers swelled temporarily to eight), Slightly Fat Features' ambition to bring a new generation of comedy variety to British theatre seemed, as the rain lashed down, a rather lofty aspiration. But the energetic troupe effortlessly shrugged off any audience preconceptions.
Any notions of a formulaic evening of variety were quickly quashed by an escapologist struggling to free himself from a roll of Tesco's multi-purpose clingfilm. This was followed by a man in a cardboard package dodging the spikes of 21 umbrellas while cast members trilled a cheerful ditty about "dying in a box".
And so, wonderfully, it went on. From death-defying acts involving plastic elephants to songs about hot beans, the effect was reminiscent of comic legend Tommy Cooper, the haphazard magician who, just when his tricks threatened to go disastrously wrong, managed to pull the proverbial rabbit from the hat.
Although Slightly Fat Features have performed a string of sell-out performances at venues around the country, they are little known among the theatre-going public. On the strength of last night's routines, this surely deserves to change. After just one hour of the two hour performance, audience members were already discussing their favourite scene and best laugh-out-loud moment.
A final treat greeted the crowd departing the auditorium: the ensemble lined up to shake hands with spectators and thank them for coming. As people milled about in The Dukes' bar, chatting to their entertainers and unable to wipe smiles from their faces, a woman stopped me and asked "What's been on here tonight?" I replied: "A variety show by these guys. Go and see it."
"Slightly Fat Features" runs at The Dukes until 28th May, 2011 and then tours to Bath, Banbury, Oxford, Peterborough and Ilfracombe
Reviewer: Helen Nugent