Smack Family Robinson
Richard Bean
Rose Theatre, Kingston
–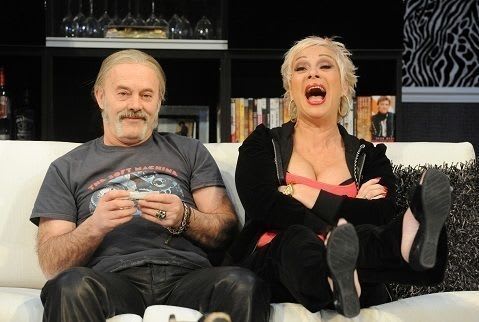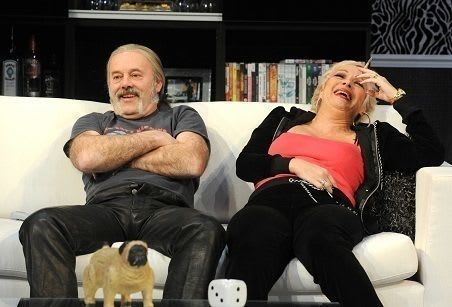 Richard Bean has become the most popular playwright in Britain following the continued success of One Man, Two Guvnors.
Smack Family Robinson was originally set in Whitley Bay near Newcastle's Live Theatre where it was first produced ten years ago.
With a new makeover under the direction of Richard Wilson, it has relocated to Surrey suburbia in Petersham not too far from the Rose Theatre, forcing a few too many local jokes in the early scenes.
Thereafter, it is a joy, taking an unlikely premise, apparently originally drawn from a real news story, and turning it into a hilarious black comedy that thrives on the deliberate caricaturing of most of the Robinson family's members.
The Robinsons, whose kitschy living room speaks volumes, are headed by Keith Allen as Gavin, who has a strong if unorthodox moral code and is distinguished by a greasy pony tail, leather jeans and beer belly.
35 years on he still loves his raunchy, bleach-blonde, florist wife Cath, Loose Women's Denise Welch making a rare stage appearance to show off the far from tasteful rose tattoo adorning her breast.
Their main business is not what one expects in suburbia, since the Robinsons are the district's drug dealers, which cannot please the city gent neighbours.
Their children are a real handful too. Scuzzy Sean, played very effectively by Harry Melling, talks with a false Jamaican patois and is stepping up to become the new Godfather, not that his 60s generation, hippy dad would appreciate that title.
Following Gavin's retirement, the lad is in the process of modernising the trade using contemporary business techniques such as debt factoring and dealings with shady, amoral Russian associates.
He gets solid support from Matthew Wilson as big, slow brother Robert, a gentle giant in the Bernard Bresslaw mode, but disdain from young sister, Cora. Kate Lamb catches the eye as the intelligent 18-year-old brains of a family with few to share around, even if she does have a "vampire" boyfriend and a few too many friends in low places.
Mysteries grow to Agatha Christie proportions with a family bereavement, a footless customer (making a change from the usual legless ones) and worse dotted through the 2¼ hours.
The plot generates numerous laughs, many from unexpected sources and a few slow-burning in true Bean style. There is also an underlying message about drugs and economics in today's society that should not be lost beneath the comedy.
The evening builds to a satisfying ending too, which is as surreal as much that had gone before, but Smack Family Robinson never strains credibility too far, which is a mark of the very best satire.
Although the new version has been written specifically to appeal to the habitués of the Rose and its environs, this rich comedy has wide enough appeal to justify a trek out to Kingston or possibly fervent prayers that it might get a West End transfer.
Those that are unable to see the production could do worse than invest in the new playscript published by Oberon Books.
Reviewer: Philip Fisher