Small Island
Adapted by Helen Edmundson from the Novel by Andrea Levy
National Theatre
Olivier Theatre (National Theatre)
–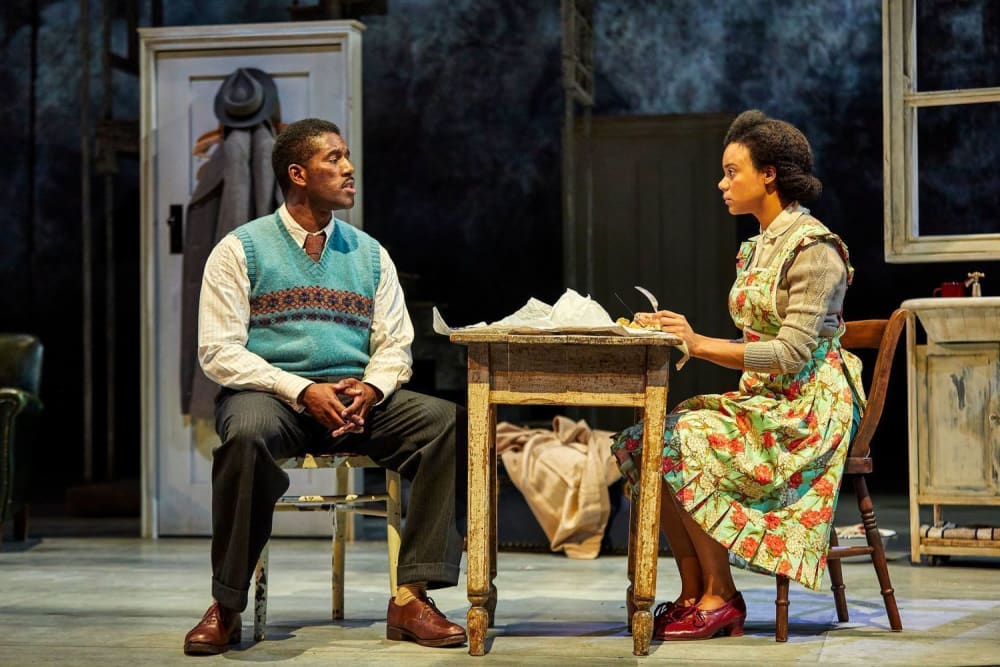 It is rare to see the best novels translated satisfyingly to the stage and there is no question that Small Island is a great work. The diverse nature of the two media militates against the efforts of even the best adaptors.
The sadness is that its progenitor, Andrea Levy, passed away earlier this year and has missed a fine attempt to encapsulate the sweep and grandeur of her original in play form.
Adaptor Helen Edmundson is one of the best in the business, even impressively doing the business with the biggest novel of them all, War and Peace.
Her effort on this occasion works wonderfully, helped by strategic linking narration including modern soliloquies, a clever impressionistic approach from director Rufus Norris and a Katrina Lindsay set to match, supported by Jon Driscoll's evocative graphics projected on to a large, curved backdrop.
The story has helpfully become topical, thanks to recent revelations about mistreatment of what has become known as the Windrush Generation: West Indians who came to assist denuded Britain, on its knees and desperate for labour in the aftermath of the Second World War.
The story starts in Jamaica where Leah Harvey's haughty schoolmarm Hortense falls for C J Beckford as charming cousin Michael. Unfortunately, the handsome young man has other passions as dangerous as the hurricane symbolically threatening the island.
The Jamaican couple's story is juxtaposed with that of Aisling Loftus taking the role of Lincolnshire farmer's daughter Queenie, who marries dull but decent bank clerk Bernard, played by Andrew Rothney, after moving to London.
The war then intervenes and inevitably changes all of their lives.
Like Michael, Gershwyn Eustache Jnr portraying his fellow Jamaican Gilbert Joseph finds himself travelling across the world to serve in the RAF, believing that he has been promised a university education followed by a legal career in Britain when peace finally arrives. He returns to the mother country, having entered an unorthodox contract for marriage with Hortense, a woman that he barely knows.
As a result, six months later, the couple end up lodging with Queenie in Earl's Court, Gilbert Forster works as a much-abused postman and his wife unemployable without re-training for many years since the authorities will not accept her on occasions. There, they are subjected to arrogant racism on a constant basis, which thankfully can seem almost literally incomprehensible and unbelievable 70 years later, despite the rise of the Right in Britain and across Europe.
Inevitably, Andrea Levy's novel has to be condensed to fit into a three-hour running time but, as result of the impeccable judgement of Helen Edmundson, retains the epic majesty that won many awards.
This strongly acted, new version of Small Island is a must-see piece of theatre, filled with humour and compassion, and is a further indication that Rufus Norris is really hitting his stride at the helm of the National.
A live performance of production will be shown in cinemas across the world as part of NT Live on 27 June.
Reviewer: Philip Fisher