Small Change
Peter Gill
Donmar Warehouse
(2008)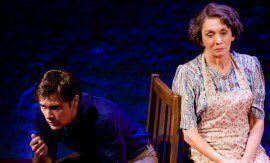 According to the publicity material, this semi-autobiographical play from 1976, which has not been seen in London for around quarter of a century, is Welsh writer/director Peter Gill's finest work.
That statement might be open to challenge from fans of other plays such as The York Realist, but the piece is certainly characteristic, investigating, as it does, boyhood experiences and tentative sexual awakening on the east side of Cardiff in the 1950s.
Gill and his designer Anthony Ward have plumped for the simplest of sets. A quartet of actors is placed on a large red square with the only props being four chairs placed at awkward angles and a mysteriously hanging shelf on the back wall.
Next-door neighbours, the Hartes and the Driscolls, are Catholic families with common problems. Former Brookside star Sheila Johnston plays Mrs Harte, a woman whose marriage breaks up despite the precepts of her church. Lindsey Coulson from another soap, Eastenders, is Mrs Driscoll, the mother of many squealing kids and completely unable to cope with the stress or bring up a large family.
Gill uses streams of their consciousness and some inconsequential discussions to paint simple portraits of two ordinary women living unexceptional lives. The real focus though is on their two handsome sons.
Matt Ryan plays Gerard Harte, first seen as a nine-year-old but eventually growing into a sensitive writer whose poetic speech patterns bring to mind a Welshman from the previous generation who must have been a great influence on Peter Gill, Dylan Thomas.
Luke Evans is Gerard's best chum and, until some unnamed incident, fellow altar boy, Vincent. It has to be said to his credit that unlike some, if not all, of his colleagues Evans has an accent that is patently authentic.
Gill relies on subtle differentiation to make his points. For example he distinguishes between the outlooks of Mrs Harte, who knows how to laugh off her problems and possibly remains too close to her son for his own good; and the overburdened Mrs Driscoll, whose postnatal depression eventually proves fatal.
A generation down, the two boys are clearly the closest of friends and their relationship, even as small children, becomes at least quasi-sexual but Gerard's shyness, surely mirroring that of his creator, eventually stops them from developing the long-term relationship that both yearn for.
We see them again twenty years on and now, it is the former sailor and also (against his inclinations) husband and father, Vincent who makes the running. Once again, in following his nature rather than his desires, Gerard cannot take things forward. These final scenes are given added piquancy by the presence of the two mothers lying prone on stage, symbolically giving off the message "over my dead body".
Small Change is a fascinating revival, which intricately delves into ordinary, working-class lives, eschewing flashiness and dramatic invention for the sake of it.
It is worth seeing both for the potency of Peter Gill's language, especially when siphoned through the mouthpiece of Gerard, and also its gentle portrait of ordinary folk in the days when homosexuality was illegal and a seven-year apprenticeship on practically no pay was regarded as the best gift that a hard-working mother could give to her son.
Reviewer: Philip Fisher