Small Miracle
Neil D'Souza
A Mercury Theatre Company Production
Tricycle Theatre, Kilburn
(2007)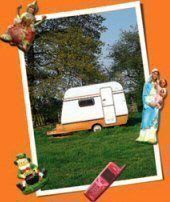 In his debut play, Neil D'Souza, who is better known as an actor, attempts to combine the mysticism of two different religions. He does this through the medium of a family at war both with each other and, in each case, with themselves.
The comedy is played out close to the Catholic shrine at Knock in Ireland where an apparition of the Virgin Mary reputedly appeared to the faithful in 1879.
Chloe Lamford has created a simple but delightful set made up of three picture postcards from one of which the family caravan cheekily pokes out a corner.
The mood throughout borders on the hysterical, as generations collide, usually at top volume. There are two pairs of parents and children from different generations. On the home side as it were, Gina Isaac plays Bronagh, the thirtysomething mother of Sadie, who is at that awkward age, 13, where mum can do nothing right. Ella Vale is marvellously kooky as the lonely, would be Goth with a bad history.
Bronagh's man of the moment is Arjun, played by Goodness Gracious Me star Kulvinder Ghir. He is an insurance salesman who is tired of his job not mention his infinitely tedious, whining mother Meera, hammed up to a remarkable degree by the Archers' Souad Faress.
The joker in the pack is Peter Dineen's Barry, the campsite janitor/manager, yet another lonely soul who delights in updating us on a blocked toilet at regular intervals.
This incongruous mix bickers then makes up with startling constancy and D'Souza eventually feels the need to resort to minor miracles to jog the plot along. In particular, Sadie keeps disappearing and, rather than being off with the fairies, it appears that she might be communing with the Virgin Mary herself. Since the girl has a habit of chatting with a dead friend, this is not as unlikely as it seems.
The miracle - if there is one - happens when Meera, who was apparently crippled and at death's door, starts jumping around like a two-year-old colt and discovers septuagenarian sex with boring Barry.
Meanwhile, Arjun has decided to give up his job and become a writer, telling this tale as barely disguised fiction and some meaning is injected as we all discover the back-story surrounding the psychologically damaged Sadie, which, in real life, the whole family would have been aware of and could hardly have forgotten.
Small Miracle is far too contrived to be a successf,ul play and with the exception of Sadie, no character is both believable and all that interesting. The idea of putting two religions at loggerheads has massive scope but, unfortunately, Neil D'Souza does not take advantage of the opportunity presented.
Reviewer: Philip Fisher