Smell The Roses
Lucy Wrigley
Puddle Theatre Company
Kings Arms, Salford
–

Listing details and ticket info...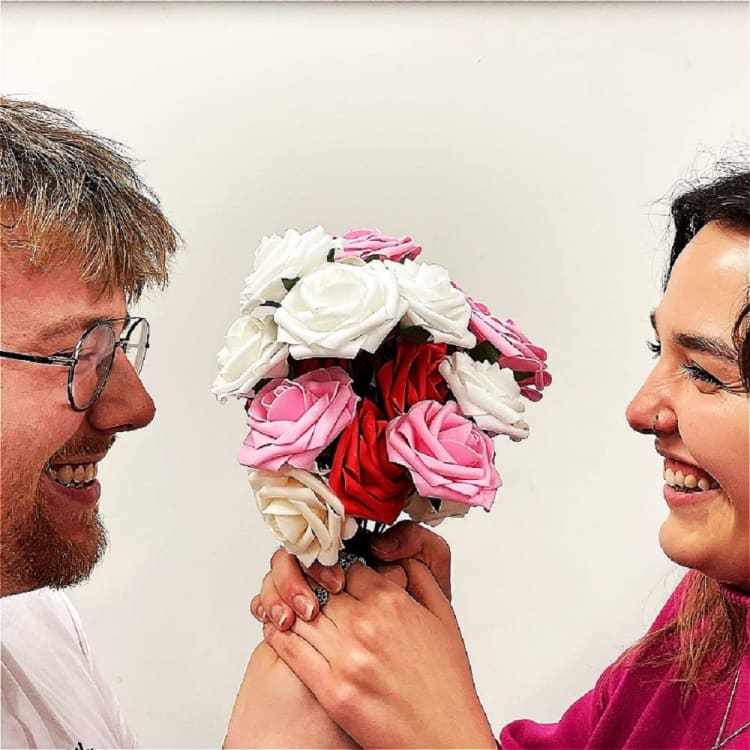 The 2023 GM Fringe gets off to a promising start with the very first production drawing a capacity audience at The Kings Arms.
The advice Smell The Roses is usually taken as meaning you should pause and enjoy or appreciate what is under your nose. In Lucy Wrigley's romantic comedy, the phrase has a crueller meaning: to face up to unwanted reality.
Florist Molly finds reality harsh—struggling to hit her financial targets and fulfil the expectations of her mother. Her professionalism is such, however, when customer George requests a bouquet that will convey an insulting message, she is able to select flowers which have offensive symbolism but look fantastic. George is so impressed by Molly's knowledge, he seeks tutoring in the meaning of flowers. But Molly's unstated hopes about the use to which George might put his newfound expertise may not be realised.
Smell The Roses is a quality production with a good cast and original music. However, it has a tentative atmosphere, scenes do not build to an emotional crisis point but just end quietly before another one begins. This cautious approach continues to the laidback ending. Together with the brief running time, this understated approach gives the impression the audience is watching the first episode of a sitcom or the opening scenes of a longer play. You keep thinking there is more to come.
Possibly the brevity of the play limits the extent to which issues could be explored. There is little dramatic tension—Molly's financial problems and the possibility of her disappointing a loyal client are resolved by a few lines of dialogue.
As with all romantic comedies, there are contrivances. It is unclear why Molly is still single, and she has such an appealing personality it is hard to accept she is still on the shelf unless it is by choice. George, on the other hand, does not seem much of a catch, being consistent only in being inconsistent, making some morally dubious choices and generally behaving like a twit—pushing to the top of the queue.
The comedy is low-key with no obvious punchlines. Molly's gritted teeth effort to drum up custom at a wedding fayre makes for some neat comedy of embarrassment moments, but the only clear comic character is Molly's sister Tilly. However, the admirable decision to widen the depth of the character and show Tilly is not just the shallow person she appears on the surface limits her comic impact.
Smell The Roses is a promising first production from Puddle Theatre Company, although there remains room for further development.
Reviewer: David Cunningham