Send More Paper
Devised by the Company with dramaturgy by Susan Mulholland
NORTH
Northern Stage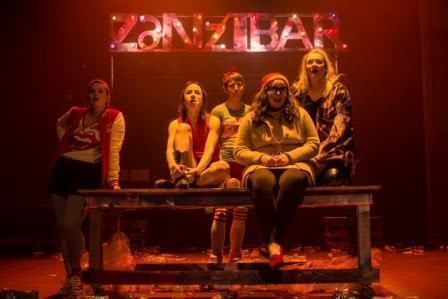 NORTH—or, perhaps more properly, NORTH14, to distinguish it from last year's company—is a group of eight young performing arts graduates from across the North East brought togther by Northern Stage to "make work, develop skills and take the next step with the full support of a professional theatre company." The company is led and directed by Mark Calvert.
Last year's company produced The Man Who Thought the Moon Would Fall out of the Sky and they are currently working on their second show under their new name, The Letter Room.
Send More Paper is the (true) story of a group of women in Hungary in the early twentieth century who committed mass murder over a period of fifteen years. There are any number of ways this tale can be told, from Grand Guignol to tortured psychological drama, from police procedural to drama-doc reconstruction, but North has opted for a fast-moving presentation, including elements of Grand Guignol, physical theatre, clowning and mime, along with text, to tell the story in an amusing and entertaining way.
It's only after the play has finished that you think, "Hang on! These women have been murdering men right, left and centre—and we're laughing!"
To get a flavour of the piece, think Chicago and, in particular, "He Had It Coming", for these men certainly did.
The cast—Jessica Dawson, Adam Gibson, Hannah Goudie, Lauren Hurwood, Caroline Liversidge, Robert Nicholson, Luca Rutherford and Jamie Tansley—have tremendous energy, which they certainly need as they move from scene to scene, sometimes quite intricately choreographed, and style to style.
There is a superabundance of ideas and all credit to dramaturg Susan Mulholland and director Mark Calvert for shaping them into a coherent and cohesive whole which carries the audience—somewhat breathlessly!—along.
Devised pieces can sometimes be lacking in focus and self-indulgent. This isn't—and it's fun!
And the paper? Think fly paper and its toxicity...
Reviewer: Peter Lathan