Snookered
Ishy Din
The Bush
–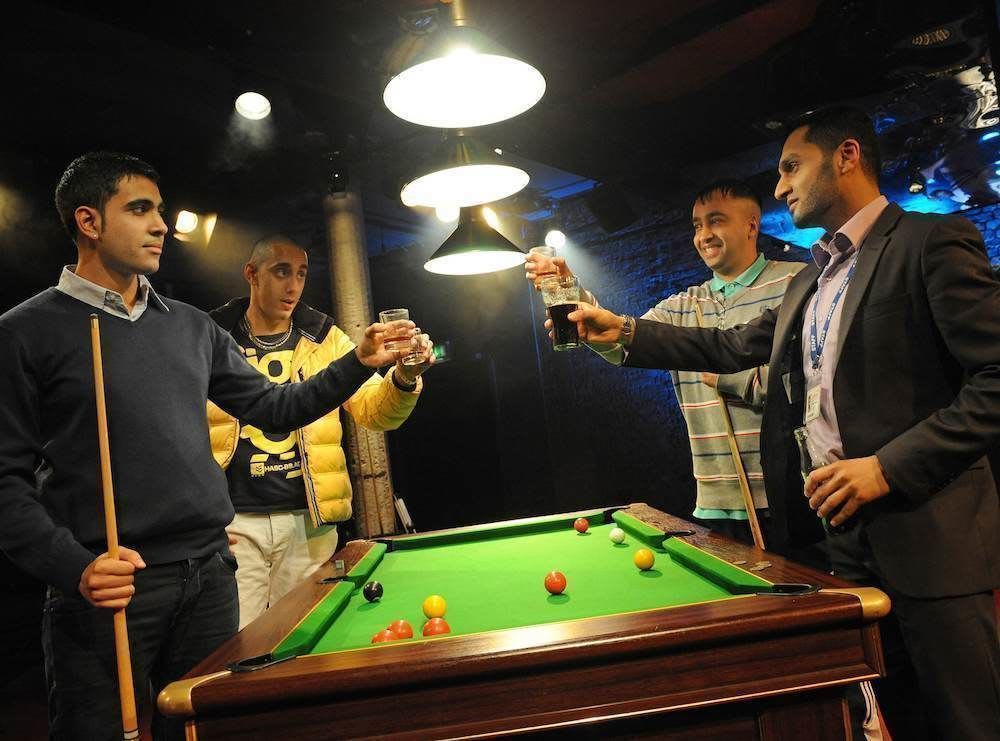 Snookered takes place in a Northern pool hall frequented by young Asians, who deride that term. Quite where it is located is uncertain from the varied accents, perhaps Bradford, Oldham, where it premiered or writer Ishy Din's home town of Middlesbrough?
What is clear is that the four lads at its centre are leading pointless lives, each suffering from deep insecurities that have strong underpinning.
They have gathered to commemorate the death of a fifth crusader T, who eventually succumbed to an overdose.
What we get is close to two hours of gritty soap opera with stereotypes abounding. The four pals harbour numerous grudges and hide secrets that will mortally hurt themselves and each other when they eventually emerge.
Shaf, played by the pick of the performers Muzz Khan, is a boring, loud-mouthed father of nearly five. Drink makes the taxi-driver (a career pursued by Din himself) mad and the only thing keeping him going is the prospect of setting up in business with exiled Billy, Jaz Deol.
Living in London, Billy suffers his own anguish, having turned away from his now bitter family to shack up with long gone Sharon, in doing so wrecking his life.
The other pair fare little better: Asif Khan as butcher Kamy is cowed equally by his father and limited brainpower and Peter Singh's Mo aspires to manage an electrical chain store but aches to become a father.
Their plights clearly can be seen as representative of young, second generation Asians up and down the country, confused by the contrast between their traditional cultural values and those pressed on them by the marketeers and the media of Britain today.
Towards the end of Iqbal Khan's production for Tamasha, testosterone and melodrama take centre stage as home truths flood out, while the quality of the pool being played as a companionable metaphor nosedives from what was a pretty low base to start with.
The play can come over as far too close to the kind of experience that one goes through while on the wagon (or nobly acting as team driver) when friends are necking pints and shorts with terrifying, boastful repetitiveness.
The lads make sense to themselves but it can be hard for the sober onlooker to decipher the underlying importance of their boozy tirades. Their messages are deliberately mixed, as religion becomes diffused by broken taboos and society provides little support or hope for a better future.
Perhaps hinting at Ishy Din's ambitions to deliver a powerful social message, at the end of a stormy evening, we are left to observe Shaf and the barman on stage closing the evening in truly Chekhovian fashion.
Reviewer: Philip Fisher