Snow Queen
Mike Kenny, adapted from the short story by Hans Christian Andersen
Tutti Frutti
York Theatre Royal
–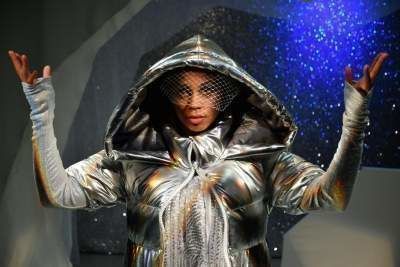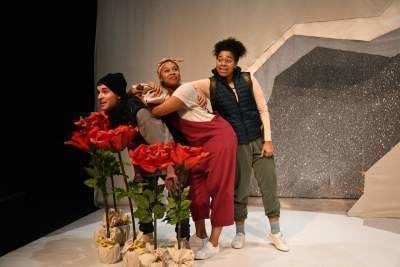 Earlier this year, Tutti Frutti staged Keepy Uppy—a jolly and imaginative show about a mother and son's shared love of football. Their latest production is equally enchanting, even if it strikes a far less upbeat note.
Mike Kenny, a seasoned adaptor of children's literature, puts a modern twist on Hans Christian Andersen's classic fairy tale The Snow Queen (1844) by placing its two young protagonists in a tower block.
Neighbours Gerda (Hannah Victoria) and Kai (Mitchel Wolfe) have been inseparable buddies for as long as either of them can remember. However, their relationship comes under great stress when Kai's mother dies. Sad and isolated, he withdraws from Gerda and her doting grandma Elsie (Joanne Sandi) and becomes the prisoner of the mysterious Snow Queen (also Sandi) who dwells in a world of ice.
Gerda sets off on an epic journey northwards to save her friend, encountering a variety of colourful characters along the way.
Over the years, Tutti Frutti has been widely acclaimed for staging accessible shows that speak to the interests and concerns of young children. I applaud their choice of material here because The Snow Queen is one of the Andersen's most melancholy stories and Mike Kenny does a fine job of exploring grief and bereavement in a way that won't upset or frighten the youngsters too much.
As we have come to expect from Tutti Frutti, Snow Queen is brought to life by a small ensemble of talented young performers. As Gerda, Hannah Victoria makes an appealingly gutsy heroine and Mitchel Wolfe convinces us of Kai's emotional pain and subsequent numbness. Completing the cast is Joanne Sandi who effortlessly morphs from a loveable granny into a cold, forbidding sorceress.
Snow Queen boasts an impressive score from Ivan Scott which alternates between lively music numbers (all energetically performed by the cast) and sinister background music redolent of '90s trip hop. Holly Irving's high-energy choreography for the funkier songs help to make the show's darker themes more palatable.
Kate Bunce's austere white and silver set opens up to reveal hidden pockets of colour, and I enjoyed the production's imaginative use of props, particularly the oversized roses that Elsie tends to on her balcony.
Snow Queen is a magical, transporting show that appreciates the power of good storytelling. That being said, I would urge caution if your child is particularly sensitive.
Reviewer: James Ballands