So It Goes
Hannah Moss and David Ralfe
On the Run
Underbelly, Cowgate
–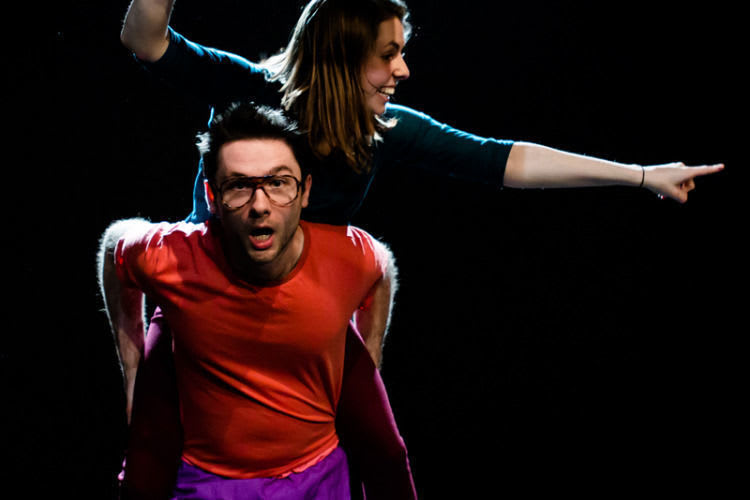 If you get to the stage of feeling like going home after seeing yet another trashy Edinburgh show with no artistic merit and puerile attempts at humour, So It Goes will restore your faith in the medium and the Fringe.
You will not see anything quite like this anywhere else either. For reasons that only become apparent at the very end, Hannah Moss and her supporting cast David Ralfe relate a tragic story silently.
Instead of speech, Miss Moss primarily uses a personal whiteboard hanging around her neck on which she writes short messages upside down so that we can read them. Ralfe does likewise, playing a number of roles with quick changes often needed.
Further information is delivered using simple cards and frequently hand-drawn props (though four-wheeled doctor-ducks are unforgettable) created in advance and organised with the greatest of care, building to a beautiful representation of Holkham Beach in Norfolk.
This might sound like the stuff of comedy but, in fact, So It Goes is a tragedy, dedicated to the life of Hannah Moss's father Mike, who died around seven years ago when she was 17.
The schoolteacher who loved running had been diagnosed with cancer some four years before that, so at least there was time for the family to prepare as much as you ever can.
The hour addresses issues of mortality but also contains much thought about love, showing Hannah and Mike at various stages and even tracking back to his wooing of the woman that would become his wife, a welcome injection of levity into what can be a tear-jerking presentation.
Thanks to an intoxicating mixture of history, eulogy and wit and its unique form, this is one of the very best shows that Edinburgh has to offer in 2014.
Reviewer: Philip Fisher