So You Want To Be a Corporate Actor?
Paul Clayton
Nick Hern Books
Released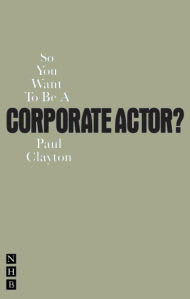 This book has a slightly different target market from earlier titles in the series. Where those purchasing a book intending to become actors, directors etc are probably students, it seems much more likely that, as the author identifies, it will be people already in the profession who aspire to make this kind of switch.
Being realistic, most children will grow up desperate to star in Hollywood blockbusters, West End musicals or possibly the odd TV soap.
Few will have been filled with a burning desire to make a life performing before businessmen with the intention of helping them to work more efficiently or shoppers uninterested in what they are demonstrating.
However, when over 90% of actors are resting at any time, the temptations of a career change or add-on that promises regular work in business hours with lucrative pay cheques might well seeming increasingly tempting. This is even more likely to be the case when the alternative is spending even more time waiting on tables or filing meaningless documents.
Be warned, this is not a halfway house. Paul Clayton takes the realistic view that in most cases it will be necessary to commit to this career, quite possibly giving up acting or directing opportunities in order to make it work.
The real problem is that the tempo of life is so different. Corporate actors have to be available when and where they are required and, if they are successful, this business is not going to leave a lot of time to dive off for auditions or TV work, let alone a six-week TIE tour of a cut-down Hamlet.
Much of the content of this book is based on experience but common sense is equally important. A great deal of work covered by this title will involve thinking on the spot rather than working to a script and that will either be the big attraction or a major turn-off.
The types of work that are likely to come your way start off with scripted role-play. A good example would be a commission to help trainee doctors to break bad news to patients.
An alternative is what the writer calls bespoke role-play, in which the actors are obliged to go with the flow to assist (say) office workers to develop various skills.
A new concept for this reviewer is forum theatre, in which actors perform to large audiences from a stage, seemingly with the intention of pretending to do jobs as badly as possible in order to encourage their viewers to point out inadequacies, learning as they do so.
Clayton also covers every other kind of corporate gig imaginable including dressing up as furry animals, demonstrating goods in shops and at exhibitions, conferences and even murder evenings.
In addition to his own thoughts, the writer includes extended quotes from fellow corporate actors, producers etc sharing their views on specific topics.
It could be suggested that rather too much of the time Paul Clayton likes to use corporate speak and state the obvious. However, possibly for those whose only previous work has been on a stage, the bread-and-butter of business life may be a revelation and justify the purchase.
Where yet another helpful volume in this handy series really scores is in relating the necessary skills for this job to those more familiar to actors, thus helping to make the transition that much easier.
Reviewer: Philip Fisher