Sod the Bitches!
Steven Berkoff
Urbane Publications
Released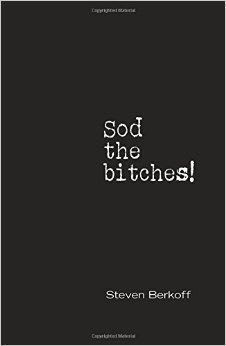 Until you get quite a long way into Sod the Bitches!, it is easy to believe that Steven Berkoff has delivered a work of barely fictionalised autobiography.
The protagonist does not pick up the name of John until something like page 200, by which time readers will be hoping for the writer's own sake that that some of the more sordid sections are invented rather than lived.
After a tirade against female theatre critics and women more generally, the book settles down into a good overview of the daily life of a relatively unsuccessful actor, though in such cases relativity is in the eye of the beholder.
Here is a man who goes about his daily business at a leisurely pace, knowing that for most of the time he will not have a constructive activity to occupy his day.
Whether that is because of a conspiracy involving his agent and others, lack of talent or lack of luck will always be a moot point with those following this precarious career.
The writing is very much Steven Berkoff, pacy, aggressive and sometimes bombastic, as he educates readers about the ups and downs of being a thespian.
All of this is fascinating, particularly when applied to the career of an ultimately successful actor, not to mention director playwright etc.
Berkoff is also a man who believes in making things happen so when things get quiet, his surrogate sets up a self-help theatre group, which proves frustrating but does, at least, give the budding actor an opportunity to perform Macbeth in front of a very unresponsive set of critics. So far, so good.
John is also a happily married man with a young child. However, his sexual needs stretch far beyond those that any wife could regard as acceptable, did she but know of them.
Every few weeks, this innocent wife's man is infected by a lust that can only be alleviated either by one of his horrendous lovers, who then come back to blackmail him or with women of the night, often masquerading as operatives in massage parlours.
Even at the start, these sections are not so much mildly titillating as rather sad, but, after constant repetition, become tediously misogynistic. This may well be intentional, showing how awful John's addiction becomes, but it really isn't much fun to read.
One hopes that the legions of Berkoff groupies will not be put off a lively, challenging look at the world of theatre by these excesses, as there is much to commend in Sod the Bitches!.
The book eventually culminates in a nicely twisted ending, although it smacks of wish fulfilment rather than logical progression and, if a sequel is planned, do not put too much money on a happy ending.
Reviewer: Philip Fisher