Solace of the Road
Adapted by Mike Kenny from the novel by Siobhan Dowd
Derby Theatre
Derby Theatre
–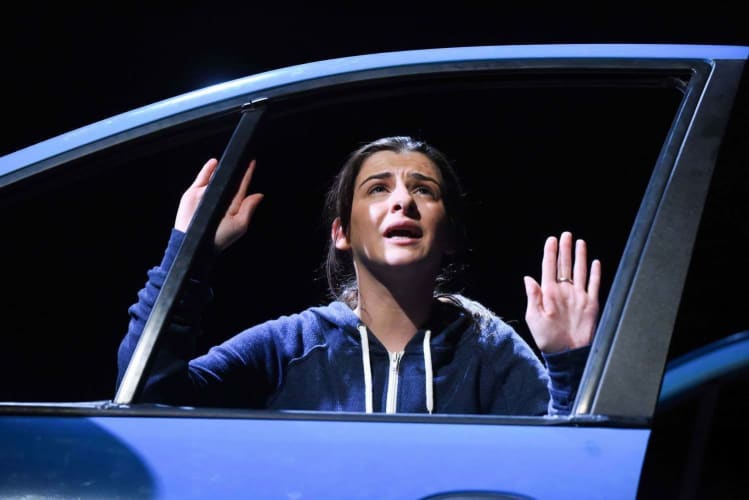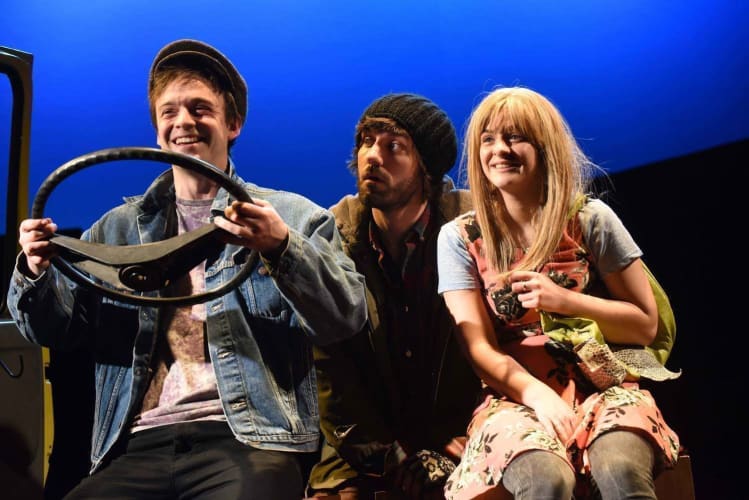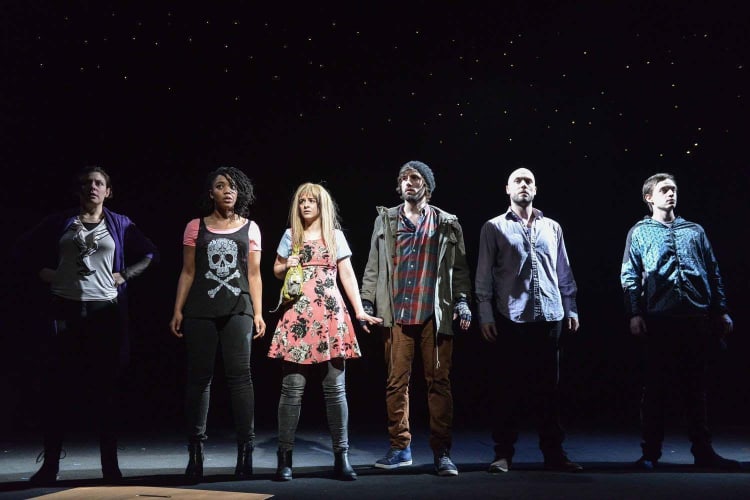 Adapting a book for the stage can pose countless problems. When it is a novel whose central character has so many escapades going through her head—a good proportion of them recalled with affection rather than reality—the task becomes even more difficult.
Mike Kenny was commissioned to come up with a stage version of Siobhan Dowd's seminal work. He has done a commendable job. Derby Theatre's artistic director Sarah Brigham matches Kenny's imaginative treatment to produce a spirited, stunning play which has a message of hope as well as moments of shock and despair.
Siobhan Dowd wrote four novels before she died of cancer in 2007. Solace of the Road is the story of Holly, a teenager in care who sets off to find her mother in Ireland. She puts on a wig and assumes the character of Solace, much more adventurous and self-assured than her other self.
The theatre consulted a number of young people in care along with foster carers and social workers during rehearsals. Their experiences have been introduced into the play which has a continual feel of grittiness as well as authenticity.
This is despite Holly's recollections being somewhat random and in no particular chronological order. The play zips along at a brisk pace and maintains the audience's interest throughout.
The role of Holly is taken by Rebecca Ryan. In 2014 she played Jo, a teenage working-class girl who wants to escape the drudgery of her life, in Shelagh Delaney's A Taste of Honey at Derby Theatre. I described her performance as "totally captivating the essence of the part". In Solace of the Road she is similarly impressive.
As Holly she is vulnerable, immature and easily led. Yet as Solace she becomes carefree, confident and cheerful.
Quick transformations are evident throughout the play. The five other cast members play multiple parts and switch seamlessly from one character to another, sometimes without even a costume change.
Polly Lister is wonderfully resourceful and almost steals the show. She appeared at Derby Theatre in 2013, playing Mam in Lee Hall's Cooking With Elvis, a "delightful" portrayal of a woman who becomes a heavy-drinking cougar to escape her troubled home life.
Here she skilfully differentiates between Holly's Irish mum, her foster mother Fiona and an upper-class Oxford student, among others.
There are also strong performances from Derby actor Neal Craig, especially convincing as sadistic Denny and lecherous Welsh lorry driver Kirk, Naomi Ackie, Jack Finch and Robert Vernon.
Designer Barney George comes up with a clever set, the opening and closing drawers in Holly's head being represented by steps lit appropriately which reveal hidden props including Solace's wig. People appear and disappear at different levels while cars, a lorry and a motorbike are depicted with imagination and quirkiness.
The whole show works, right down to the music which often features refrains from the Eurythmics' Sweet Dreams (Are Made of This).
Solace of the Road is a skilful production which elicits sympathy for most of the characters; you feel genuine concern for them and hope their lives improve. It is a worthwhile, commendable play with plenty to say. Such a shame that on the night I saw this world première there weren't more people in the audience.
Reviewer: Steve Orme