Solaris
David Greig
Malthouse Theatre Melbourne and the Royal Lyceum Theatre Edinburgh
Lyric Hammersmith
–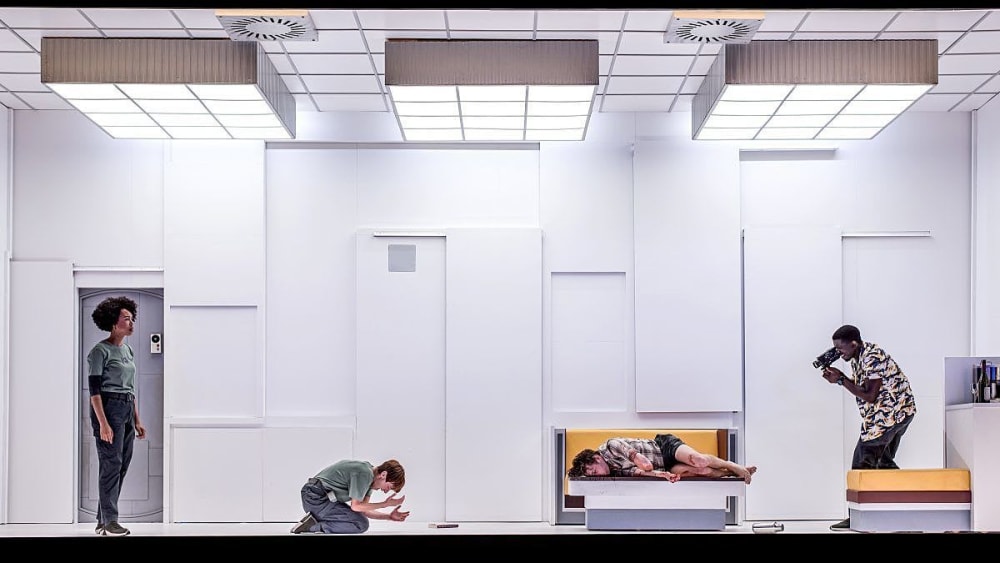 It is not often that companies from across the globe get together to produce a piece of theatre. This co-production from Malthouse Theatre Melbourne and the Royal Lyceum Theatre Edinburgh brings together talents from the UK and Australia to transfer to the stage a cult science-fiction novel from Poland that has engendered two equally cult movies directed by Andrei Tarkovsky (1972) and Steven Soderberg (2002).
Scotsman David Greig has created a spare script that is then directed in cinematic style with numerous short takes by Malthouse's Matthew Lutton utilising a cast with accents from England, Scotland and Australia.
The material with which they work is standard sci-fi stuff, which means that viewers are required to import a considerable suspension of disbelief, which is inevitably a requirement of the genre.
Designer Hyemi Shin has faithfully recreated a hard-edged, bright white 1980s TV-style interpretation of a space station, complete with machines that look like vintage VHS players and stereos and actually utilises VHS tapes but has just about reached the era of the CD.
This is the interior of a satellite from Earth that is orbiting the planet of Solaris, hoping to find life elsewhere in the universe.
When Polly Frame's Kris arrives to relieve the home trio, she discovers Fode Simbo and Jade Ogugua in the roles of Snow and Sartorius, each equally jumpy and evasive.
In part, this can be attributed to the passing of their leader, one of Australia's most popular actors Hugo Weaving playing the deceased Gibrarian but only appearing via video.
However, the biggest surprise for Kris (not to mention viewers) is the arrival in her bed of a former lover from millions of miles away, Keegan Joyce playing Ray. As if transportation across time and space were not enough of a surprise for our plucky heroine, the laid-back Australian has also been long dead.
It subsequently transpires that the action of Solaris is fuelled by the assumption that a planet with a calming ocean and powerfully seductive mood colours has the ability to get inside visitors' heads and dreams and recreate single members of friends and family.
Sci-fi addicts will lap up this kind of scenario, while other viewers might look askance.
The attractions that the latter group is likely to discover instead rely entirely on their own imposition and interpretation of the metaphors underlying the two-hour-long tale.
While her colleagues seem two-dimensional, Polly Frame's character, a psychologist with a scientific background, and her pursuit of love in direct contradiction to logic or any kind of sense is quite touching, helped by the actress's convincing performance.
Matthew Lutton's production looks good, while David Greig has written a script that rarely slackens. There is no doubt that sci-fi fans will enjoy a rare opportunity to see their favourite medium depicted on stage, while many other viewers could well relish an unusual depiction of the power of love and lust.
Reviewer: Philip Fisher