Some People v Reginald D Hunter
Reginald D Hunter
Shepherd's Bush Empire
–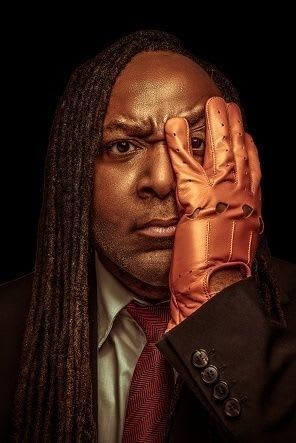 Devotees of this British-based American comedian will be delighted that his 2017 offering, which heads to Edinburgh following the culmination of an unexpectedly trying UK tour, is completely new and frequently very funny.
There is added novelty in that, for the first time in his 20-year career, the stand-up does not. That is because a broken leg resulting from a fall (the story of which did not make it into the routine) has confined him to a wheelchair, where two weeks on, the brave soldier still appeared to be in considerable pain.
In consequence, a naturally relaxed and funny man was literally more laid-back, continuing the trend of recent years by presenting a less angry and more thoughtful persona.
The subject matter included many favourite targets and the usual direct language, Hunter being the self-appointed champion of what theatre web sites generally feel constrained to refer to as the "n" word. Ironically, we would not have had a problem historically, since the likes of P G Wodehouse happily used the offensive epithet in its entirety a century ago.
In the comic's hands, it becomes all-purpose as a noun that can convey practically any meaning, depending on context but also sends powerful messages about issues of race, always a mainstay of the hour.
While his own sex life was avoided for once, those of others are always good sources of laughter, as are the political leaders of both his own country and Germany.
The family is still a primary source of the best material, Hunter's 98-year-old father continuing to represent a major influence on his life and comedy. However, the younger generation also gets a look in with an insight into Hunter's influence on devoted younger relations in the United States.
As ever, much of the evening reflects on the differences between the immigrant's natural and adopted countries, both undergoing political changes that are not to the dreadlocked philosopher's taste. In this area, not only is he very funny but he also clearly in tune with the views of an appreciative audience who apparently have similarly unfavourable views about both the President of the United States and the United Kingdom's decision to decamp from Europe whatever the consequences.
While the first 50 minutes showed Reginald D Hunter at the top of his game, there was a slight tailing off as he reached the end of the set. This may have been due to experimentation, pain that was becoming visible in the latter stages or the need for a little extra material. In any event, this hardly detracted from an extremely funny and thought-provoking night out.
While the tour has ended, anyone heading to Edinburgh would be well advised to book early to avoid disappointment.
Reviewer: Philip Fisher