Some Girls
Neil Labute
Gielgud Theatre
(2005)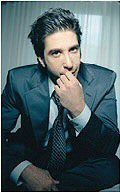 For many years, The Times newspaper made a big fuss about the arrival of the first cuckoo of spring. Now, the equivalent might be regarded as the first American TV or film star to grace a West End stage.
This year, by a short-head over Val Kilmer, possibly best known as Batman, comes kooky Ross from Friends, David Schwimmer. His appeal is immediately apparent, as the lights come up and a slightly nervous audience, clearly not familiar with theatrical etiquette, tentatively begins to clap and then whoop and whistle.
Writer Neil Labute is no slouch himself, having worked in film and theatre to great acclaim. In the Company of Men, Nurse Betty and The Shape of Things have helped to make his name. There are many of his trademarks in Some Girls, especially the frosty, almost murderous duels between the sexes and quite heavy-handed literary allusions. At various times, there are suggestions that we are in the world of ancient Greek drama, Don Quixote, Bluebeard and that the protagonist can be seen as following his own Pilgrim's (or Rake's) Progress.
His director, David Grindley, is one of Britain's finest young exponents of the art and comes to the Gielgud fresh from directing Kevin Spacey in National Anthems.
Labute works in the same region as David Mamet, focusing closely on individuals, mostly nasty if not actually vicious. The structure of Some Girls, with its heartthrob hero on stage throughout as four of his former lovers meet him to chew over old times, has much in common with Mamet's Edmond, seen not so long ago at the National Theatre with Kenneth Branagh in the title role.
Schwimmer plays an unnamed mid-thirties lecturer who has taken up short story writing and is on the brink of marrying a beautiful student nurse a dozen years his junior. Before he does so, he wishes to right a few wrongs regarding former girlfriends. His habit of loving them and then leaving them for the next one has become ingrained. Indeed, the four that we see are merely a sample of the destruction that he has left in his sexual wake.
In the first of the four scenes played out in hotel bedrooms around the United States, designed by Jonathan Fensom, it is quite hard to believe that Schwimmer is playing anybody but Ross. The audience loves it as he runs through the routine of funny gestures and malleable facial expressions. It might be just as well, as his encounter with comedienne Catherine Tate's Sam, a frumpish, bitter woman who was jilted just before the high-school prom, fails to sparkle.
Things improve considerably with the arrival of number two, the hippyish Tyler, played by the really excellent Sara Powell, who looks as if she is loving every moment of the coquettish grilling that she gives her former beau.
The third scene features Lesley Manville, a fine actress, as an older lecturer colleague who used to snatch spare moments and a hotel room with her toyboy. The damage that he caused to her husband and herself has never been repaired and her vengeance is both amusing and appropriate.
Finally, Saffron Burrows' Bobbi enters into philosophical debate about the nature of this man's behaviour and, in particular, the fact that he has begun to use these relationships as fuel for his short stories. She gives as good as she gets but it is inevitable that a typical Labute macho hero will just move on to the next one without a care in the world.
This 100 minute play peaks in the second and third parts and addresses the question of why some men behave so badly and unfeelingly towards their women. It is by no means Labute's strongest work, hardly comparing with bash: latter-day plays or The Shape of Things. However, since audiences will be most interested in seeing Ross and getting a few laughs and even gasps, they are unlikely to be disappointed.
Reviewer: Philip Fisher