Song of the Earth / La Sylphide
Choreographers: Kenneth MacMillan and August Bournonville Music: Gustav Mahler and Herman Severin Løvenskiold
English National Ballet
London Coliseum
–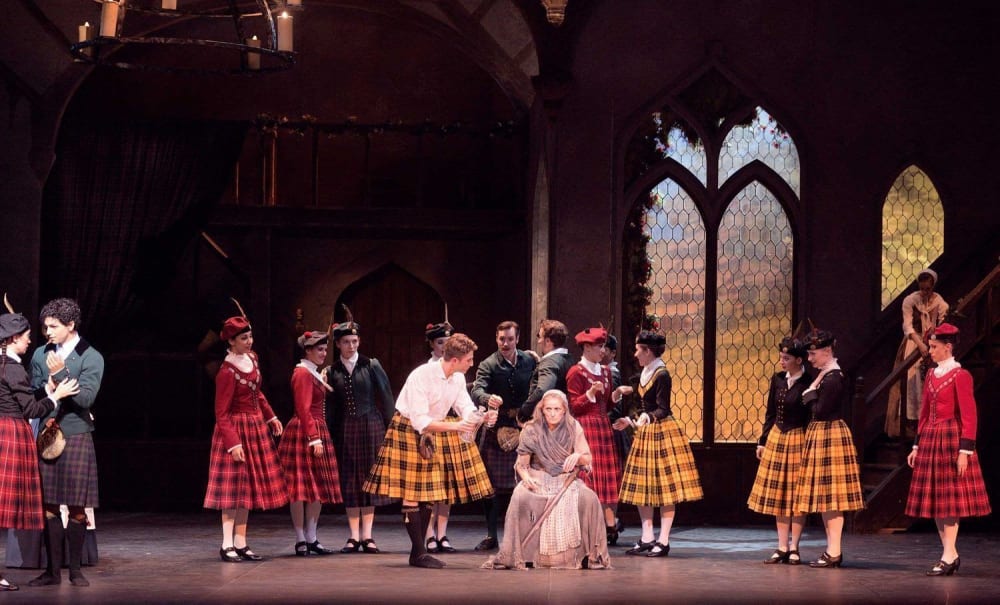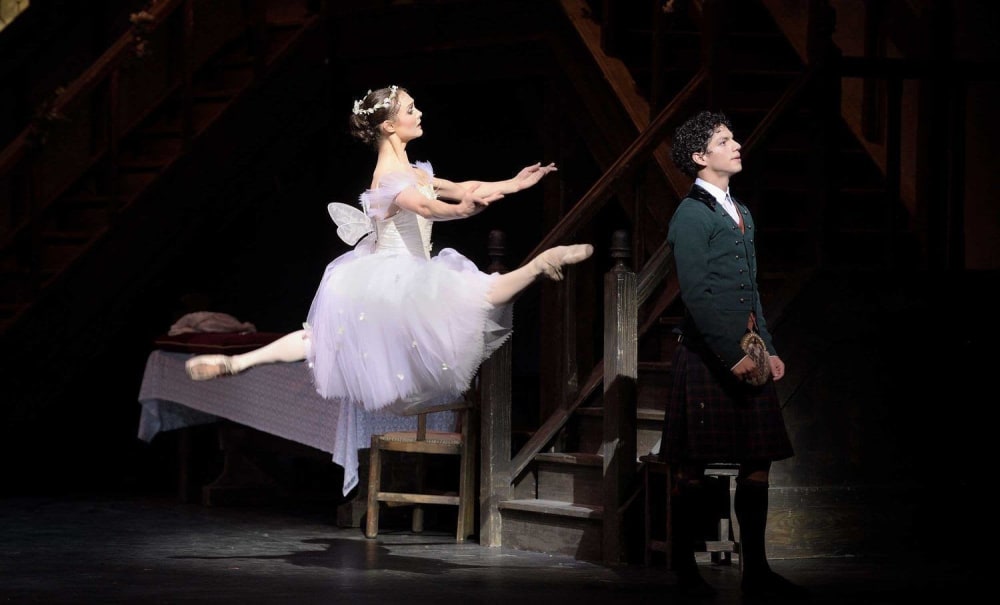 English National Ballet has already been touring this double bill, but this is the first time either production has been seen in London.
Mahler's Das Lied von der Erde is a setting of eighth century Chinese poems full of contrast, about joy and sorrow, drinking wine, gardens and nature, sunshine and darkness, a bird in a tree, young horsemen: six songs sung here by contralto Rhonda Browne and Tenor Samuel Sakker. Apart from the occasional image, MacMillan's ballet isn't their text in dance form but a response to the music in which three figures, the Man, the Woman and a masked figure identified as the Messenger of Death, are the central characters with choreography that has subtle reference to the Chinese origins.
Though the Messenger may take them away from each other, this is not a malevolent figure but a reminder that in life death is always present and part of its constant renewal, interweaving in trios. At first, the Messenger follows the Man, joining in with the men in their games, but in the second song ("Autumn Solitude"), the Woman is an outsider, set apart from the others. In a beautiful pas de deux, she finds a lover and, though he is taken from her in death, they are reunited.
Tamara Rojo is no newcomer to the role of the Woman: she has previously danced it with the Royal Ballet. She gives a precise performance of technical excellence, its emotion internalised. Joseph Caley doesn't make as strong an impact as the Man but they form a good partnership. As the Messenger, Fernando Carratalá Coloma was a late replacement due to the illness. A company artist suddenly out in the spotlight, this was a confident performance, graceful in its deep sweeping gestures and a positive identity even behind a mask.
MacMillan's powerful choreography, still feeling modern 50 years after it was created, is followed by a work 130 years older: Danish choreographer August Bournonville's version of La Sylphide, dating from 1836. It is a tale of Scottish laird James who, on the eve of his wedding, is beguiled by a Sylph, a fairy-like woodland creature and deserting his bride follows her into the forest.
This restaging is by Frank Anderson, Eva Kloborg and Anne Marie Vessel Schlüter, all of the Royal Danish Ballet, with settings by Mikael Melbye that present a landscape of crags and woodland and a baronial hall straight out of Walter Scott (though the huge candles in a hanging candelabra seem borrowed from some giant's castle!). As well as a plethora of kilts, there are a bevy of bagpipers (though sadly they aren't scored for in Løvebskiold's music) and Bournonville has great fun combining Scottish reels with his choreography. Bournonville's style, though he puts his lead ballerina en pointe, is so much more natural than the French and Russian classical ballet of the later 19th century. It is well served by the company.
Jurgita Dronina makes a playfully naughty Sylphide, fluttering like a moth round a flame by the sleeping James in his chair by the fire as the ballet opens. She is utterly irresponsible, but with handsome Isaac Hernández as James you can understand the attraction. When her kiss wakes him up, he tries to catch her but she slips through his fingers before disappearing but he can't stop thinking about her.
When a fortune-teller tells Gurn, a former rival, that it is he who will marry Effy, James's fiancée, James throws the woman out, making an enemy. But then he abandons his bride mid-dance to head off to the forest after his fairy spirit and Gurn steps in to comfort jilted Effy.
Hernandez has a Bournonville lightness and brings lots of élan to his leaps and leg beats. Anjuli Hudson is charmingly distraught as the bride and Daniel Kraus a devoted Gurn (Daniel Kraus), but Jane Haworth's witch Madge could be more malevolent as she brings disaster.
This delightful old ballet, so different from Macmillan's work, makes an enjoyable contrasting pairing. It is a clear piece of storytelling, helped by the confidence with which the company presents the traditional mime that stands in for conversation.
Later in this short Coliseum season, ENB will be presenting La Sylphide paired with Roland Petit's Le Jeune Homme et La Mort.
Reviewer: Howard Loxton