Songs of the Wanderers
Choreography Lin Hwai-min
Cloud Gate Dance Theatre of Taiwan
Sadler's Wells
–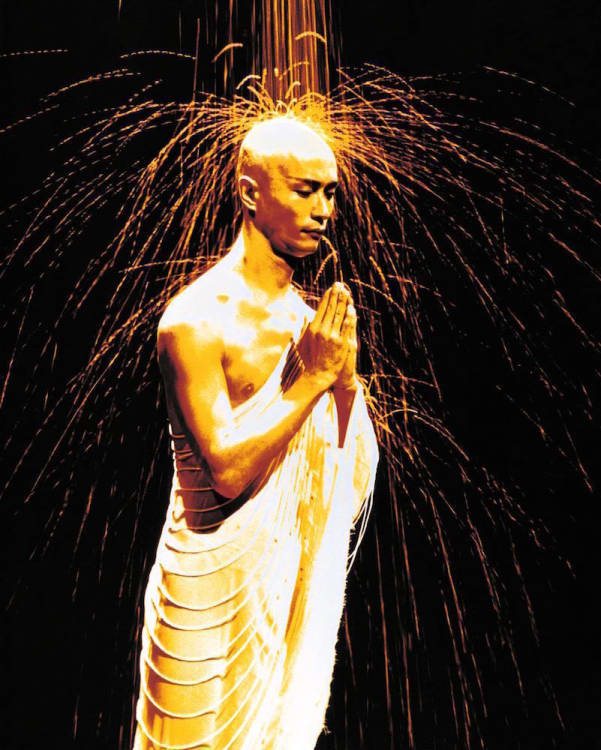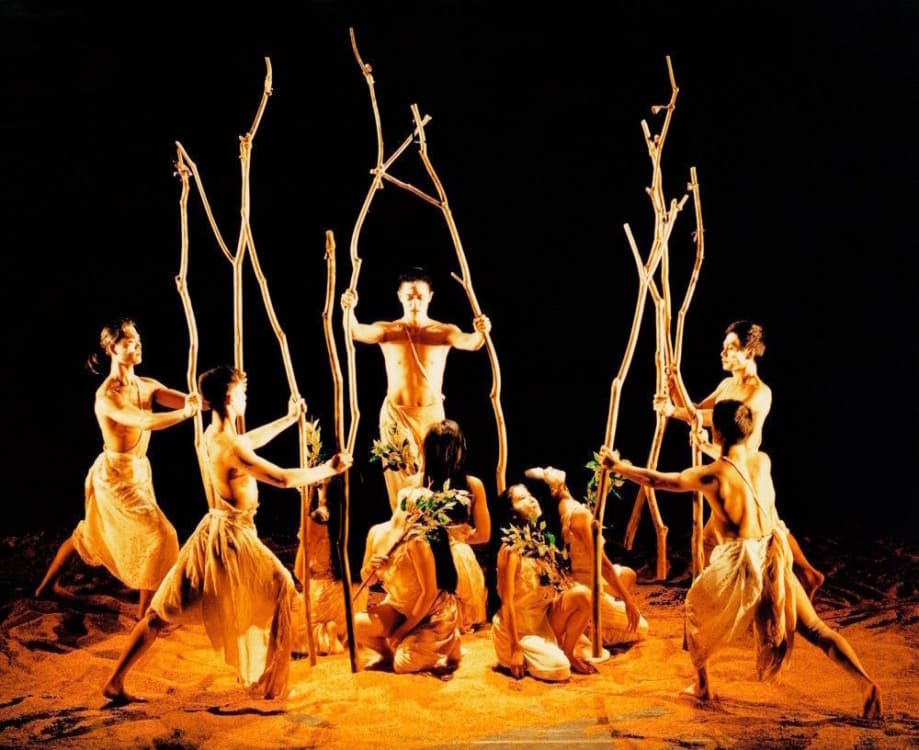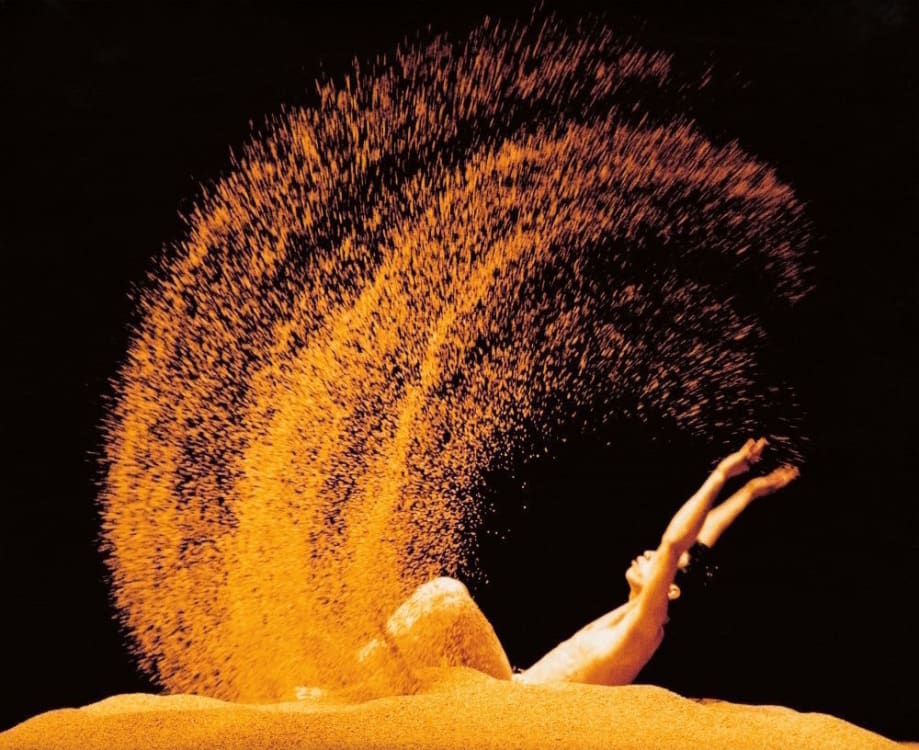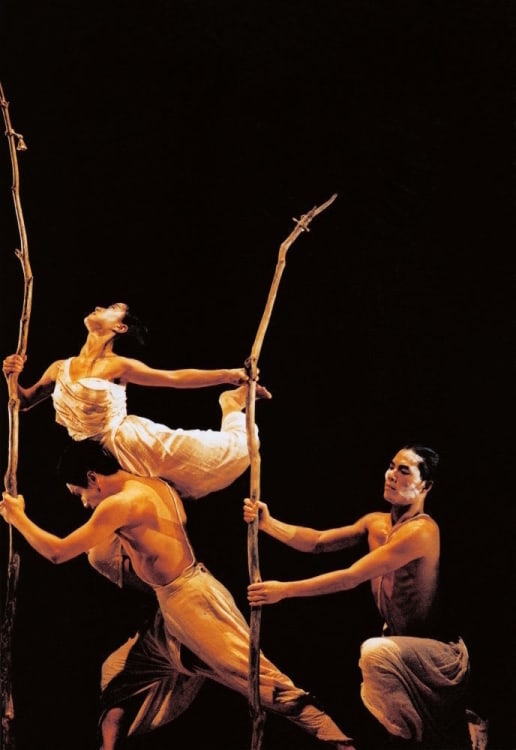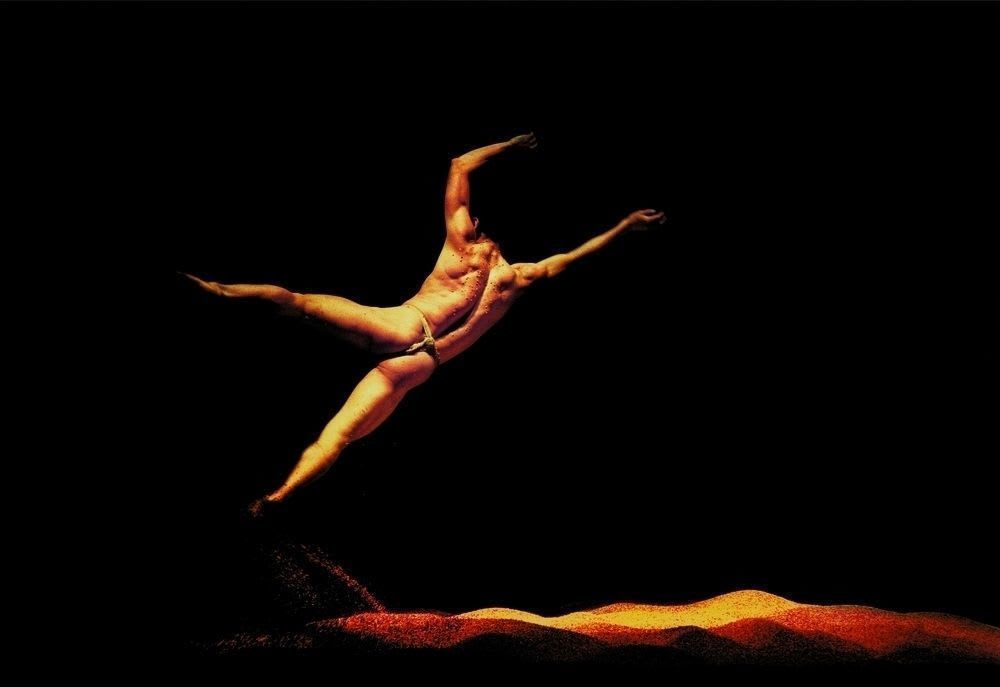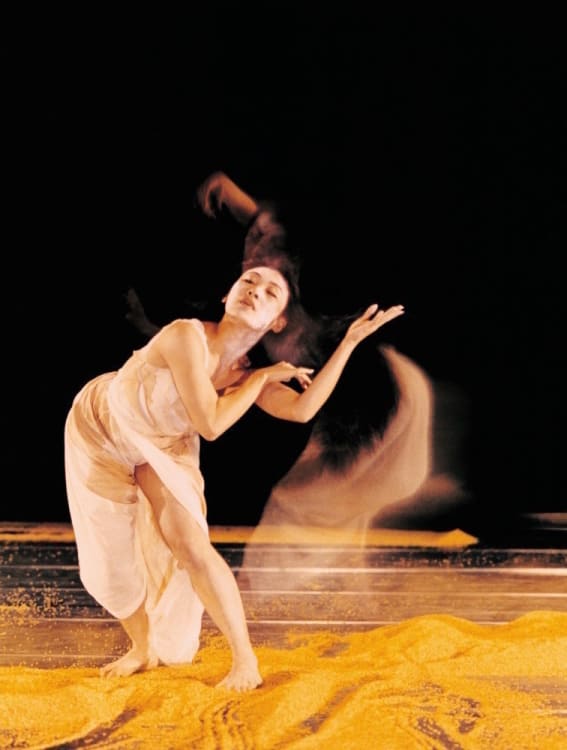 Cloud Gate Dance Theatre of Taiwan, founded in 1973 by choreographer and artistic director Lin Hwai-min—still going strong with a company of twenty-four dancers—combines training in meditation, Qi Gong, martial arts, contemporary and classical ballet, and calligraphy, and it shows…
Transfigurative golden light, transportive polyphonic Georgian folk song harmonies (Rustavi choir recordings), a Chinese calligraphic and watercolour aesthetic, gentle flowing movements, tons of yellow rice shifting like desert sands, falling like sheets of rain, in rainbow spray; and a stoical Buddhist monk—a living sculpture, an hourglass—standing in prayer at the side under a column of raindrop rice falling on his polished bald pate for some seventy-five uninterrupted minutes.
If he can do it, so can we. Mesmerising, meditative, try Songs of the Wanderers for mindfulness, so fashionable these days. You won't find better. I wanted to close my eyes and listen, but I also want to see—how to reconcile the two, maybe another visit…
Pilgrims appear, bells tinkling on tree branches used as staffs, timidly, quietly they seek: childlike they roll in the rivers of rice, play in the sandpit mounds, perform a solemn "Rite of Fire", a sensual flagellating "Rite of Tree" in beautiful simplicity, the women dryads, the men the priests, creating magical stage pictures, as they carry the women on their backs, and use them as altars for the fire.
All this at a tranquilising t'ai chi pace, their movements guileless prayers to the primitive unknown. The balances are amazing. Akram Khan crosses my mind (granted not for his mercurial speed), as does Pina Bausch (not least for the woman with a tree on her back in …como el musguito en la piedra, ay si, si, si).
Songs of the Wanderers has toured worldwide since 1994, Bausch's international dance festival one of its many venues. Interesting to see how a quiet piece can resonate so loudly, and how, with its autochthonous sensibility and its Eurasian melding of Georgian song and Buddhist spirituality, it can transcend place and time.
Lulling, quieting—a treat for insomniacs—ecstatic and solemn, whirling and writhing, visual metaphors, lit superbly by Chang Tsan-tao, come to life. I am transfixed. Then it's over. The dancers, the monk (big cheer) and the artistic director take the curtain call, and that's it… But no, wait, there's a coda—could be the beginning, could be the end the programme tells us. The cycle of life, I see…
A man walking backwards rakes the scattered rice sand into a mandala crop circle, painstakingly slowly, to plaintive song, for the next quarter of an hour until it fills the whole stage. This really is like meditating on a candle. The lighting shifts, shadows fall—the awe of twilight.
Ninety minutes of mindfulness: are we multitasking, hectic-paced urbanites capable of slowing down our minds and heartbeats for a minute even? You bet. And the time passes surprisingly quickly.
The well-travelled twenty-two-year-old Songs of the Wanderers takes inspiration from a visit to Buddha's Bodhi tree in Bodhgaya, where not only Buddha but also Lin Hwai-min found enlightenment. Now, he says, "every day the dancers of Cloud Gate Dance Theatre of Taiwan meditate". One can see its benefits.
Reviewer: Vera Liber