South Pacific
Music by Richard Rodgers, lyrics (and book) by Oscar Hammerstein II , book by Joshua Logan
Barbican Theatre
(2011)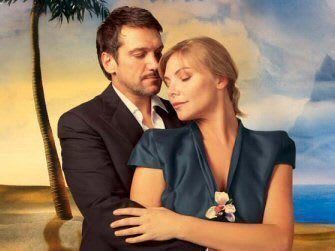 South Pacific almost has the feel of a jukebox musical, so well-known and well-loved are the majority of the songs. The big distinction here is that they join up perfectly with the book, which is the mark of the best examples of this genre.
Bartlett Sher had tremendous success - seven Tonys including one for his own efforts - with this production at New York's Lincoln Center. There is every chance that it will do just as well with a London cast that includes a couple of big hitting imports from the New York production.
The opening night was very nearly derailed before it started, as leading actress Samantha Womack had managed to break a toe the previous day. However, showing the true fighting spirit of her character Ensign Nellie Forbush, the actress ignored the pain and will have won 1,200 or so hearts by doing so.
Nellie comes from small-minded Little Rock and, despite falling for Emile De Becque, a handsome French baritone with an awesome voice, the blonde quickly gets cold feet. Paolo Szot won a Tony for his performance as De Becque and it is easy to see (and hear) why.
The nurse's change of heart is not a reaction to the émigré's admission that he is on the run after committing a murder, which little Nellie takes in her stride. Her objection is to the miscegenation that produced two adorable children.
There is a lot of it around in these idyllic islands, as a commando Daniel Koek playing Joe Cable is soon smitten with local girl, Liat.
She is ruthlessly pimped by her hilarious mum Bloody Mary, wittily portrayed by Loretta Ables Sayre, who played the part for Sher in New York.
The evening's other comedian and loveable wheeler-dealer is Luther Billis, who splits his life between money-making enterprises and chasing local beauties. This role is taken by another English actor Alex Ferns who doesn't let the home side down, getting lots of laughs and leading the men in a rousing version of There is Nothin' Like a Dame, which also gets the best of the evening's choreography, featuring some impressive acrobatics.
The singing plaudits though must go to the two leads, each of whom has a memorable voice in a very different style. They impress every time that they open up their lungs but perhaps their zeniths are reached in This Nearly Was Mine for opera star Szot and I'm Gonna Wash That Man Right Out of My Hair in the case of Miss Womack, though both have fun with Some Enchanted Evening.
The scenic design by Michael Yeargan fills the Barbican's wide stage well while limiting its depth. He subtly conveys the bright light of these islands, enticing visitors with the deep blue of both sea and sky.
South Pacific should be a sure-fire winner, even with top tickets costing an unprecedented £85. Its appeal will primarily be thanks to the songs and stars but it helps that the plot contains more depth than the vast majority of musicals, even allowing a little tragedy to blot a romantically happy ending.
Reviewer: Philip Fisher