Southwark Fair
Samuel Adamson
RNT Cottesloe
(2006)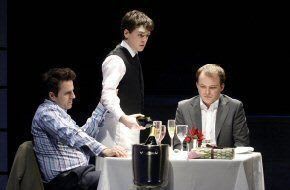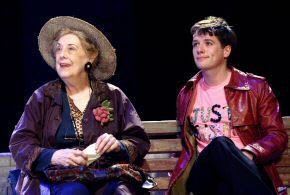 When the concept of Southwark Fair was being discussed, it must have sounded like the perfect idea. A play that catches the mood and spirit of the Noughties by focusing on a varied group of primarily gay London eccentrics has great attraction.
If it achieves nothing else, it will have a very small place in theatrical history as this must be the first play to feature a civil partnership ceremony, though it doesn't quite go to plan.
The action takes place in front of Giles Cadle's tremendous Pop Art recreation of London, as seen from the Embankment close to County Hall, a few hundred yards from the National Theatre.
The first half of the play is largely seen through the eyes of painfully shy Simon (Rory Kinnear) who is nervously enthralled at the prospect of meeting Con O'Neill's Patrick for the first time in eighteen years. His excitement is engendered by a painful introduction to gay sex between acts of a summer school production of A Midsummer Night's Dream, when Simon was a mere 14 and Patrick six years his senior.
Before getting to their lunchtime assignation, Simon has a series of unusual meetings and a strange discussion with his elderly next-door neighbour. She is an actress who has never made the grade, played with benign dottiness by Margaret Tyzack.
They clash with Aurek - Michael Legge as a surly "Polish" barista (coffee server not misspelt lawyer) - who is almost omnipresent, reappearing as a lunchtime waiter and later in the play taking centre-stage.
Lunch is an embarrassing disaster, as Simon discovers that Patrick had mistaken him for the actor who played Lysander, whereas he was Puck: spot the joke coming as they recall their fling.
Patrick soon ditches Simon, having earlier long ago lost his wife on a walking tour of Hornsey, in favour of a pursuit of a pursuit of the boyish waiter.
After the interval, it takes a little time to realise that the players are repeating the action from before the interval but viewed from behind the scenes, rather like a coffee shop and Chop House version of Noises Off.
Now, we discover that the reason for Aurek's rudeness was a combination of his highly-strung nature and his stress as he waits to get Civil Partnershiped, if there is such a term, with the deputy leader of the Greater London Assembly. Rhashan Stone gives a nice comic cameo as an overdressed politician who is shocked by the outness of his lover.
By the final scene, Patrick's wife, the one-handed Toni (Madeleine Potter), a failed rock musician who is to all intents and purposes Courtney Love, has become friendly with an Australian busker and is making plans to kill her horrible hubby.
Meanwhile, with the assistance of the elderly May, true love begins to burgeon between Simon and Aurek.
While there are some great comic lines and cool observations about what is like to be gay in London today, Southwark Fair promises much but delivers little in the way of a fully realised plot. It is like a Jonathan Harvey play but without that writer's knack for keeping his audience interested in some sometimes pretty unsympathetic characters.
Under this play's director Nicholas Hytner, the Cottesloe is intended to be used as an experimental theatre for new writing and while Southwark Fair may not be a success, it is good that a play with such themes can appear on a major stage.
Reviewer: Philip Fisher