Speech & Debate
Stephen Karam
defibrillator
Trafalgar Studios
–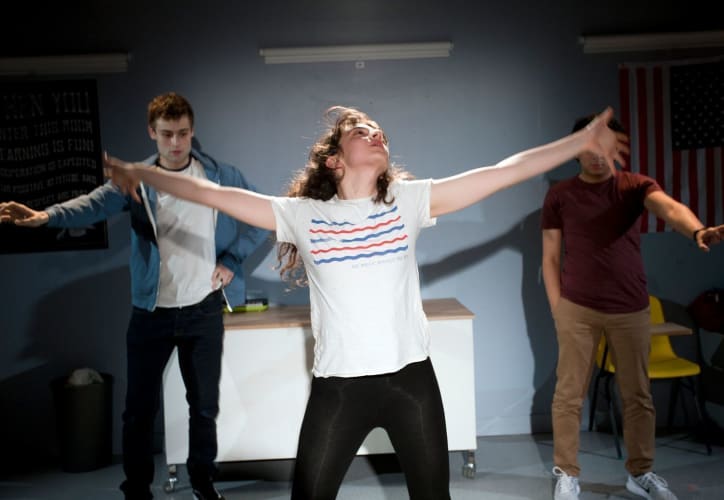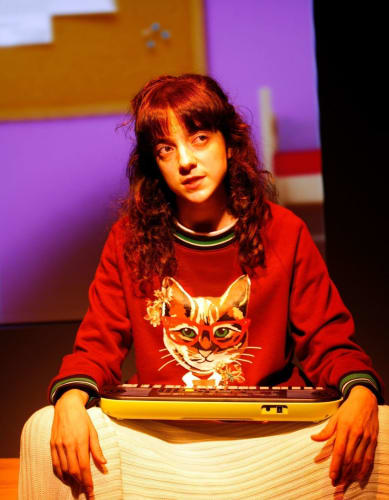 Stephen Karam is fast establishing himself as a playwright to watch. With his distinctive authorial voice and quirky sensibilities, the young American is poised to hit the big-time, although arguably he is there already.
His latest work, The Humans, started out off-Broadway but proved so compelling that it enjoyed a very well-received run on Broadway, collecting a coveted Tony along the way, amongst numerous other awards.
Speech & Debate was the inaugural work produced under the Roundabout Underground badge almost 10 years ago and is therefore well-suited to the smaller, 100-seat studio space just off Trafalgar Square.
The UK première, directed by Tom Attenborough for defibrillator, benefits greatly from an enthusiastic and highly-talented young cast led by another award winner, Patsy Ferran, in the role of the lovably eccentric Diwata.
She is one of a trio of teen loners in the not very wild western town of Salem, Oregon. Each of the youngsters is highly intelligent but harbouring both problems and secrets that would ideally require professional therapy rather than what becomes a microcosmic mutual support group.
Diwata's shtick is to share her life and acting ambitions via the medium of an online pod-blog that is never likely to get a listenership in double figures.
Mysteriously, though, this is picked up by Solomon portrayed by up-and-coming young American screen heartthrob Tony Revolori. The geeky 16-year-old is a wannabe journalist cutting his teeth on the school newspaper.
He, in turn, is excited by revelations from an online chat room in which the slightly older Howie, played by Douglas Booth, has rather too publicly attempted to start a sexual liaison with a man who turns out to be one of their teachers.
This allows a considerable debate regarding closet homosexuals on the right wing of American politics, which suggests that hypocrisy was thriving long before some of the issues that appear to be affecting the current administration.
The teenagers then begin to develop contrasting plans to seek fame, fortune and possibly revenge, all while taking a formal speech & debate class that never looks likely to get a fourth member but does provide a structure for their activities and the play.
This initial premise then moves off in a number of different directions through the 90-minute running time.
First, it allows each of the youngsters to develop their characters and express themselves, at the same time considering blackmailing the others in order to achieve not very honourable goals.
In addition, the Salem setting might not quite be the New England version but is intended to put thoughts of The Crucible into readers' minds, which Karam ensures is the case through allusion and cross-referencing.
Finally, this is a coming-of-age drama that looks at the difficulties of coming out but also self-expression and self-regard in those tricky teen years when individuals are desperately attempting to find themselves.
With some cracking jokes, excellent acting and intriguing situations, Speech & Debate is an excellent introduction to the work of Stephen Karam and should prove successful, while also whetting the appetite for a London transfer of The Humans that cannot be too far off.
Reviewer: Philip Fisher