Speed Dial
Ollie Norton-Smith, Hannah Lloyd Barnes and Joe Large
Spies Like Us in association with the Pleasance
Pleasance Dome
–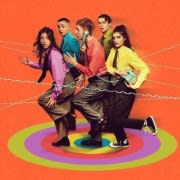 Multi-award winning Spies Like Us has come along way since its first appearance at the Fringe in 2017.
Speed Dial, skilfully written by Ollie Norton-Smith, Hannah Lloyd Barnes and Joe Large, is a fast-paced, highly energetic physical theatre production set in a 1970s university campus.
A red telephone constantly rings, and so this 'who-done-it' crime mystery begins.
An English Literature professor (Hamish Lloyd Barnes) is struggling with his relationships with his estranged wife and discovers that his daughter Flora (Genevieve Sabherwal) has been kidnapped. He is desperate to find her following the cryptic clues left on the telephone by the villain.
Evangeline Dickson plays Terri, a super-keen archaeology student who becomes the professor's partner in trying to find Flora, despite a salacious article in the campus newspaper by editor Lucy that claims they were having a relationship.
The situation is not helped by being finals week and the corrupt Dean, the splendid Tullio Campandale, is pressurising the professor to ensure a 75% pass rate despite changing the syllabus at the last moment.
As evening teacher Ellis (Ellie Dillon-Reams) says, "something nasty is lurking under the surface."
The impressive precision choreography by Zak Nemorin is both mesmerizing and strenuous and the cast must be exhausted from their physical efforts.
The rollercoaster ride with as many twist and turns as a corkscrew as they try to find Flora is exciting and the the dénoument comes as a complete surprise.
With a simple set of a desk that transforms into numerous settings and a moving door that is effectively used, this highly talented young cast are a joy to watch.
Reviewer: Robin Strapp