Spend Spend Spend
Music by Steve Brown, book and lyrics by Steve Brown and Justin Greene, from the book by Viv Nicholson and Stephen Smith
A Watermill production
Yvonne Arnaud Theatre, Guildford, and touring
(2010)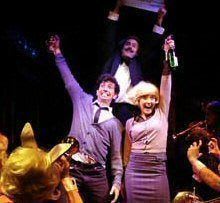 This is the true story of Viv Nicholson, the woman who in 1961 won an unprecedented £152.319.00 (£5m in today's money) on the football pools and famously, and jubilantly, vowed to 'Spend Spend Spend'. She did too, going through the lot in fifteen years to end up broke and living in a council flat on £30 a week, but you can't knock Viv down, however much husbands and her abusive father tried. Now in her seventies, she's portrayed here on stage looking back at her younger self with some regret but also with pleasure and with some happy memories..
There are around twenty seven songs in this vibrant and exuberant musical, and the show is practically sung-through with the story being told through the lyrics. The multi-talented twelve strong cast of actor-musicians give their all, singing, dancing, acting and every one of them playing some sort of musical instrument from piano, trumpet, trombone etc. to Kirsty Hoiles' attempt with a penny whistle. Hoiles plays the young Viv (reprising her award winning role from last year's production) as bold, brash and raucous, ready to live life to the full, even when she and second husband Keith (Greg Barnett) are down to their last £2.
Living in the Yorkshire village of Castleford, in a two-up two-down miner's cottage with the 'lavvy' in the back yard, life was hard, but there was a community spirit among the neighbours which sadly disappeared when the money arrived. The begging letters arrived too, thick and fast. They were Castleford folk no more, didn't fit in anywhere, and life became a round of shopping, fast cars, expensive holidays, boredom "doing nowt" and more shopping. It was a fast car, E-type Jaguar, which led to the first real tragedy - the death of her beloved Keith.
Karen Mann (also reprising her last year's role) plays the older Viv, regarding her young, thoughtless self with resignation, reliving the joy and the tragedy of a life which could have been so different. She appears to have grown, as perhaps the original has also, into a wiser and somewhat remorseful lady, now in her seventies but still with the joy of living. An engaging, endearing and surprisingly uplifting performance.
Graham Kent is Viv's bullying father George. "I'll take care of thee," he sings before knocking her to the floor, and he's much more drunkenly at home propping up the bar at the Miners Arms (where his beautifully resonant baritone leads the resounding chorus of 'John Collier') than he is as a caring father.
With Strictly Come Dancing judge Craig Revel Horwood as director and choreographer there has to be some Latin dancing, particularly the Char Char Char (sic) and young Viv sways to the various rhythms as she dances with one man after another (she has achieved six husbands - so far). A very funny chorus of bunny-girls (or maybe not) has the audience convulsed with laughter and Revel Horwood even fits in a little basic barre-work for the musicians, performed without the support of a barre and while playing their instruments. Not easy!
It seemed that Viv lived her life at high speed - a roller coaster ride of highs and lows. If I say that the show could be speeded up the cast will probably kill me. They are an amazing bunch, constantly on the move, singing, dancing, acting and playing (and carrying) their instruments even while frantically rushing up and down the aisles, but I feel that some of the longer ballads could be cut down a little.
Will Viv's story warning of the perils of sudden and unaccustomed wealth put anyone off trying for the big win? I don't think so, but it makes for a very entertaining evening, leading to the thought, "How would I have coped?"
Touring to Oxford, Salford, West Yorkshire Playhouse, Cheltenham, Richmond and Ipswich.
Robin Strapp reviewed this production at the Watermill. It was also reviewed by David Chadderton in Salford.
Reviewer: Sheila Connor