Spend Spend Spend
Steve Brown and Justin Greene
The Watermill Theatre, Newbury, and touring
(2010)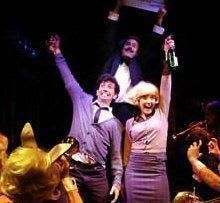 The Watermill Theatre revives its hugely successful TMA award winning hit musical Spend Spend Spend this month before going on tour and it's an absolute gem.
It follows the rags to riches to rags again story of Viv Nicholson, a coalminer's wife from Castleford in Yorkshire, who won £152,319 on the pools in 1961, at that time the biggest sum ever won; equivalent to £3 million today.
Karen Mann gives an outstanding brassy, spirited performance as the older Viv as she narrates her intriguing rollercoaster story where she decides to spend all her winnings on fast cars, expensive holidays and luxury homes.
Playing the younger Viv with vitality and spirit was the award winning Kirsty Hoiles, a true tour de force performance. Having both Vivs on stage at the same time created an extra dimension to understanding her character. The combination was pure magic with some striking duets, particularly the poignant song 'who's going to love me now'.
Her life was not easy, she married Matt (Jack Beale) and became pregnant but it all ended in disaster. She is beaten by her harsh drunken father George, splendidly acted by Greg Barnett, who maintains old-fashioned values as he props up the bar in the Miner's Arms.
Luck strikes when she falls head over heels in love with the 'boy next door' Keith sterlingly, played by Greg Barnett, and gets married again; a recurring theme in her life. Presented with her winning cheque by Bruce Forsyth the couple go on a massive spending spree, travelling to New York and living the dream life of the rich and famous. But money soon runs out and their marriage is dangerously near to ending up on the rocks.
When Keith is killed in a car accident the pressure on Viv becomes unbearable with the bank demanding money and she goes through numerous disastrous marriages trying to find happiness.
Craig Revel Horwwood directs and choreographs with panache and brio filling the small stage with dance routines that sparkle and fizz with inventiveness. The whole company in bunny girl costumes singing the title song is simply a hilarious masterpiece full of fun and energy. Sarah Travis's arrangements of Steve Brown's music works splendidly, giving the twelve versatile actor musicians a vibrant score to perform which they do with zest and verve. Their ensemble acting was outstanding.
Diego Pitchard's wonderfully resourceful set transports us from a northern beauty salon; a gritty pub; Viv's Yorkshire mining home and to New York with great originality.
This was a joyous evening's entertainment. Highly recommended
Tours to Yvonne Arnaud Theatre Guildford (28th Sept - 2nd Oct); Oxford Playhouse( Oct 5th - 9th); The Lowry Salford (Oct 12th - 16th); West Yorkshire Playhouse (Oct 19th - 23rd); The Everyman Cheltenham (Oct 26th - 30th); Richmond Theatre (Nov 2nd - 6th); New Wolsey Theatre Ipswich (Nov 9th - 13th).
Sheila Connor reviewed this production at Guildford. It was also reviewed by David Chadderton in Salford.
Reviewer: Robin Strapp