Spice Drum Beat: Ghoema
David Kramer and Taliep Petersen
Tricycle Theatre, Kilburn
(2006)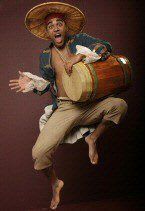 Tricycle regulars will have fond memories of Kat and the Kings, a musical that played successfully at the Theatre on several occasions before transferring to both the West End and Broadway.
This new musical has the same creative team, together with a similar uplifting spirit and never-say-die attitude. For those that are not in the know, a Ghoema (pronounced goo-mah) is a goatskin drum from South Africa.
For just over two hours, a cast of five singers, actors and dancers joins a group of musicians, also five strong, to relate 500 years of the history of the Cape Province from a Cape coloured perspective, primarily through the medium of song.
The style is something like a musical revue with the two female members, Zenobia Kloppers and Carmen Maarman, narrating a tale that starts with the slavery of Indonesians by the Dutch around half a millennium ago and carries through to the turn of the last century.
These two talented women sing and dance their hearts out as do their three male colleagues. The music is varied, demonstrating the influences that this country by the sea has taken in, starting with Portuguese Fado in the very early days and featuring a great deal of Dutch-influenced song as well as much with an African feel.
In later years, the English and Americans have their say and some of the best music and certainly the funniest lyrics are produced by rapping twins Hot & Tot, Jody Abrahams and Loukmann Adams.
The stories that are interwoven with the music are often tragic as more and more people are dragged to the Cape in chains. It is only when good old Queen Victoria comes into the picture in 1834 that slavery is finally abolished.
Even that was not entirely good news as offended Boers trekked into the Transvaal to set up new homes and torment the natives once again.
A history lesson that started with the Dutch greed for spices which could be converted into money, is illustrated by a series of representative characters who wander around Illka Louw's brightly-coloured set bringing their periods and stories to life. The set itself and props are made up of a series of circles, including a large one in the backdrop that acts as a kind of cinema screen, particularly when sea and boating scenes are required.
An evening that starts a little slowly really gets into its stride with an excellent and very jaunty song entitled A New Name, in which colonial hegemony is summed up by the confiscation of the natives' names and their replacement by such oddities as the month in which they were born or worse, calculated insults such as Teaspoon and Potato.
Spice Drum Beat: Ghoema ends with a superb medley picking up on the best and liveliest songs of the evening and ensuring that fans will be humming away as they walk along the streets of Cape Town (or is that Kilburn?) after leaving the theatre.
Reviewer: Philip Fisher