Spoken (Ghosts)
Henrik Ibsen
Toneelgroep Amsterdam
Stadsschouwburg, Amsterdam
(2011)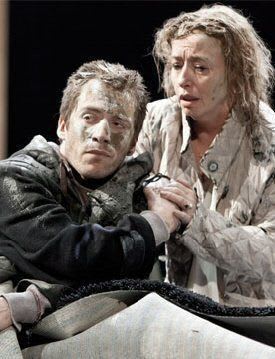 Young Austrian director Thomas Ostermeier, who has built up a fearsome reputation across Europe, is best known in the UK for work at the Barbican and further back, in Edinburgh.
He has a knack of making the plays seem completely at home in 21st Century garb, having already directed two modernised productions of Ibsen. Hedda Gabler and Nora (A Doll's House) each showed a distinctive style and willingness to challenge and shock his audiences.
Spoken, a version of Ghosts to mark his debut with Amsterdam's Toneelgroep, is characteristic of the auteur's work.
As soon as the lights come up, you know that this is Ostermeier territory. A large black space has at its centre a revolve alternating between sparsely-furnished modern living and dining areas.
The most distinctive feature is a white dolls' house sized model of the building at the centre of the drama, which eventually fires up the action.
There are also screens for projected images and, in the background, a continuous symbolic stream of heavy rainfall.
This is the contemporary setting for a play with subject matter that was deeply shocking in its own time, so much so that productions were rarely sanctioned in Scandinavia or the English-speaking world.
Like the furnishings and projections, the costumes are primarily black and white, creating an austere effect.
We are in the house of a wealthy widow Hélène Alving, played by Marieke Heebink, to which Eelco Smits as her much-loved video-artist son Oswald is returning to participate in the opening of an orphanage to commemorate his late father, a figure greatly respected in the community.
For two hours, dreadful secrets are revealed that wreck the lives of all five characters seen on stage as surely as they did that of Alving Senior, who died a decade before as a result of his dissolute lifestyle.
In addition to mother and son, the house sees Isis Cabolet's Regine Engstrand, a poor girl taken in by Mrs Alving, ostensibly out of charity but with deeper motives that become clear as the story develops.
Her father, played by Fred Goossens, is an odd mixture but once overcame drunken ways to make the sole noble gesture of his life.
The final character is noble Dominee Manders, the stoop-shouldered priest who married the Alvings and Engstrands. Hans Kesting in this role does a good job of revealing the character's self-centred shallowness in the face of problems that he sees only in terms of the light that they will shed on his own actions and reputation.
Many directors have been here before and in recent years, Ghosts has been performed as often in Britain as any other of Ibsen's plays.
What Ostermeier brings to the party, in addition to his style ethic, is a modernity and sexual frankness, with intimations of passion and potential incest popping up at regular intervals.
There are the usual fireworks, as Oswald succumbs to his nature and his history, going the same way as his father's orphanage before each of the other characters falls prey to their own weakness.
The final scenes as the anguished Hélène is forced to face the misery and fear of Oswald allow both Marieke Heebink and Eelco Smits to shine.
While traditionalists may find the excess disturbing and unnecessary, Ostermeier fans will have a field day. They will love his latest adaptation - or is that subversion? - of Ibsen and, while this production is not yet scheduled for a trip to London, he will be directing Hamlet at the Barbican later in the year.
Reviewer: Philip Fisher