Spring Awakening
Based on the original play by Frank Wedekind, book and lyrics Steven Sater, music Duncan Sheik
Almeida Theatre
–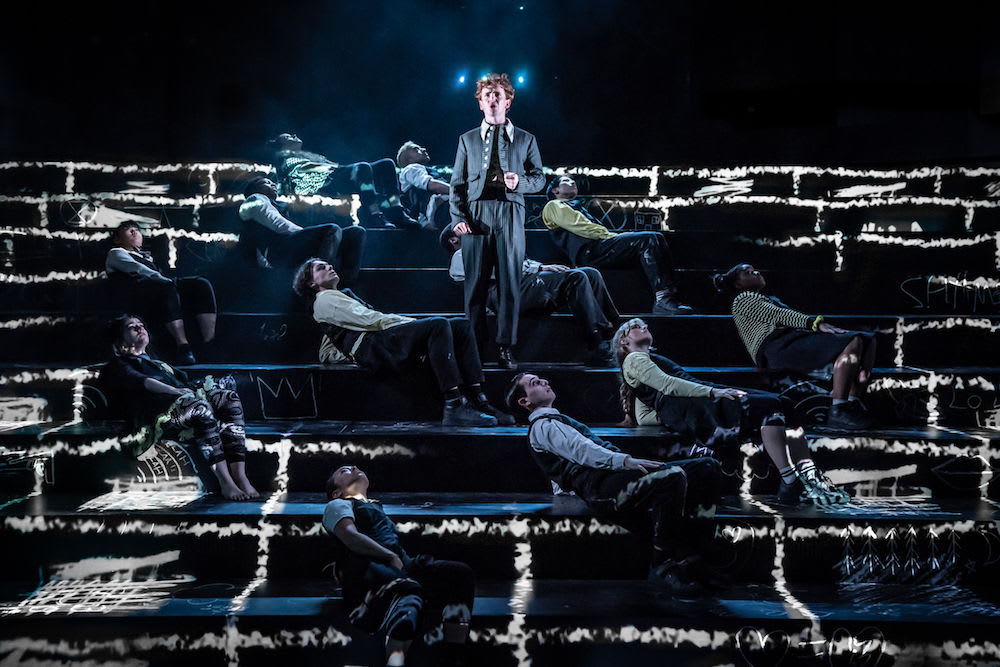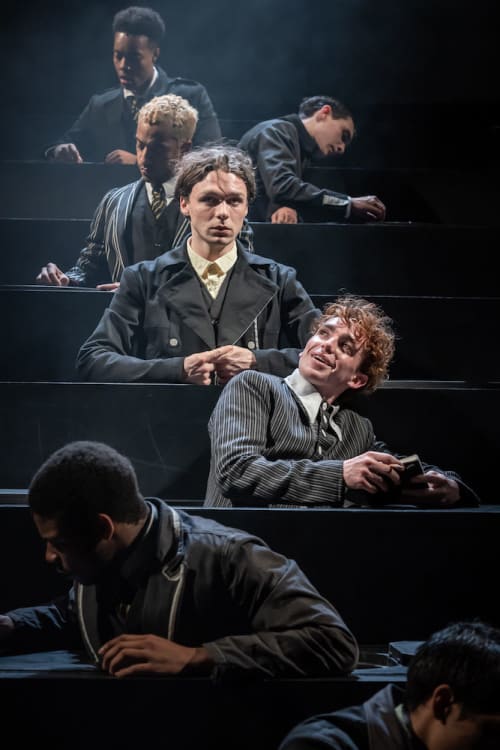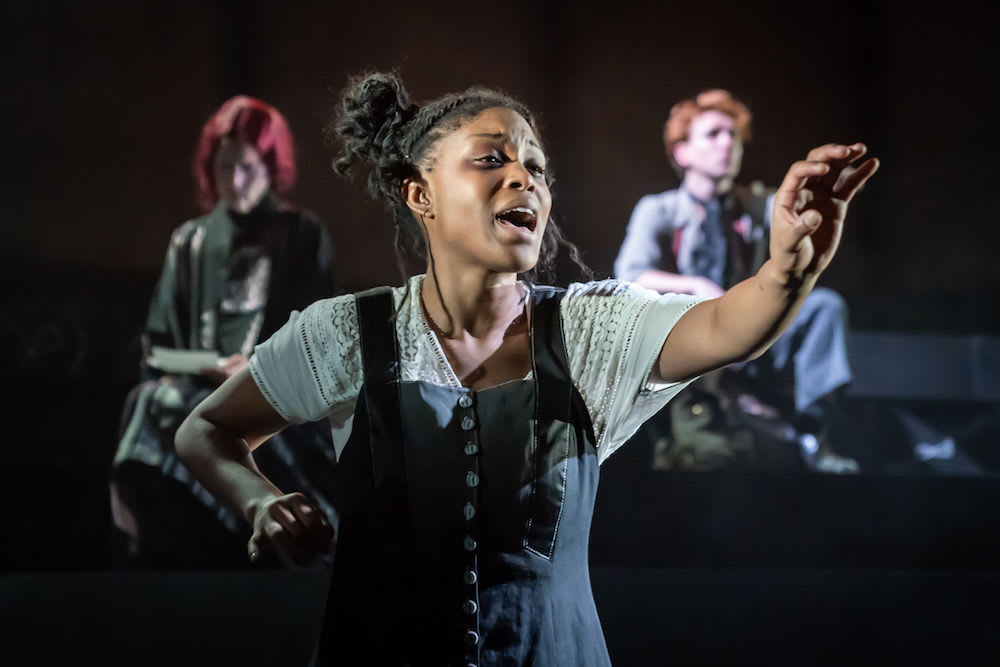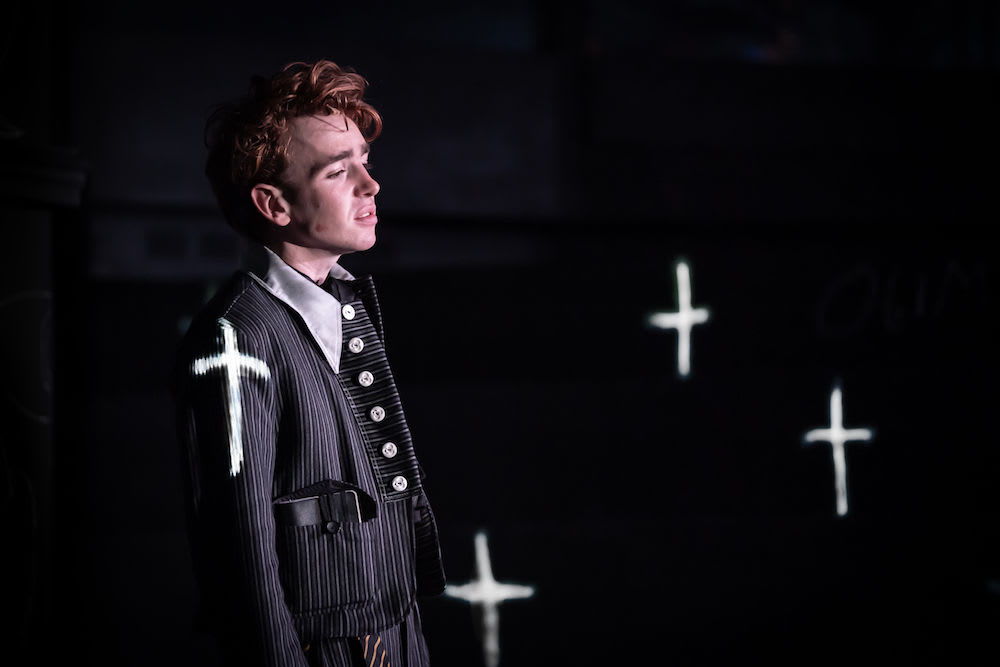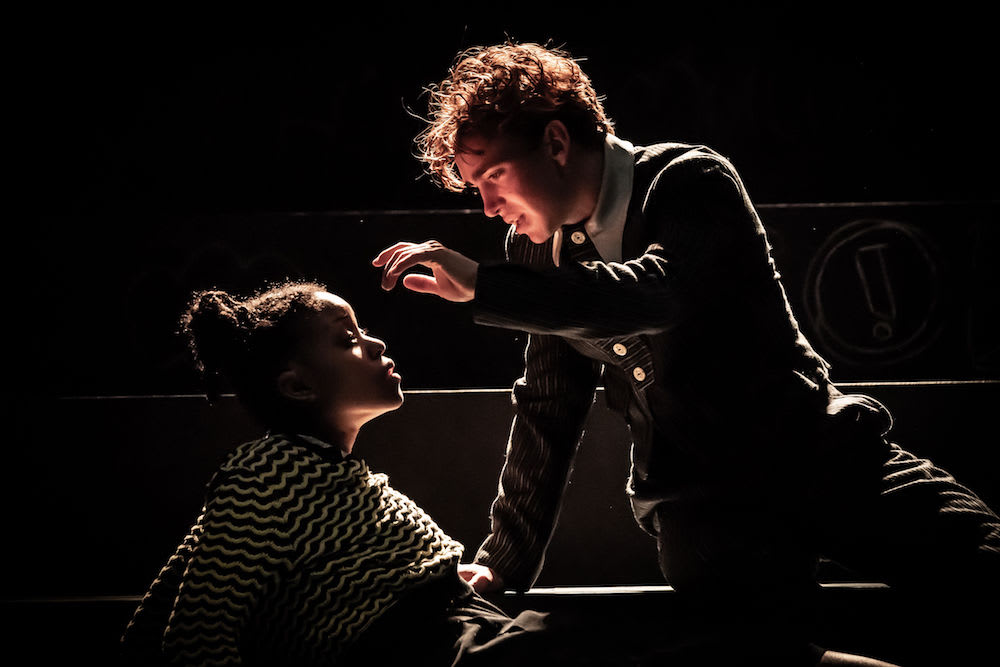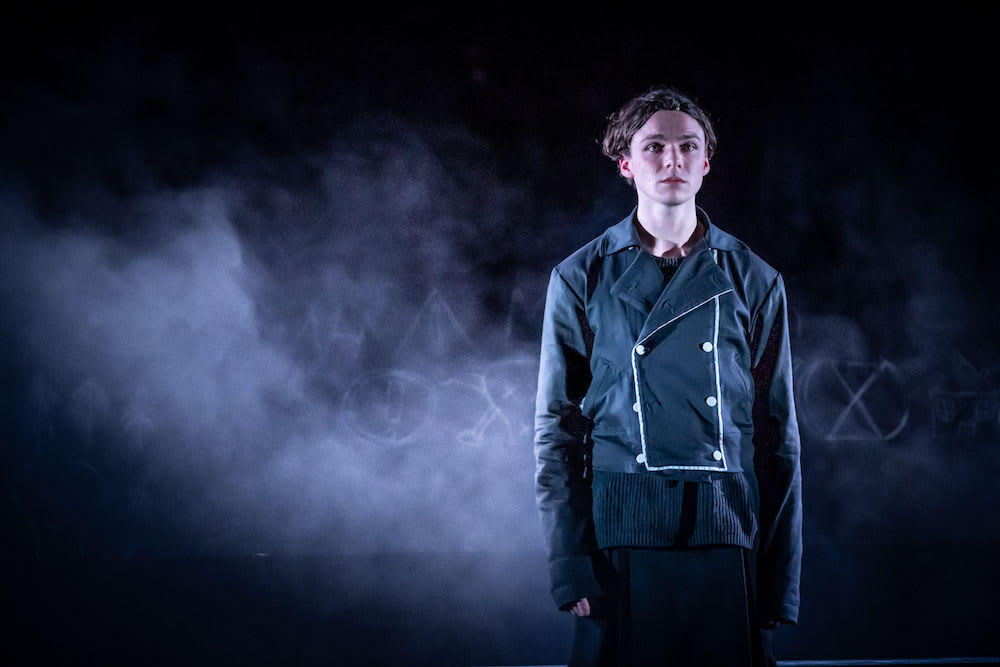 Probably the best thing I've seen this year: it moves me; it chokes me; it thrills me. I leave on a high. I wasn't expecting this. I know the nineteenth century play, but not this musical remake. Where have I been—it won just about every award going in 2006 in New York, was performed in London in 2009. I am grateful to finally catch up with it in such a fine revival, direction and production values very high, and the young cast, some making their theatre debuts, a tight-knit ensemble, is spellbinding.
Spellbinding because they get it. They are invested in it. Does anything ever change? A century ago, teenagers had generational issues with a repressive society; today, teenagers are to the fore on many serious issues that world leaders don't seem to have the nous to tackle. Greta Thunberg is not the only one; "blah blah blah" they sing. They bring contemporary confrontational momentum to fin de siècle fumbling.
In Wedekind's shocking for its time psychosexual thriller, banned during his short lifetime (and late into the twentieth century), we have masturbation, suicide, homosexuality, death by abortion, all very much thrust in our faces, never mind the usual teenage angst. The sex doesn't shock us now, but the crushing of young lives by hypocritical adults does. This is raw. Makes the blood boil. This energy is harnessed to good effect.
Puberty, wet dreams, but these 14-year-olds know nothing—no sex education in those days. Wendla's mother won't tell her; the super clever atheist Melchior has read about it; bullied Moritz has nightmares about it; and gay Hanschen asks an audience member to hold up a photo higher so he can pleasure himself slap bang in front of us. Ilse is an outcast living in the streets; Martha has been physically and sexually abused by her father. All are confused. Fragile Moritz is failed by the school. Ilse almost saves him but too late, the die is cast.
Authority, in the form of cane-wielding teachers, intimidating priests, controlling parents, has a throttle hold. Wendla's mother effectively kills her innocent daughter by insisting on a backstreet abortion. The adults are presented as George Grosz grotesques out of seedy Weimar and German folk tales. All the women are played by Catherine Cusack in appropriate to character costumes and wigs (I particularly love her red bustier corset she flashes from under her music teacher's prim dress—a teenage fantasy), all the men by Mark Lockyer in creepy ugly masks and comic hair pieces (Struwwelpeter or the mad professor). Clever funny as well as tragic—in the original, the German adults' names are Dickensian descriptive.
The disturbing tragedy of hormonal youth is here in close-up. Steven Sater's lyrics and Duncan Sheik's music provide the subtext, the simmering pain heard in the sound, their longings and rebellion palpable—what better than folk rock to express what is in their hearts? Those fingered guitars strings and the thumping rhythm… The eight-strong live band is fantastic.
Boxed in, they can let fly in song. I have to mention them all: Laurie Kynaston (Melchior), Amara Okereke (Wendla), Stuart Thompson (outstanding as Moritz, a young Michael Sheen), Nathan Armarkwei-Laryea (hand-job Hanschen), Asha Banks, Taylor Bradshaw, Carly-Sophia Davies (Ilse), Kit Esuruoso, Bella Maclean (Martha), Emily Ooi, Joe Pitts, Maia Tamrakar, and Zheng Xi Yong. Dressed in black with touches of white (costumes Nicky Gillibrand) that speak of individualism—you know, that customising of uniforms we all attempted at school…
The minimalist compact set (Miriam Buether) is a tiered black lecture hall auditorium with student chalk graffiti and projections (video design Finn Ross). Graveyard crosses, shame and fuck fuck fuck scrawled on the steps… signposts, signifiers, cries for help… An encasing glass box rises to enclose Melchior and Wendla. It stands in for the hayloft for their first and only coupling (not a rape as in the original). Wendla had earlier asked him to beat her with a cane, and he is aroused. She says she wants to feel something. Feel Martha's pain. That glass box becomes her coffin. So many teenage casualties.
It's a black and white film, all is black and white—is this a metaphor or a connection to the play's origins, shadows of our ancestors? Glass sliding doors at the back reveal adults and act as (two-way?) mirrors (Jack Knowles's lighting is interrogation blinding at times). Is this a madhouse? I think of Carl Dreyer, and Grotowski's poor theatre.
Students sit in serried rows, popping up from under the steps, doing hand jive. They dance in formation across the steps (choreography Lynne Page). They stand in the spotlights and deliver from their hearts straight at us: the soulful "Mama Who Bore Me"; "Touch Me"; "The Bitch of Living"; "I Believe"; "Totally Fucked"; "The Song of Purple Summer"… and more.
What holds this tragedy of pubescent stirrings, Spring Awakening, together is the vision of director Rupert Goold. How and why do adults sell out is a good question to ask. Wedekind's close to the bone topics (he himself was apparently quite promiscuous, worked in cabaret as actor-singer) pack quite a dramatic punch in this stimulating musical. Book now, it's sure to sell out. The cheers and applause are well won.
Reviewer: Vera Liber