Spring Passions: Daphnis and Chloë / The Two Pigeons
Frederick Ashton
Birmingham Royal Ballet
London Coliseum
–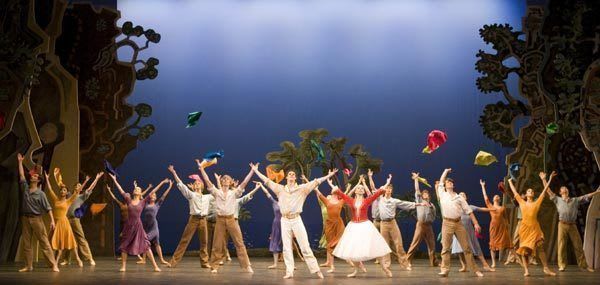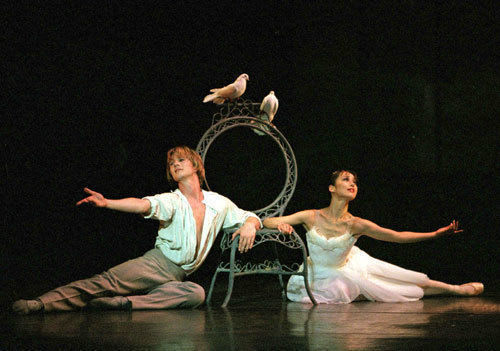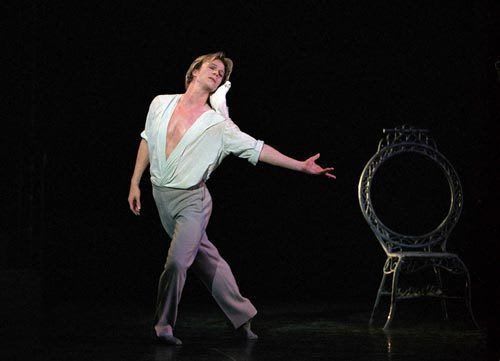 Birmingham Royal Ballet's showcasing of Frederick Ashton's inimitable choreography is more than retro chic, it is an evening to treasure: superb designs by John Craxton and Jaques Dupont, evocative music by Maurice Ravel and André Messager, and dancing to pleasure the senses.
Ten years separating them, two one-hour vivacious ballets in which true love is tested by sensual bondage desire in the form of bodice-ripping pirates, and titillating gypsies, Ashton's growing confidence and charming wit are a joy to behold.
Created by Ashton for Margot Fonteyn and Michael Somes in 1951 to Ravel's lyrical 'symphonie choréographique', originally commissioned by Diaghilev for his Ballets Russes (choreography by Fokine, designs by Bakst, danced by Nijinsky and Karsavina), Daphnis and Chloë carries quite a legacy. But Ashton makes it very much his own.
Post-war Britain was served in 1951 with agape and eros, the exotic warmth and myth of faraway Greece. And, ten years later, with more of the same in Belle Époque Paris. From second century AD pastoral erotic Greek drama to a Romantic Parisian loft—nothing changes.
On stylized artistic rustic sets (by John Craxton, who lived in Crete, thankfully restored—Tate Britain has many of his paintings, and David Attenborough is his champion), young goatherd Daphnis and shepherdess Chloë with their friends pay tribute to the god Pan at his cave in a hillside—girls in ponytails and bright dresses, boys in rolled-up sleeves, in separate folk line dances.
Their innocent dancing is interrupted by herdsman Dorkon, who has designs on Chloë, and by town vamp Lykanion (Ambra Vallo), who seduces Daphnis. The idyll is further shattered when pirates kidnap Chloë. Hands tied, dress ripped off, Chloë is passed from pirate to pirate before pirate chief Bryaxis takes his prize.
But Pan, and his nymphs (wonderful diaphanous costumes and painted body stockings), intervenes, and the now not so innocent sexually initiated lovers are united in blissful dance, wiser about the ways of the world.
Peter Teigen's lighting plays with the shifting moods, and the company dances its socks off. Tyrone Singleton is the very picture of Byronic pirate, Matthew Lawrence tough guy Dorkon, tall Iain Mackay is a softie Daphnis, and Elisha Willis safe in her technique as Chloë. Willis takes the brunt of the evening's dancing and proves with her Gypsy Girl in The Two Pigeons that in the event her Black Swan would outperform her White.
Pigeons are said to mate for life, but the grass is greener on the other side. The Young Man frustrated with painting his fidgeting love in his loft sur les toits de Paris, bored by her visiting friends, comes to life when the gypsies visit.
He leaves his nest in the sky for the gypsy encampment on the ground where pickpockets thrive and anything goes. A passionate artistic soul can get swept away by a frenzy of dancing, but all is not as he supposes. The Gypsy Girl's jealous lover, Matthew Lawrence, legs blasting in sixteen bravura straddle side splits, ropes the dolt like a colt, and sends him flying.
Chastened he returns to his Young Girl crying in Jaques Dupont's spacious Hollywood movie fantasy of a grenier. Slowly, in beautiful and poignant duet, she forgives him. Nao Sakuma acts and dances with total commitment, and Robert Parker is a dashing airborne hero—together they make a handsome couple that touch the heartstrings. Their final pas de deux melts the backbone.
Based on La Fontaine's fable the ballet was appropriately premiered on St. Valentine's Day in February 1961. Created not long after La Fille mal gardée, The Two Pigeons shows Ashton's crowd-pleasing instinct. To André Messager's gorgeous romantic score (1886), arranged by John Lanchbery, Ashton moves the heart and amazes the eye with his naturalistic observations of human foibles and avian body language—arms bent at the elbow beat like tiny wings, bodies strut in comic pigeon-breasted head-bopping dance (… and I thought this was unique to Wayne McGregor…).
And, of course, the two white doves that settle on the back of the studio chair complete the picture. When The Young Man returns with a pigeon on his shoulder and dances his plea for forgiveness one waits for the metaphor to be completed. And, romantics at heart, the audience swoons as one when the second pigeon flutters in and joins the first. If only one could train the doves to control their bodily functions—rather changes the metaphor… Or maybe it encapsulates the whole drama.
It's the little gestures that enhance the essence and frisson of the whole. The girl wriggling into her seat, the Seurat ladies (A Sunday Afternoon on the Island of La Grande Jatte) in bobbing walk, the cheeky Gypsy Boy (Tzu-Chao Chou), the feet quivering in climactic release.
Reviewer: Vera Liber