Spring Awakening
Music by Duncan Sheik, Book and Lyrics by Steven Sater, based on the play by Frank Wedekind
Lyric, Hammersmith
(2009)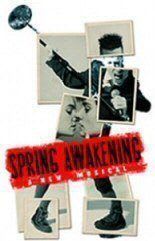 The decision to allow Spring Awakening to makes its UK debut in Hammersmith harks back half a century or more to the days when the lovely West London theatre was treated as a far-flung outpost of the West End.
For a cast in which almost everyone bar Richard Cordery and Sian Thomas is a newcomer to the bright lights of professional theatre, this is a low pressure way to feel their way in. In any event, when a show has won eight Tonys already and the American creative team comes over especially to recreate the magic, there can be little doubt that a West End transfer beckons.
The majority of the fifteen or so youngsters (for some reason enjoying a collective bad hair day), including those taking the leads, are aged 16-24. This therefore represents a wonderful opportunity for them to launch a career, even without a TV talent show in support.
Frank Wedekind's play must have been a sensation when it first appeared in 1891, as its themes are still capable of shocking today. To write a tragic coming of age drama with the sex left in should not have happened until the Swinging Sixties, so this brave, reputedly dissolute pioneer was generations ahead of his time.
Duncan Sheik and Steven Sater cleverly spotted the potential for a rock musical in the story and have transformed the plot into a contemporary entertainment that can expect to add to the awards in London, as it embarks on what should be a long and profitable stay somewhere a little further east than Hammersmith.
They have worked wonders, even if, whenever there is a break from Bill T. Jones exciting, rock video-influenced choreography, director Michael Mayer has a tendency to leave the actors standing still.
That is a minor quibble about what turns into a great evening. The cast is led by a debut trio of rare promise. The leading men are both Welsh but otherwise seemingly have little in common.
Aneurin Barnard is Melchior. He is a nihilistic intellectual with the dark good looks and voice of the lead singer in a boyband, heard at its best in a requiem to his best friend Melchior, "Left Behind".
In the hands of the quirky Iwan Rheon, that friend, Moritz, is a post-punk outsider with more than a hint of the manner and looks of The Cure's Robert Smith.
Melchior pursues a passionate under-age affair with pretty, innocent sweet-voiced Wendla (Charlotte Wakefield) with whom he enjoys real sexual chemistry. Meanwhile, Moritz struggles to attract any girl other than Lucy Barker's Ilse in an unsatisfying dream and a superb duet, "Blue Wind".
In parallel, other youths learn about love and sex in a variety of different guises and combinations. Together, they catch the excitements and inevitable disappointments of first love in a repressive society.
The musical highpoint, lit spectacularly by Kevin Adams, rock concert style like so much of the show, is the snappy "Totally F***ed", which completely stopped the show on opening night such was the audience enthusiasm.
A word should also be put in for another potential star from the far side of the Severn Bridge. Hayley Gallivant has already been declared Welsh Musical Theatre Singer of the Year in 2005 and with her bluesy voice, might just be the next Duffy.
With its sexy plot, mix of hard and soft rock songs, poignant storytelling and great choreography, youngsters will flock in. With potential appeal to the young at heart too, Spring Awakening is destined to become the sure-fire cult hit that the West End so badly needs to take away the recessionary blues for a while.
Philip Fisher also reviewed this production when it transferred to the Novello Theatre
Reviewer: Philip Fisher