Springboard Shakespeare - Hamlet/A Midsummer Night's Dream/Macbeth/King Lear
Ben Crystal
Bloomsbury
Released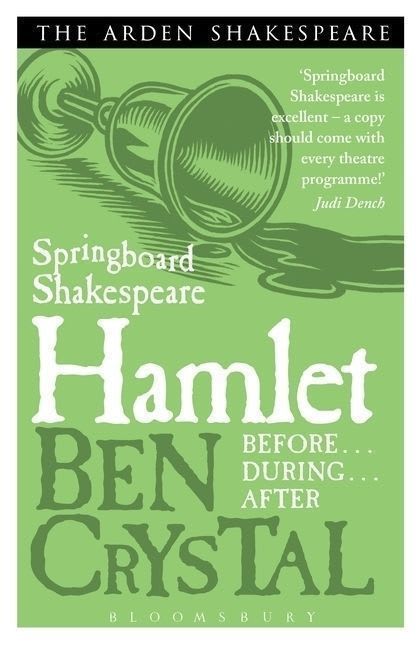 Having written Shakespeare on Toast, actor/writer Ben Crystal has decided to go one step further delivering what might best be described as bread-and-butter Shakespeare.
That is not to diminish what looks like turning into a highly worthwhile series, which should prove to be valuable for directors, actors and students in no particular order.
What Crystal has set out to do is write a series of relatively short guides that will enable those trying to understand Shakespeare's plays to do so far better. He seems to have come up with a hit formula, which is simple but effective. He splits each book into three sections, Before, During and After.
Before sets the scene, in terms of Shakespeare's canon and also the specific play. There are background historical notes, charts showing relationships and, at the end, a list of characters. The author then tries to break down and analyse areas that could easily give modern audiences and those creating productions difficulties, delivering simple but intelligent lucid explanations.
Many will feel that by far the most helpful sections of these books will be those categorised as During in which each scene is broken down with characters and location identified and actions summarised. Then more detail is brought in under categories such as shared lines, speeches, side notes and words, the last of which complements the glossary at the back of the book.
To complete the overview, there are also brief pen pictures of the main characters, which proved particularly valuable in A Midsummer Night's Dream.
In addition, the characters of the more significant players are analysed in detail, King Lear for example getting sympathetic treatment.
Once all of these elements have been brought together, it is possible to get a much deeper and better understanding of the plays and their constituent parts.
Ben Crystal is keen to examine the various different versions of the works, comparing and contrasting them and explaining how using one rather than another can significantly change the meaning of some scenes and possibly even whole plays.
There are also short essays on critical subjects, a particularly worthwhile example being "Macbeth does murder sleep".
Finally, the author takes another look at some critical issues such as Ophelia's madness, cuts to the text and taking your experience further. There is also a list of further reading.
Students (and their teachers) will be particularly appreciative of the large numbers of questions that are dotted through the books in order to challenge them to consider specific issues in greater depth. There are also quotes from various practitioners to illuminate matters even further.
This formula really works. As an experiment, your dedicated reviewer tried out Macbeth in preparation for and following on from the Eve Best production of the Globe. The experience was definitely improved, with some of the tips on words and language proving especially helpful and enlightening.
These really are excellent little guides that will prove informative to almost anybody with an interest in the subject. As a first quartet, Bloomsbury has simultaneously released Hamlet, A Midsummer Night's Dream, Macbeth and King Lear, all of which follow the same formula and, in parts, use similar text. This means that while each book works as a standalone guide, reading them one after another, which is clearly not their purpose, can be a little repetitive.
Even so, Springboard Shakespeare series comes highly recommended.
Reviewer: Philip Fisher