St Mungo's The Ladies
Conor Grimes and Alan McKee
Lyric Theatre, Belfast
Lyric Theatre, Belfast
–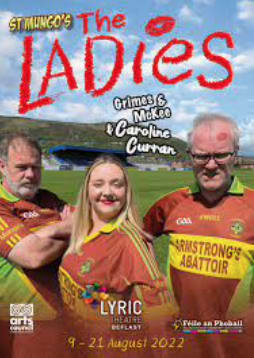 Politics with a small 'p' and comedy with a capital GAA takes to the Lyric Belfast stage in Conor Grimes and Alan McKee's St Mungo's The Ladies, a height-of-summer send-up of rural Gaelic football as the traditionally male-dominated sport adjusts to the emerging claim for attention of female teams.
With antecedents dating back to 1837, the peculiarly Irish sport has spawned more than 2,500 clubs on both sides of the Irish border, fast-growing numbers of female teams now swelling the game's reach and profile.
The signature silliness and satire of Grimes and McKee, a gently anarchic partnership now well into its third decade, has been a stalwart of the Lyric's Christmas seasons, Driving Home for Christmas most recently, Christmas Craic'er waiting in the wings for later this year.
Their excursion into the summer schedule, presented as part of West Belfast's Féile an Phobail, sees the duo conclude their stage trilogy delving into the rural, Mid-Ulster village of Laganulk's down-at-heel GAA team with customary affection and comedic irreverence. A television pilot, St. Mungo's, still available on BBC iPlayer, expands and broadens the life of the fictional village, cleverly inching it towards Ballykissangel territory.
With a running time of just 75 minutes, played, appropriately enough, in two halves, St Mungo's The Ladies is marginally longer than a GAA game. Tapping into the petty commonplace politics of provincial life, and the growing gender rivalries of a sport in which female teams are beginning to claim greater prominence, it is, in truth, an extended sketch. But none the worse for that, despite occasional hints that the source material is proving less yielding to inspiration in this third iteration, a suspicion the somewhat abrupt ending rather betrays.
What wins out amongst the unpolished rawness is the seasoned, easy-going companionship of Grimes and McKee – the latter solidly rooted in the absurd, self-aggrandizing hierarchy of the intimacies of rural life; the former, a natural clown, teetering always on taking the commonplace to sublimely surreal levels, as they play multiple characters, variously pathetic and grotesque.
They are boosted by the enlisting of the similarly multi-tasking Caroline Curran, who injects proceedings with new, necessary energy as the niece of McKee's club chairman intent on proving her nascent women's team the equal—and better—of the club's lacklustre male team.
Director Ciaran Nolan maintains a steady, if occasionally jittery, momentum, the uncredited minimalist set—two chairs, a piece of mutating furniture, practice goalposts and a sliver of pitch-green rug—adequately shape-shifting between jump-cutting scenes.
If lacking the freshness and some of the vitality of its earlier siblings, St Mungo's The Ladies, for all its brevity, remains a pleasing, entertaining and often very funny diversion delivered with playful, persuasive panache by Grimes, McKee and Curran.
Reviewer: Michael Quinn