Stairway to Heaven
Steve Hennessy
Produced by Stepping Out, Fallen Angel Theatre and Simon James Collier
Blue Elephant Theatre
(2010)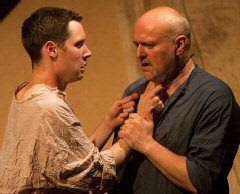 The action of Stairway to Heaven takes place on a building site in Egypt some 3,000 years BC. We are not told why young Makhthon has joined the crew building Cheops' Pyramid but he seems ill-suited to the harsh working environment and his first day gets off to bad start when one of the workers is crushed under a falling stone.
Youthfully naive Makhthon is an easy target for his more worldly-wise co-workers Hiksos and Geb and the sexually predatory gang leader Merab. They are each rough and base, out for what they can get for themselves, whilst Makhthon writes poetry and is captivated by the wonder of the morning star.
In such a brutal and brutalising environment Makhthon becomes easily enraptured by the majesty of the Pharaoh, the Sun God Amun Ra, when he visits the site, but what starts as a crush becomes an obsession that has fatal consequences.
But what drives this choice of escape route? Is it an intense, self-fuelling religious fervour, sun stroke, a vulnerable mental state or the quantity of beer he drinks mixed with intense physical work in unrelenting heat?
Writer Steve Hennessy chooses not to be clear on this point which has some validity, but put together with a number of frustratingly undeveloped themes, including the cyclical nature of life, the pointlessness of work and the transience of power, the end result is rather unfulfilling even if it is thought-provoking.
Nicholas Cass-Beggs plays dissembling Hiksos well, gradually revealing just how devious you have to be in order to survive. Geb, the nearest thing Makhthon has to a friend, is played with conviction by Matthew Ward who also delivers most of the humour of the piece with comic ease.
The uncertainty of James Ronan's Makhthon contrasts well with James French's malign Merab but the latter's modern swaggering is ill-fitting.
The contemporary parallels that are drawn here do not require this and other occasionally anachronistic features to make them clear and can even be said to be diminished by them, but for all that Stairway to Heaven remains a surprisingly funny and interesting piece.
"Stairway to Heaven" runs Tuesday to Saturday until 10 July at 8pm. Subject to availability under 26s go free.
Reviewer: Sandra Giorgetti