Stallerhof
Franz Xaver Kroetz, translated by Katharina Hehn
Southwark Playhouse
(2006)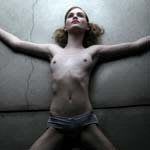 Highly-regarded German playwright Franz Xaver Kroetz deals in gritty and often rather depressing realism. A couple of years ago, Daniel Kramer presented his Through the Leaves at Southwark Playhouse and achieved an unexpected move to the West End.
That tale of butchery and the cruelty of love may have owed its transfer to the casting of Sir Simon Callow but it was his colleague Ann Mitchell who won the award nominations.
Stallerhof tells the simplest of stories about farmers living well below the poverty level somewhere not too far from Munich. Life in their barely-lit cottage is harsh with basic food and little reason to smile.
The Catholic Staller and his wife (Michael Gunn and Alwyne Taylor) have an added burden in their backward daughter Beppi (Matti Houghton), a curse to both.
Beppi, who is barely a teenager, can hardly read. With her taped-up glasses and sinking socks, she is the kind of ugly duckling who is never likely to be transformed into that graceful and beautiful swan of the fairy tales.
The other occupant of the farm is a lonely labourer, Roger Ringrose's Sepp. He is counting the days until his retirement and a modest dream of buying a cheap flat on the outskirts of Munich. Until then, he works the farm and either makes his own pleasure or enjoys the companionship of his dog, played by the remarkably obedient Monty.
With nobody else for either to turn to, Sepp and Beppi become friends, since he is willing to give her the time that her parents cannot.
However, this comes at a price, because Sepp yearns for a little feminine comfort. After an initial liaison that is close to rape, Beppi falls in something like love, which both pleases and alarms Sepp, especially after she goes to confession.
Almost inevitably, the underage girl becomes pregnant and her father is not best pleased. It is then that Kroetz reveals a previously unexpected tenderness, which gives the play a final aura of hope.
Matti Houghton, who makes her professional debut, is excellent as the young girl, well supported, particularly by Ringrose.
This hour-long drama can hardly be described as cheerful but it is moving and puts on stage a stratum of society rarely thrown into the limelight. For that and Maria Aberg's well-paced and very atmospheric production, it is worth making the trip to Southwark.
Reviewer: Philip Fisher